Theater meets psychiatry in play about mental illness and 'Friends'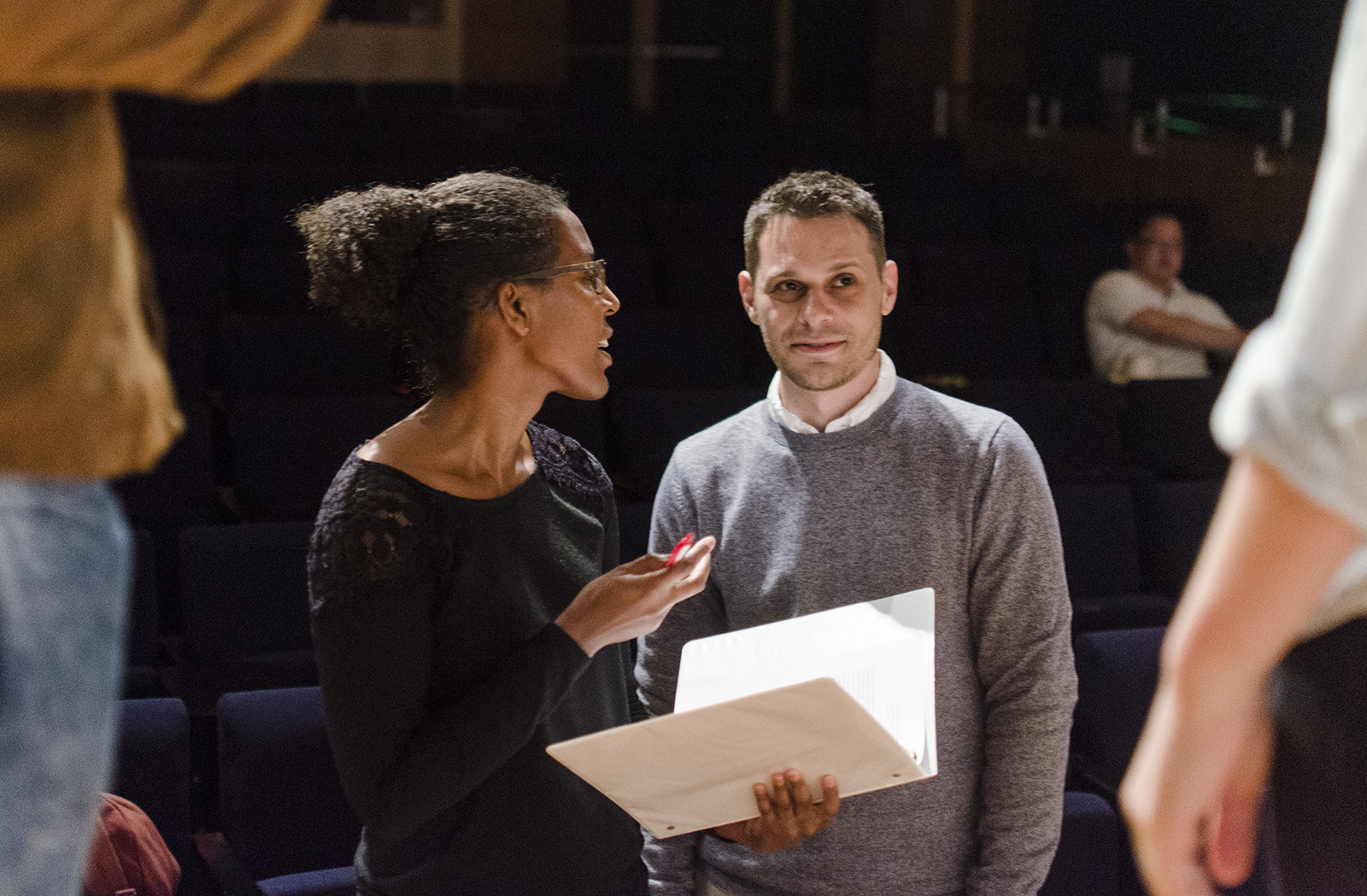 UCLA employee Joseph Mango (right) wrote the play "The One With Friends" about characters with mental illnesses that find friendship over a shared interest in the sitcom "Friends." (Anthony Tran/Daily Bruin)
"The One With Friends" Written by Joseph Mango The Tamkin Auditorium Friday 8 p.m. and Sunday 2 p.m. FREE
Joseph Mango knows friends can be the best therapy – and Phoebe, Joey, Rachel, Ross, Chandler and Monica are the best therapists.
Mango, a senior public administrative analyst for the UCLA Center for Health Services and Society, penned a play called "The One With Friends," about a struggling Los Angeles actor who meets a writer who is scripting a reunion episode for the television show "Friends." Both the main characters of the play, which will debut at the Tamkin Auditorium on Friday, struggle with depression and eventually find comfort and healing through their newfound companionship and mutual love for "Friends."
Mango, a lifelong "Friends" enthusiast, incorporated more than just his love of the 1990s sitcom into his play. He wove in real experiences from his own battles with depression with the hope that his work will demonstrate the way theater and television can help promote healing and improve attitudes towards those with mental health issues, he said.
Mango said the six main characters of the sitcom have been his lifelong support system. When the show first debuted in 1994, Mango was a freshman in high school with depression and struggling to find real-life companions to sit with at lunchtime. He waited anxiously for Thursday nights when "Friends" aired to get him through the weeks.
"That was a time before you could binge watch TV, so I always had something to look forward to," Mango said. "I stuck with the show from the very beginning to the very end."
[Related: Tattoos relate mental health stories in art exhibition]
It was not until 2013 while Mango was attending New York University's dramatic writing graduate program that he first became inspired to spin the sitcom into a stage play.
"Combining the lightheartedness of 'Friends' with serious issues of mental health and depression symptoms would work out to be an effective piece of theater," Mango said.
In his last year at NYU, Mango's father passed away from terminal cancer, and one of his best friends died. The tragedies threw him into a spiral of depression, putting his whole life – and the progress of his play – on pause, Mango said.
"There were days I wouldn't want to get out of bed, and my mind would just be ruminating on things in the past," Mango said. "There were things I'd want to do, but just didn't have the energy to do it."
Mango was eventually lifted out of his debilitating depression with the help of his family and friends, he said, but he never thought "The One With Friends" script would see the light of day. However, Mango heard a quote from Matthew Perry, the actor portraying Chandler on "Friends," about his own mental health issues. Perry said he wanted "Friends" to be remembered as a show that helped people through difficult times, and Mango said that gave him the extra push to complete his own play.
Mango eventually finished "The One With Friends" by drawing intimately from his own period with depression while he was at NYU, he said. The lead character of the play, an aspiring actor named Callum, contemplates suicide, and Callum's companion Lucy endures the death of a parent.
[Related: Alumna Brette Tell faces mental health through art, self-expression]
Mango pitched his completed play to be part of the UCLA Semel Institute for Neuroscience and Human Behavior's Narratives Project, realizing the potential for his performance to touch others with depression and educate others less familiar with mental illness, he said.
Partnered with the institute, he said "The One With Friends" includes a research component, investigating how the arts change perception of mental illness by asking audience members to fill out a survey before and after the show. One question asks how willing a viewer would be to make friends with someone with depression. After the last show closes this weekend and all the surveys have been collected, the responses will be compiled into formal research papers, Mango said.
Mango's work will be illuminating to the fields of both theater and psychology, said Bonnie Zima, a psychiatrist and professor in residence at the Semel Institute sponsoring Mango's research. There is currently little hard evidence in existence to measure the impact the arts can have as a means of therapy and as an influencer of beliefs about sensitive topics like mental health, she said.
"We're hypothesizing that by viewing the play, (Mango's) work will make a significant change in perceptions of stigma," Zima said. "We believe persons that have had experiences with depression or depression in a loved one may resonate most with this play."
Ashley Griggs, director of "The One With Friends," said "Friends" is the perfect show to use as a catalyst for a forum about mental health because so many people have used the sitcom as a source of comfort since it first aired. "Friends" was her own security blanket throughout elementary school, she said.
"I couldn't necessarily define it at that point as therapy, but it just made me feel good and feel comfortable," Griggs said. "Artistic expression is something that has a way of resonating and speaking to people in a way that we can't quite put our finger on sometimes."
Mango said above all, he hopes his play about "Friends" will inspire audience members to reach out and support real loved ones with mental illness.
"I just hope viewers have a better understanding of depression and mental illness and are able to have more empathy," Mango said. "Family and friends absolutely play a role in the treatment process."
McCormick was the 2017-2018 Digital Managing Editor for the Daily Bruin. She was previously an assistant editor of the A&E section, overseeing the Music | Arts beat.
McCormick was the 2017-2018 Digital Managing Editor for the Daily Bruin. She was previously an assistant editor of the A&E section, overseeing the Music | Arts beat.