Bruin Vinyl club hopes to create haven for vintage music buffs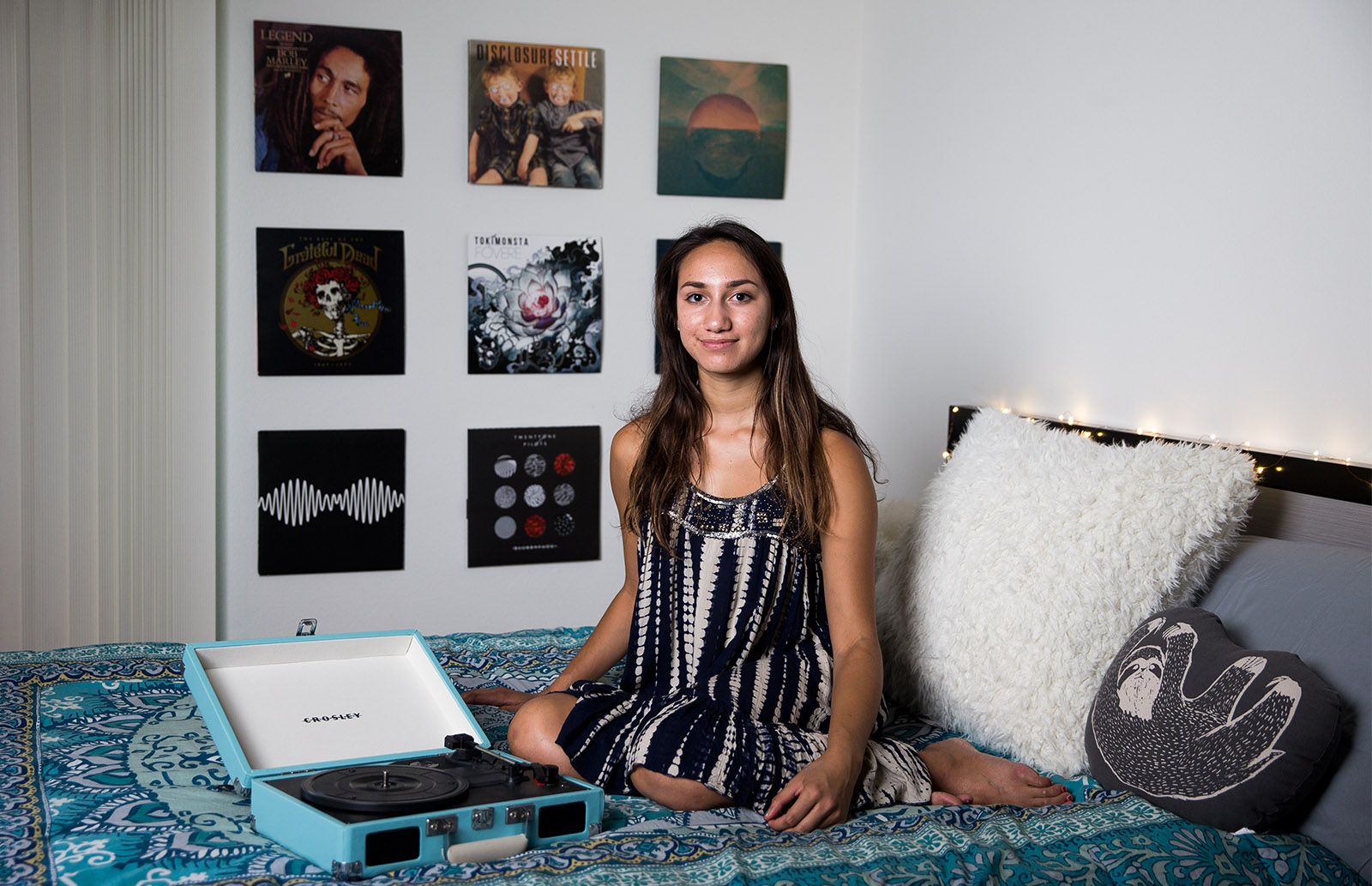 Ryan Freeman, a second-year marine biology student, is a member of Bruin Vinyl, a new UCLA club centered around students' passion for vinyl records. (Aubrey Yeo/Daily Bruin senior staff)
Growing up, Austin Berke never paid much attention to the piles of classic rock records stored in his family garage – his father told him the records were probably all water-damaged.
But during winter break of his senior year of high school, Berke decided to go through the stacks while his family was cleaning out the garage. Browsing through the boxes, he was surprised to find the records were in great condition.
Inspired by his father's collection, Berke went out the next day and bought one of his favorite albums, "Favou rite Worst Nightmare" by the Arctic Monkeys, on vinyl along with a record player to listen to them.
The second-year computer science student started a campus organization called Bruin Vinyl this fall to create a forum for vinyl collectors across campus. There, they can discuss their music and share tips for starting vinyl collections with newbies. He said vinyl records have seen a resurgence in the past few years and other students have rediscovered the musical medium of their parents' generation.
[Love | Hate: Is the resurgence of vinyl fueled by love for music or capitalism?]
Ryan Freeman, a second-year marine biology student, said vinyl provides a common ground for music enthusiasts to connect, which is part of the goal of Bruin Vinyl. The club hopes to host listening parties in members' apartments and make trips to record stores together.
Vinyl encourages audiences to listen through an album in order and in its entirety, Berke said. Without the easy skipping options digital listening provides, physical records force the listener to hear the album as the artist arranged and intended it.
"It's one thing to have a collection of good songs, but I'd rather buy albums that work as a whole," Berke said.
The tangible nature of vinyl is another reason he was drawn to records. With digital music, there is no physical contact between the listener and the music, but vinyl facilitates a physical connection, Berke said.
"There's kind of a ritual of pulling the album out, looking at the art, putting it on the player and dropping the needle," he said.
Harvey Wang sees records as pieces of history. The second-year physical sciences student collects shellac records, which were produced pre-1950s and the advent of vinyl record. His oldest record, a 103-year-old recording of Aloha 'Oe, was manufactured in 1913, he said.
The technology behind records got Wang interested in collecting. He said he is fascinated by analog record technology, which involves recording music by capturing sound from an analog signal to the grooves of a record.
Freeman said her mother inspired her to start her own record collection. Her mom was a Deadhead, a term referring to people who were major fans of the 1960s band Grateful Dead, and followed the band around the country to attend every show. Freeman said she used to obsess over her mom's collection, since she loves classic rock too. When she was 15, she asked for her own record player for Christmas.
Freeman gets the most gratification out of discovering random used records while browsing through stacks in stores like Amoeba Music in Hollywood or The Mart Collective in Venice, she said. It's more about the experience of stumbling on a cool record by surprise than seeking out a specific album, said Freeman. One of Freeman's favorite albums is a Bob Marley record her father played every summer, and she said she was ecstatic to discover it by chance during one trip to a record store.
Some people buy vinyl because they prefer vintage items in general, said Andrew Alas, fourth-year economics student and co-founder of Bruin Vinyl. Others buy because they want to show their devotion to an album, a band or music in general by spending more money on a record.
[Related: Vinyl records are regaining popularity in a new generation]
Alas said still others prefer the sound of vinyl to digital files. But even within the vinyl community, there is some controversy over whether vinyl actually sounds better than digital files, Berke said. Most people believe digital files have higher quality sound, but Berke thinks vinyl has a warmer timbre that digital files cannot capture.
Despite the sentimental value of vinyl records, Berke does not think vinyl is necessarily going to retake the music industry by storm any time soon. At $20 or more for a new record, vinyl is more expensive than digitally streamed albums, Berke said. "Favourite Worst Nightmare," for example, is $30.98 on vinyl on Amazon, but only $9.99 digitally on iTunes.
Vinyl records can also be difficult to transport, Freeman said. She had to leave one of her record players and a large portion of her collection at home in New Jersey, since shipping them to campus would be too expensive.
"In this day and age, the value of an album is kind of lost," Berke said. "The fact that you can take the physical album out and put it on a record player is an experience you don't get from digital media."