'Project Runway: Junior' alum creates unisex fashion line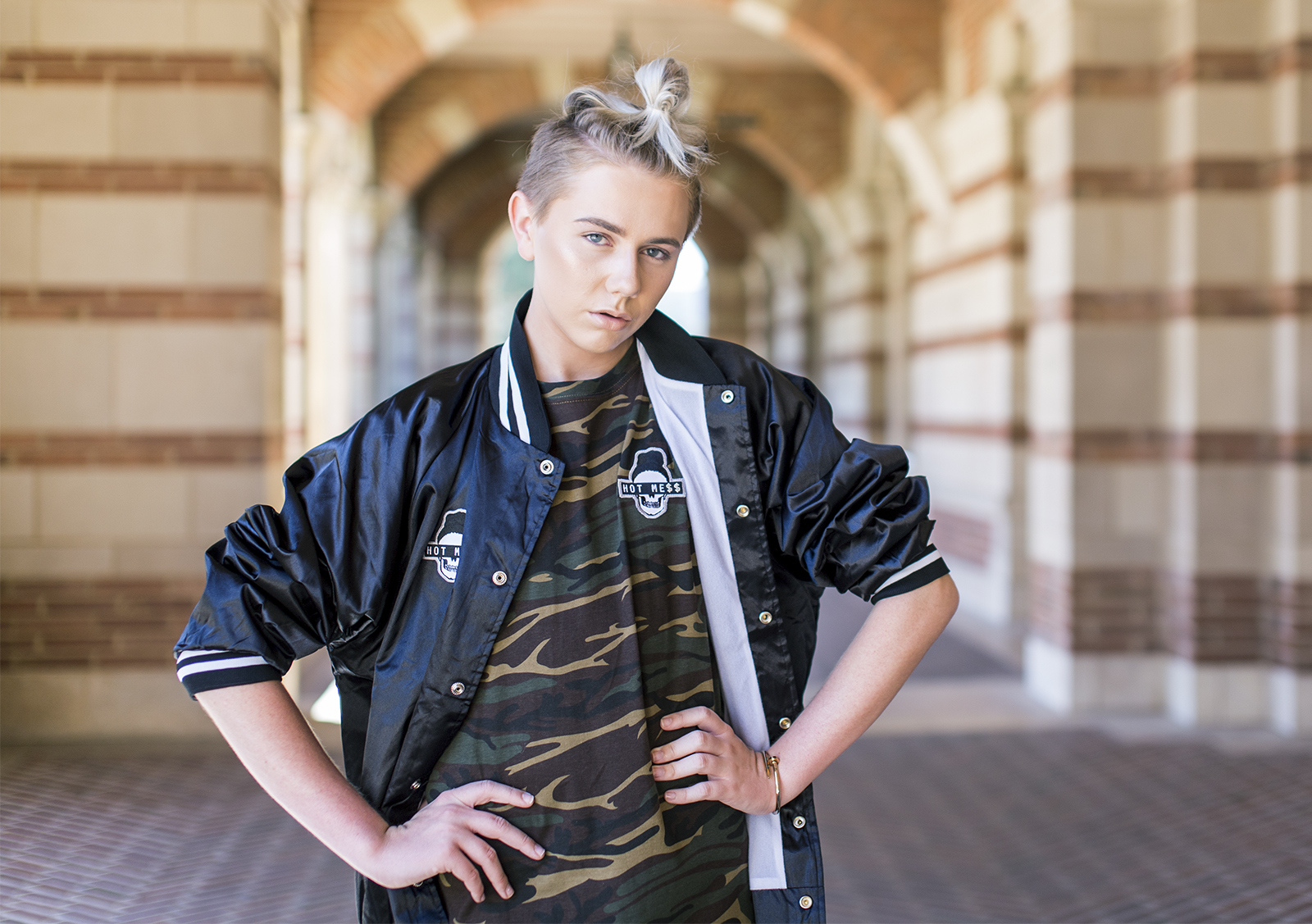 First-year student Matt Sarafa released his first fashion line, called Hot Me$$, on Sept. 14. The line includes unisex bomber jackets and camouflage shirts. (Jennifer Hu/Daily Bruin staff)
The first design Matt Sarafa ever brought to life was a blue satin dress for his mother.
"It was literally awful," Sarafa said. "It looked like Princess Elsa from 'Frozen,' but like on crack."
His mother, Tina Sarafa, on the other hand considers the dress a treasure.
"I will have that dress for the rest of my life," she said.
Matt Sarafa, a first-year design and media arts student, was just seven years old when his mother walked down the runway of a local fashion show, showing off her son's first creation. Despite his present distaste for the dress, it was a design that spearheaded 11 years of subsequent interest in the fashion industry. Sarafa, now 18 years old, launched his first fashion line, Hot Me$$, on Sept. 14.
[Related: Fashion group brings in diverse mix of designers for runway show]
Transitioning away from his childhood Disney princess aesthetic, the collection features five unisex pieces that Sarafa describes as edgy, urban streetwear. It includes white mesh and camo t-shirts, a black bomber jacket, a nude-colored baseball hat and a clear backpack. The line's title and graphic logo, pictured as a skeleton in a straight jacket, were inspired by his experience on season one of "Project Runway: Junior."
"My dress is a hot mess," Sarafa said on camera, in reference to his unconventional design in the second episode.
For the episode's challenge, the contestants had to create a high-end design using only materials found at a car wash. Sarafa's dress incorporated red plastic taillights in a bright mosaic with thick, black tubing as a skirt. On runway day, his model struggled to walk in the tubing. One of the judges, Sarafa said, told him the model looked like she was in a straitjacket.
Sarafa continued to use the line "hot mess express" throughout the remainder of the show, and as soon as he left, he starting designing the Hot Me$$ graphic. He said the experience inspired a tongue-in-cheek aesthetic in his work.
"I love that he's able to be the first person to make fun of himself," Tina Sarafa said. "I think that's just so reflective of him, that he was able to take something that was a lemon and turn it into lemonade."
Sarafa's interests in fashion design as a whole were sparked when he first watched "Project Runway" with his mother at age seven, he said.
One day, Tina Sarafa said her son crawled into bed with her, where they ended up watching a Saturday marathon of the show. Partway through one of the episodes, he left to get his sketchbook, colored pencils and crayons. When he came back, he started drawing a figure and putting dresses on her.
"I had never really seen the fashion world before, until I saw the show," Sarafa said. "Once I started actually (designing), I realized it was something that I could see myself doing for the rest of my life."
Sarafa said his designs have developed to be very avant-garde and crazy, but the main point of his first collection is to help people feel confident in what they wear. One of the ways he is doing that is by making making his line available to all genders.
"Especially in today's age, I feel like fashion's really leaning more towards unisex and blurring gender lines. In my personal style, I think that it's really cool to blur masculinity and femininity," Sarafa said. "I wanted honestly as many people as possible to be able to wear the Hot Me$$ line."
Sarafa's sewing teacher and colleague, Mick Bender, said his collection is more than important, regarding contemporary issues on gender conformity. Serena Kripalani, a childhood friend, said she applauds Sarafa's decision, because many clothing brands today are exclusive to one gender.
"He's always embraced what his core values are," Bender said.
Shane Eichstaedt, another childhood friend, said his decision to make a unisex line sounds exactly like what he would do.
"He presents as very androgynous … He knows that about himself," she said. "He knows exactly what he wants to wear, and so that's just what he designs."
One model for Hot Me$$, Alexander Bozicevich, said it was his first time modeling a unisex line and thought it was interesting to see how each product looked on different people.
"He's finding a way to relate (to clothing) in a more progressive way, to reach a demographic of young people who aren't defining themselves strictly in terms of gender and gender roles," Bozicevich said.
As a young designer, Sarafa struggled with manufacturers taking him seriously throughout the process of putting out the line, but he said he is ultimately proud of the final look.
The collection is currently available exclusively on his website, and he said he is working on restocking products, as many of them are almost sold out.
Meanwhile, Sarafa said he has already started on a new fashion line, in which he plans to maintain his edgy style, but incorporate more color. Ultimately, he said, the thing he looks forward to most is seeing the way his clothes move as they walk down the runway.
"My favorite part about designing is being able to take ideas from my head, put them down on paper in a sketch and then bring those to life," Sarafa said.