The Improv Space hosts Welcome Week to showcase comedy to new students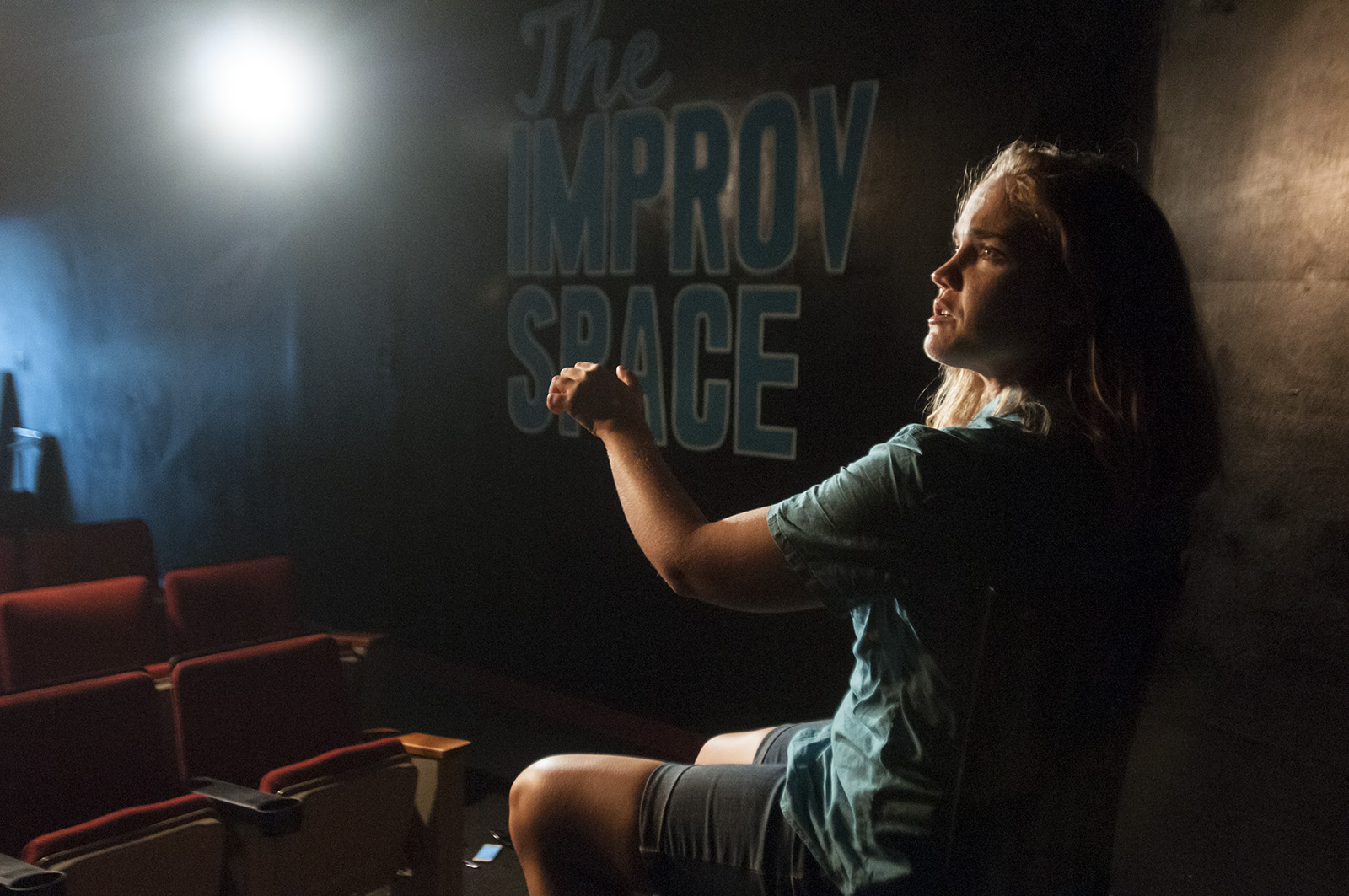 Several UCLA students and alumni will perform at Westwood's The Improv Space during its Welcome Week. Kirsten Opstad (above) is one of the coaches and a level two teacher at the comedy venue. (Emaan Baqai/Daily Bruin senior staff)
Welcome Week The Improv Space Monday through Sunday, times vary FREE
The lights were still on late Friday night inside the small theater near Westwood's In-N-Out. A group of improv artists gathered together on stage in front of the black curtain for their 30-minute improvised comedy set.
The Improv Space on Gayley Avenue will hold its annual Welcome Week from Monday to Sunday. UCLA students can watch free shows each night and learn about opportunities to tell their own stories, said Kaitlyn Richey, market director of The Improv Space.
—
Monday
Richey will be managing a microphone stand-up comedy night Monday. Stand-up artists, such as Quincy Jones and Justin Tan, will come to improvise. Tan began at The Improv Space when he was a student at UCLA, and he felt it was a safe space where he could feel comfortable.
Jones, who performed on campus in April, said young college students laugh at different things than older club-goers do, so he has to balance material at his shows.
—
Tuesday
Rapid Fire Improv, a UCLA student improv group will perform its own comedy sets along with Jetzo, a Japanese two-man comedy team. The team, comprised of Juzo Yoshida and Chad "Jett" Damiani from the fishing village of Nagoya, is the most popular clowning troupe now in Los Angeles, Richey said.
Rapid Fire held auditions for new members on Friday. They most recently took The Improv Space stage Sunday, with a set featuring student indie rock band Eva B. Ross Foundation.
[Related: Rapid Fire's Landen Baldwin graduates, goes onto LEGOLAND Hotel]
—
Wednesday
During JAM, The Improv Session, the audience members can go on stage and perform improv comedy by putting their names into a hat. Host Ben Crutcher will then pick a random audience member to come on stage and improvise. The audience members can also sign up as a team with their friends to perform a 10-minute set, Richey said.
—
Thursday
Thursday's schedule features six long-form improv teams who will perform for 30 minutes during the Mainstage show. The stand-up group BoyBand from UCLA, led by Austin Nasso, will also kick off its first show of the year at 11 p.m.
Nasso, a fourth-year computer science student, said he listens to Eminem before every performance in order to pump himself up. Nasso founded UCLA's Shenanigans comedy group and the Roadkill Comedy Show, which students could attend at the lower level of Parking Structure 7 last year.
[Related: Stand-up group BoyBand brings weekly laughs to The Improv Space]
Thursday will also host 400 Cat, a long-form improv team that includes UCLA alumnus Ben Goldsmith, who teaches at The Improv Space.
Goldsmith said the trick for becoming good at improvisation is to think of the performance as a conversation, a reaction to his fellow performers, where he can become anyone using his imagination.
"Every opportunity to improvise is an opportunity to improve," Goldsmith said.
—
Friday
Another six improv teams will perform for Mainstage shows. At 11 p.m., a stand-up comedy called Tough Week will see five to six people tell humorous stories directly to the audience.
Cory Lane, second-year theater student will participate in improv on Friday as part of the long-form improv team Sidewalkers. Lane said he first ran across The Improv Space while hanging out with his friends at In-N-Out. As they walked by The Improv Space theater, Lane noticed "Open Night" written on its windows, sparking his interest.
Lane will perform with the business casual group, which typically dresses fancier than the audience, Lane added.
"Wearing something nice always gives you default attention," Lane said.
—
Saturday
Saturday features a new program called The Sketch, including three of the longest running sketch teams from ImprovOlympic West, a Hollywood comedy theater.
—
Sunday
To close out the welcome week, a two-person comedy team tournament will offer teams of comedians a chance to compete with their jokes. Ten to 12 teams will tell jokes separately against another pair, and the audience will vote who wins. The winners will move on to the next round until a champion is crowned.
[Throwback: The Improv Space brings new ownership, new goals]
"(The Improv Space) can be a community for people who love comedy to congregate and get people to fall in love with improvisation," Lane said.