Dancer challenges sexuality stereotypes through unique choreography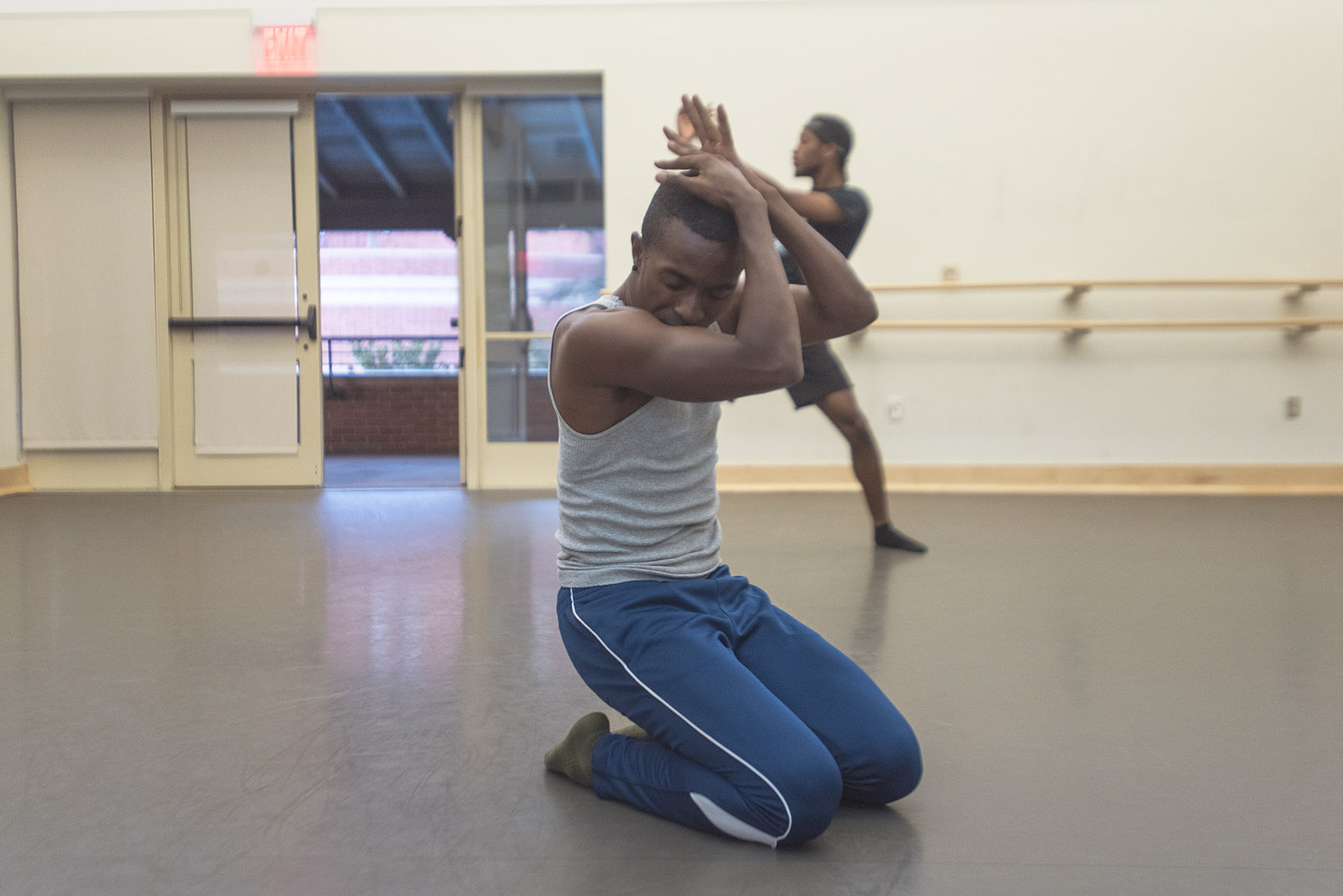 MFA student Bernard Brown choreographed "Active/Passive," which features dances based on wrestling moves. (Maryrose Kulick/Daily Bruin senior staff)
"Active/Passive" Choreographed by Bernard Brown Highways Performance Space Friday and Saturday at 8:30 p.m. $15
Sept. 29, 2016 11:29 p.m.
Bernard Brown said he couldn't hug another man growing up in South Los Angeles – doing so elicited scowls of disapproval.
The graduate student wants to challenge the stereotype of gay men as inferior by questioning the gender roles he believes are generally assigned to sexual acts, such as the male being dominant, Brown said. As a dancer, Brown uses his choreography to break down the preconceived notions many people maintain about what masculinity must be, he said.
In his choreography piece entitled "Active/Passive," Brown said he uses touch and the interaction of male bodies to show the range of emotions a person experiences in a relationship. The choreography will be presented in the program "New Shoes 9" on Friday and Saturday at Santa Monica's Highways Performance Space.
Brown became interested in presenting the concepts of masculinity and intimacy through choreography after working as a teaching assistant for Sex Squad at UCLA last school year. In the group, undergraduate students use their own experiences breaking down stereotypes around sexuality to help other Los Angeles teens feel comfortable expressing their own sexual identity, Brown said.
"I was so impacted by (the students)," Brown said. "I wanted to infuse some of that information into my own work."
[Related: "Dick Dialogues" provides outlet for discussion of modern gender roles]
In the choreography for "Active/Passive," Brown based the movements on wrestling poses. He wanted to toe the line between movement as part of standard sports and movement that can be read as sexual. Brown said he deliberately chose wrestling as the inspiration for his choreography because of how intimate wrestlers are when they fight.
"(Wrestling) is violent, but there is a also a lot of movement involved," Brown said. "So I thought the connection between wrestling and sex was very potent."
Male intimacy is typically presented through violence in sports, Brown said. He hopes to present the sport of wrestling as the polar opposite of what happens when gay men come together intimately. He said his goal in "Active/Passive" is to explore the spectrum of intimacy that can exist between men, from contact sports to sexual contact.
Timna Naim, a collaborator and dancer in the piece, said they spent hours on Google Images with Brown and dancer Raphael Smith looking at photos of wrestling poses to emulate. The images – featuring pelvis-to-pelvis movement and close-body contact – came across as homoerotic, Naim said.
Naim said there is intimacy involved in wrestling, since the ultimate goal is to pin someone down to the floor.
"We see this active motion coming from both sides, but eventually someone loses, which is the passive," Naim said. "That kind of speaks to the title of the piece."
Using images of wrestling and emphasizing the close proximity between the bodies helps to create a tension between the performers, Brown said.
"It isn't like they are literally having sex or fighting, but more the abstraction of that," Brown said.
While choreographing the piece, Brown said he had a specific storyline in mind. A young man decides whether or not he should enter a night club. When he decides to go in, he is attracted to another man, but is unsure on whether to be open about his attraction.
[Related: Alumna aims to choreograph change through honoring hip-hop culture]
Aside from drawing from his own experiences for the choreography, Brown said he implemented Naim and Smith's personal experiences as young men to make the work reflective of multiple experiences.
"I use my work as an autobiography in a sense, and their information and experiences help color that work," Brown said. "I use their bodies as a page in a book to help understand something that many people experience."
Smith communicates the themes of the work through the nonverbal interactions with the other performers, he said. He conveys feelings of uncertainty by touching his partner's leg while avoiding eye contact and then quickly leaving that side of the stage, he said. Direct eye contact between the dancers throughout the piece helps demonstrate intense feelings of intimacy, love and anger.
In February, Brown showed the piece to an audience in Kaufman Hall at UCLA, where he said he received mixed reactions from his peers.
"Some people didn't necessarily get the story at all, and that is fine with me," Brown said. "But what they were moved by was the sensuality of the piece, especially with the men being so open, vulnerable and lush, but also very assertive and aggressive."
Brown hopes to use the choreography to expand the dialogue around what is sometimes called toxic masculinity – when heterosexual men use their physical bodies and privilege to coerce, manipulate and shame other people.
"I am an open and out gay male, but my work is seen by more people, rather than just me walking around," Brown said. "That's what makes a broader impact, and it gives a little bit of hope to young people that might not be so confident."