Students' podcast tackles issues of the everyday college student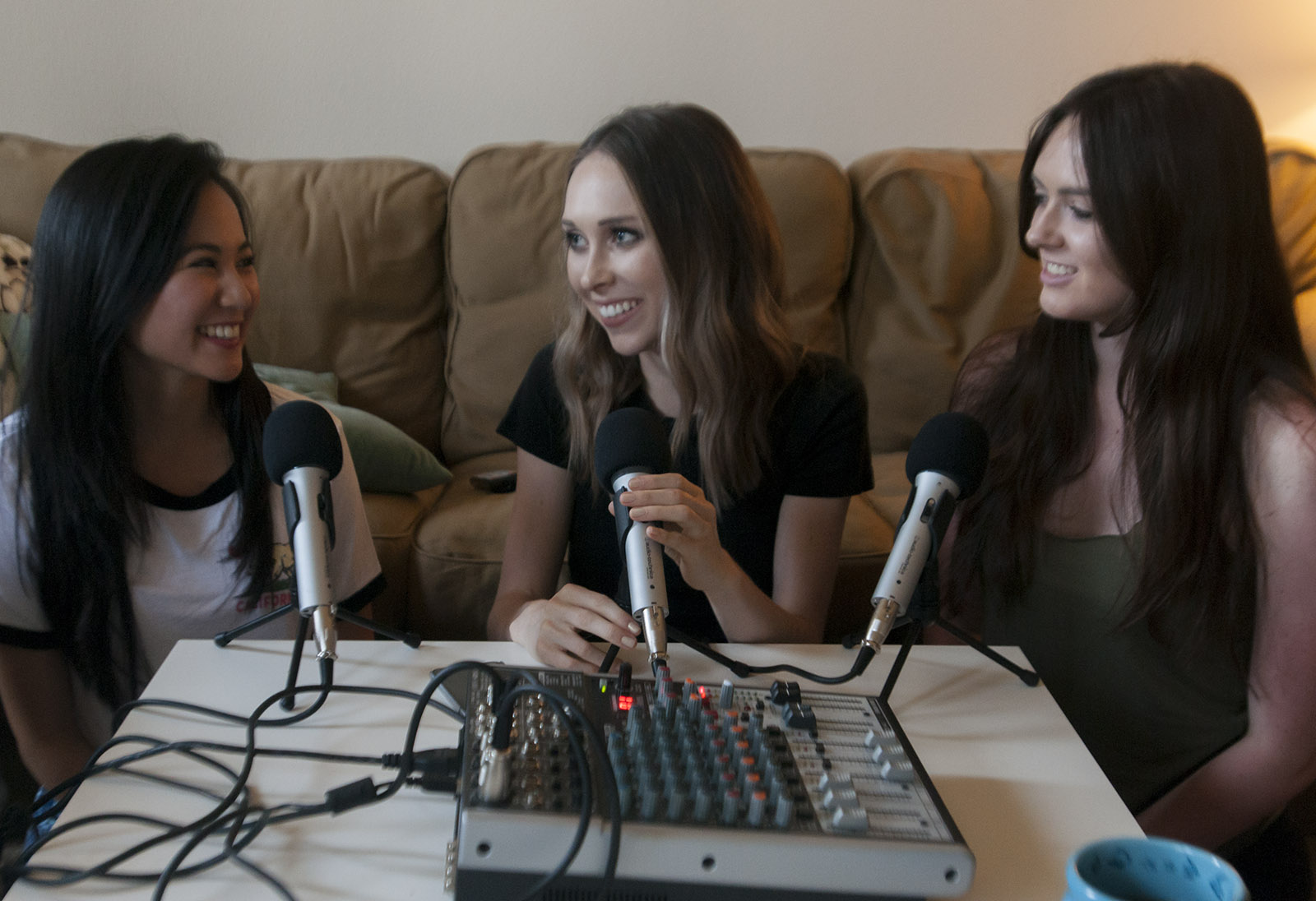 UCLA students Janina Lamoglia, Christina Rice and Kailyn Glass (left to right) record their weekly podcast "Actually Adultish" from the couch of their apartment. (Shelby Scoggins/Daily Bruin)
Christina Rice, Janina Lamoglia and Kailyn Glass gathered around their Midvale Avenue apartment's dining room table in their pajamas. The trio spoke into the microphones set up on the table, recording their discussion on jealous friends and roommate drama for the next episode of their podcast "Actually Adultish."
Rice, a fourth-year psychology student, began listening to podcasts in August 2015. After realizing there weren't any podcasts targeting college audiences, she recruited her two roommates, Lamoglia, a fourth-year political science student, and Glass, a third-year economics student, to start one of their own.
In June, Rice, Lamoglia and Glass began publishing hourlong podcasts discussing topics relevant to college students like relationships, pop culture and self-care. They record on Thursdays or Fridays and publish the following Monday mornings to iTunes and Stitcher, a free platform for podcasts and radio shows.
[Related: Student finds voice through radio show hosting, radio-charity program]

Many of the podcasts Rice listened to ignored college topics and the younger age group, appealing to people in their late 20s and 30s by focusing on health and business. Yet Rice and her roommates would stay up late into the night discussing common topics amongst college students, like managing friendships and dating.
"I would always think 'I wish somebody was recording this,'" Rice said. "The things we're talking about are issues that a lot of other people our age face, but no else is talking about them."
Rice began researching how to make podcasts in June, and asked Glass and Lamoglia to record with her. They chose to use a podcast format because they are free and easily accessible on iTunes or Stitcher. Glass said they chose the name "Actually Adultish" to convey the transitional, awkward stage of growing into adult roles during college.
Setting up equipment like their mixer and microphones was more complicated than Rice originally anticipated, but after trial and error she managed to establish a routine to post the audio on iTunes and Stitcher.
After finishing initial recording Rice said she edits the audio track, adding music and removing loud noises. She converts it to an MP3 file, then uploads it to their server along with a blog post about the episode and publishes it.
Rice continued to check how many listeners they had after posting their first episode. After they had reached 200 listens, she stopped checking because they wanted to have fun and help people rather than focusing on numbers.
Each week the trio discusses an aspect of the modern college world, finding inspiration from their own relationships, experiences and pop culture.
"It kind of helps us to dialogue with each other about issues that we're facing and be able to share with others," Lamoglia said. "It's like free therapy."
Rice said they record ideas on a Google Doc and post the upcoming week's topic on social media pages, inviting listeners to submit thoughts and questions. They answer between four to six questions, often submitted anonymously, as part of each week's episode.
Glass said when they first began recording, she found it difficult to be candid online and sometimes regretted sharing personal experiences about her own struggles with relationships or in school. However, she became more comfortable over time and said being honest is important to producing an authentic and successful episode.
"At the end of the day, not having that filter on makes it that much more genuine," Glass said. "When I was coming to college I wish someone had given me such uncensored advice."
Meghana Munnangi, a fourth-year anthropology student and Rice's friend, helped answer questions on two episodes of the show and listens regularly. She said the format allows her to listen while cooking dinner, doing laundry or walking to class.
"(They're) real and laid back on the show and don't really hold anything back," Munnagi said.
In an episode called "Backstabbing Bitches and Jealous Friends," the three discuss how to confront unhealthy friendships when it is appropriate to end them. Rice said four or five people contacted her saying they had been dealing with similar situations and appreciated hearing the "Actually Adultish" perspective.
While their content has consisted mainly of interviews and discussions with college students, Rice said they are planning on having guests from other podcasts and experts who can give graduating students career related advice about their field. They plan to continue publishing throughout the year.
After publishing an episode about body image, Rice said people messaged her saying the episode helped them have confidence in themselves.