LA's diverse restaurants give international students a taste of home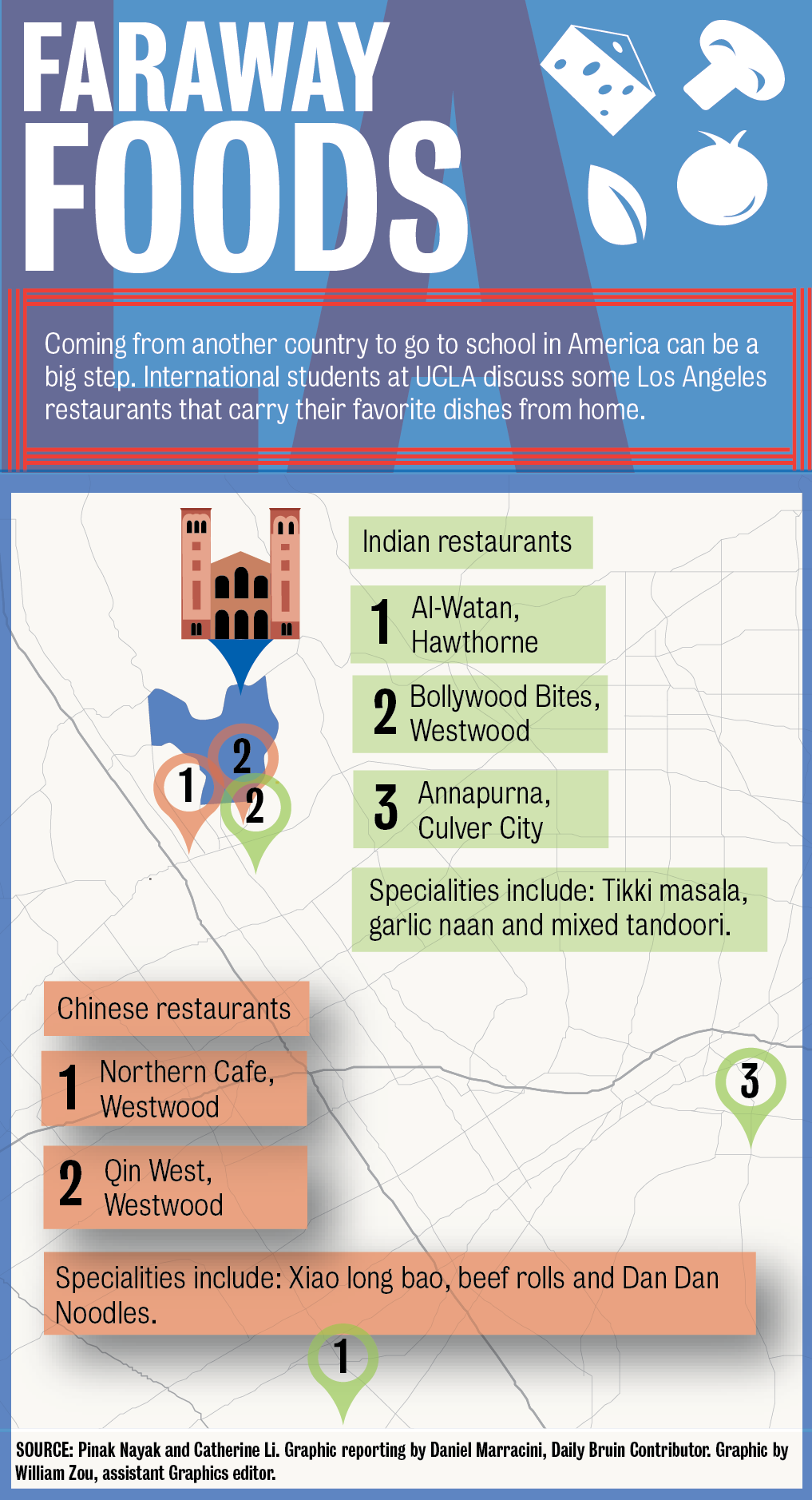 Wendy Liu's breakfast in her hometown of Taipei, Taiwan, often includes Taiwanese egg rolls made from a fried flour and corn starch batter wrapped around an egg.
The first-year physiological science student said she can find the food at almost any restaurant in Taipei.
"They remind me of my daily life back home," Liu said. "(Not having them) is going to be a change for me."
When Liu and fellow incoming international students Shibi Prahalad and Claire Chang begin their first quarter at UCLA, they will also be adjusting to a new food culture. However, the students said they are hopeful that LA's different ethnic restaurants can provide access to some of their favorite hometown foods.
Prahalad, who is from Chennai, India, said one food he will miss is biriyani. The dish, which is not exclusive to any one Indian region, contains spicy rice and is often served with beef, seafood or curry. While there are many different ways to prepare the dish, Prahalad said his favorite kind is the chicken biriyani that his mother makes.
Prahalad will also miss the rice-based street food southern Indian cities are famous for. Two of his favorites, idlis – a white, rice cake-looking snack – and dosas, look and taste similar to pancakes. Prahalad said idlis and dosas taste plain by themselves, and it is best to eat them with spicy vegetable sauces like sambar or chutney.
"The street food in India is very rich, and it's an integral part of people's lives here," Prahalad said. "Every person in Chennai, or in fact all of India, is extremely accustomed to street food."
[Related: Students' favorite shops offer diverse tastes outside of Westwood]
Pinak Nayak also enjoyed home cooked meals in India; he was born and raised in the south Indian state Karnatakasaid. The second-year microbiology, immunology and molecular genetics student liked the dining halls at UCLA, but that not having easy access to Indian food challenged him during his first months on campus.
"I used to want what my mom cooked all the time and I just really, really missed eating food at home," Nayak said.
To ease his homesickness, Nayak said he and his roommates would try out different Indian restaurants around the city. He liked Al-Watan in Hawthorne and Bollywood Bites in Westwood, two restaurants that focus on the meat- and bread-heavy dishes of northern India.
Of the Los Angeles restaurants he has been to, Nayak said his favorite is Culver City's Annapurna Cuisine. Nayak said he likes the rice-based dishes of southern India, and Annapurna's dosas provide a good, authentic take on one of the region's most popular foods.
Chang, who is from Beijing, said she thinks she'll miss China's street food, specifically jianbing, a snack similar to crepes made of corn and flour often topped off with a spciy sauce made from fermented bean curd. The food is a staple of Chinese street food and a cheap, tasty snack easily found in her home city, she said.
"Jianbing is literally everywhere in Beijing," Chang said. "I grew up eating it and whenever I don't have time for lunch or something, I can just grab it and go."
Another food Chang said she'll miss is Mao Xue Wang, a spicy stew made from duck blood and animal intestines.
"I have a lot of international friends, and most of them don't eat intestines because it seems nasty to them," Chang said. "But I think it's part of Chinese culture and just the food culture here. It's just really different from how the Western world prefers to eat their food."
Third-year business economics student Catherine Li said it wasn't hard for her to find good Chinese food when she first came to UCLA. Li, who was raised in Shanghai, didn't do any research before school started, but after wandering around Westwood and listening to recommendations from fellow Chinese international students, she was able to find several good restaurants.
Li said the two best places she's eaten at are Northern Cafe and Qin West Chinese Cuisine. The two Westwood restaurants provide an authentic take on the wheat-based dumpling and noodles of northern China, she said.
"I feel that much (of the Chinese food in Los Angeles) is really similar to Chinese food in China," Li said. "Some of the stir-fried dishes might be more American, because they might have different species of vegetables, but they do a good job with the dumplings and noodles."
[Related: Northern Cafe brings Chinese cuisine to Westside for UCLA students]
For UCLA students who want a wider variety of Chinese food, Li recommends going outside of Westwood. She said menus at smaller restaurants like Qin West or Northern Cafe tend to focus on the food of only one Chinese region, whereas bigger restaurants in San Gabriel like Shanghai No. 1 Seafood Village or New Capital Seafood tend to be more comprehensive.
Liu said she is eager to find restaurants that serve her home country's cuisine, and that when she starts school she wants to ask fellow Taiwanese students where to find them. However, Liu said that UCLA also gives her an opportunity to discover new favorite foods.
"I'll miss (Taiwanese) food, but I won't complain about it," Liu said. "I've heard that UCLA has really highly rated college food so I'm pretty excited about it."