Grad student embraces Venezuelan heritage in new acting roles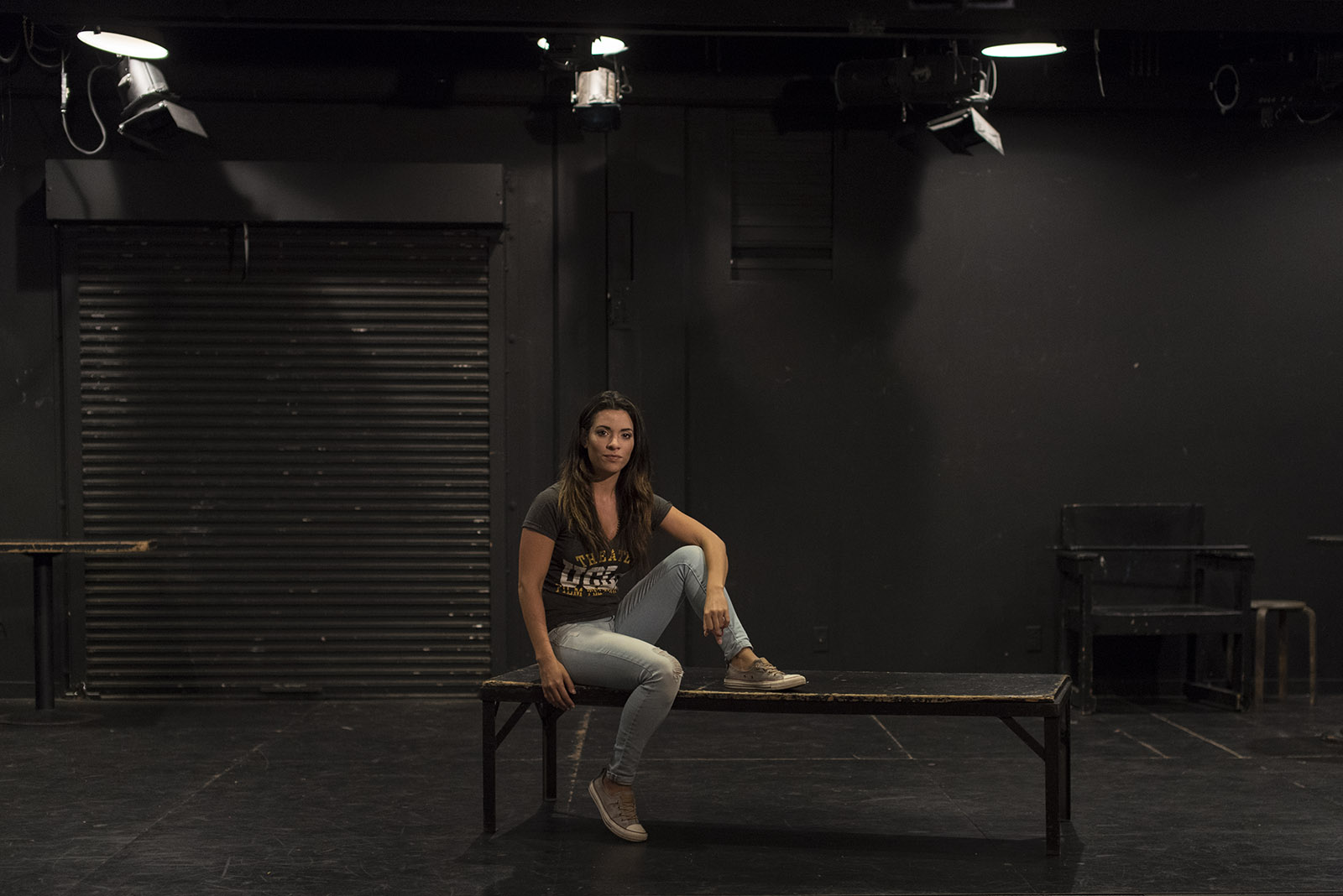 Graduate acting student and actress Vivian Rubio moved to the United States from Venezuela when she was 15 years old. She is frequently cast in diverse Spanish-speaking roles, such as her part as Giovanna in the new Netflix show "Las Garnachas." (Miriam Bribiesca/Photo editor)
September 16, 2016 3:20 pm
The moment Vivian Rubio arrived in the United States, she became an American – removed from her friends and family in Venezuela.
But to Americans, especially those in the film and television casting industry, she will always be Venezuelan – or at least something other than the white American image she said the entertainment industry deems "neutral."
Though her hard work has garnered many roles, and her bilingualism has opened her to diverse characters, the third-year graduate student in acting said she is often faced with discrimination and typecasting. However, after working 10 different jobs to pay her way through school, Rubio now has multiple television credits in both Spanish- and English-scripted television series, including her most recent role in the new Netflix and El Rey Network series, "Las Garnachas," which began filming in June.
But before she acted for television, Rubio first discovered her knack for entertainment growing up in Venezuela, she said. By telling jokes, she made her grandmother laugh instead of complain about her knee or forced a chuckle from her mother after she cried.
"I realized since I was little that entertainment has the power of getting someone from a horrible state of mind to go somewhere else," Rubio said.
Rubio had to continue to use this power when her parents divorced shortly after they immigrated to Miami when Rubio was 15. With limited financial stability and not a word of English in her vocabulary, Rubio said she worked as a drive-through attendant at Burger King, a sales associate at a music store and an assistant manager of another clothing store. However, she continued to act, working for a Cuban theater company and the Telemundo television network.
"I never gave up the acting thing," Rubio said. "I always had it somewhere. I was always doing something."
But Rubio did not seriously commit to the profession until she enrolled at the New World School of the Arts at the University of Florida in 2010. While studying there, she worked as an administrative assistant at an insurance company and a bartender at a restaurant, as well as at five different night clubs.
David Kwiat, Rubio's former professor at NWSA, said he admired Rubio's eagerness in class despite her grueling work schedule.
"It wasn't until probably toward the end of (senior) year that she even, in passing, mentioned to me that she worked until four or five in the morning and then went to school," Kwiat said. "I couldn't see myself doing that when I was in school and I couldn't see myself doing that now."
Krystal Valdes, Rubio's friend and former NWSA classmate, said she also remembered Rubio's tireless work ethic that allotted her only three hours of sleep.
"When I had my free time to spend with my family or my friends, she was still at work," Valdes said.
While Rubio paid her way through acting school by working multiple jobs, much of the payoff has come in the form of roles that do not reflect a similar story of a hardworking Latina woman, she said.
Rubio has maintained an acting career while studying for her master's degree at UCLA by booking roles in television series and commercials, but she has also been denied many roles because of her appearance or her Venezuelan accent, she said.
During a commercial audition in July, Rubio said she immediately felt she was not what the casting directors were looking for because of her appearance.
"Usually when they see me – long hair, tan skin, curvy – they automatically go to the woman who has sex appeal," Rubio said.
The majority of the characters she has played have featured their sexuality in some form – women in high places because they are attractive or maids that have been sexually abused, Rubio said. Being typecast in sexy roles is infuriating for Rubio because it creates a false stigma that Latina women use their sex appeal to get ahead, when in reality, many Latina women, including herself, have gotten where they are through hard work and dedication, she said.
"There's nothing wrong with embracing your sensuality or sexuality, absolutely, especially if you're Latina," Rubio said. "We really embrace that, but it's a little sad that (casting directors) don't see the possibilities of anything else."
Additionally, Rubio has come short of landing roles because of her Venezuelan accent, she said. Two years ago during a movie audition, the director complimented her on her performance before asking her to try it again – this time without the accent. She replied to the director that her accent was not purposeful and she could not change the way she naturally spoke, Rubio said.
"When I'm speaking, I don't even realize the sounds that I'm mispronouncing because, in my head, it sounds the same," Rubio said. "That's the disadvantage – when you have an accent that you can't 'neutralize,' as they call it, for a character."
Even after booking a role, Rubio said amendments to the part are almost always necessary because characters are rarely originally written as people of color. After being cast as Meg Winchester in the UCLA student production, "Sanity," Rubio created a backstory in which the character's mother was Puerto Rican to account for the character's non-Latin name but Latina accent.
[Read more: Student original production "Sanity" showcases marriage and family therapy]
Though Rubio has worked with speech and acting coaches to reduce her accent, she said her speech still remains a factor when auditioning for any role.
"Most characters, when they're created, they're not thinking ethnicity, they're not thinking colors," Rubio said. "They're just thinking neutral because it's what we've seen the most."
However, Rubio said her bilingualism gives her access to roles with diverse cultural backgrounds, such as her "Las Garnachas" character, Giovanna, who is Mexican.
"You're not from here, you're not from there, so you can be anything," Rubio said. "But at the same time it feels weird to not have a home. … I will always be a Venezuelan-American hybrid."
Carras is an A&E senior staff writer. She was previously the assistant editor for the Theater Film and Television beat of A&E.
Carras is an A&E senior staff writer. She was previously the assistant editor for the Theater Film and Television beat of A&E.