Concert review: Andy Grammer's enthusiasm takes center stage at concert with Gavin DeGraw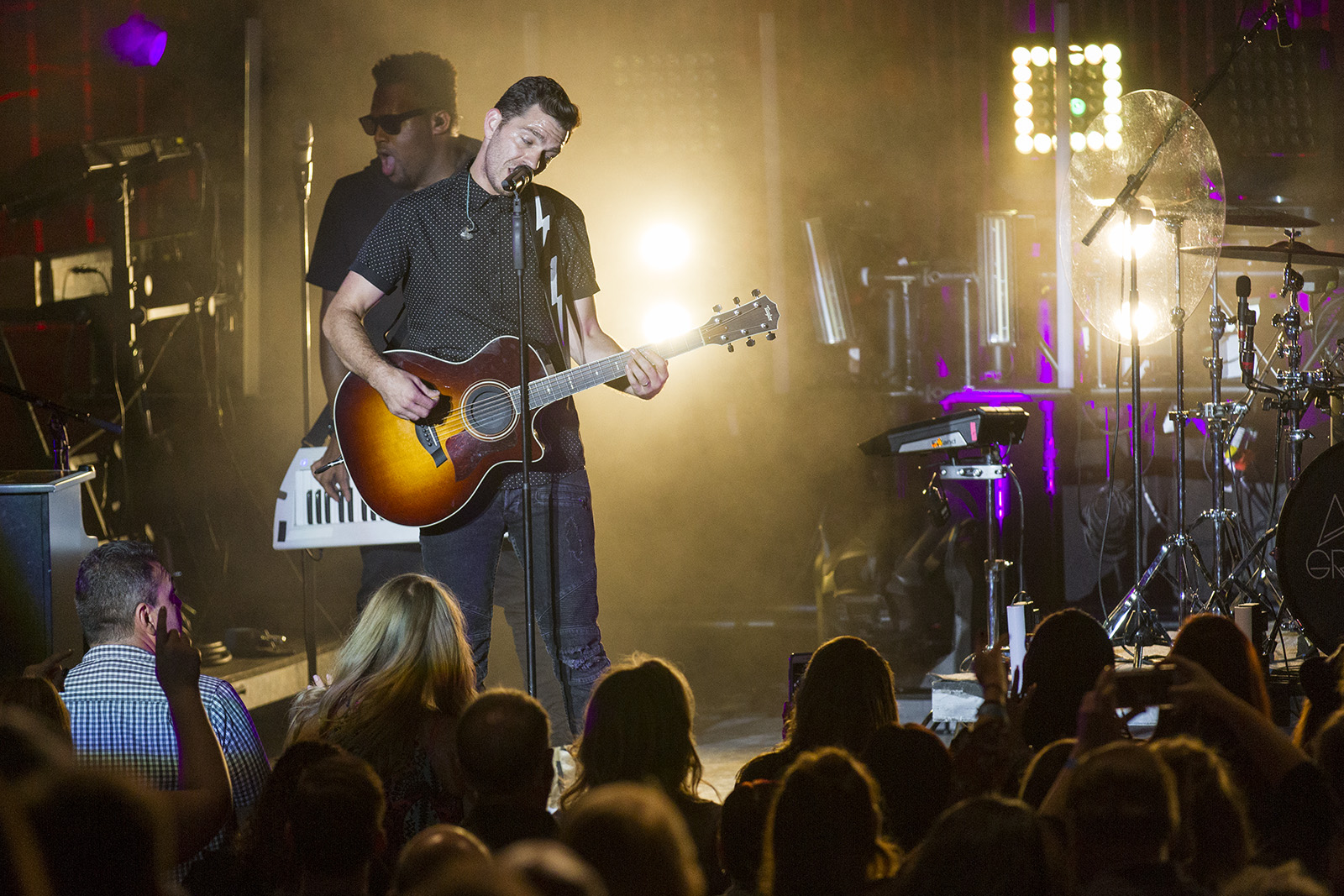 Singer Andy Grammer co-headlined at The Greek Theatre on Thursday, opening his set with "Keep Your Head Up," "Fine By Me" and "Kiss You Slow." (Kelly Ma/Daily Bruin)
Gavin DeGraw & Andy Grammer The Greek Theatre Sept. 15
Sept. 16, 2016 11:46 a.m.
Andy Grammer had the face of a man whose dreams have come true – and he knows it.
He started as a street performer on the Third Street Promenade in Santa Monica, so he couldn't contain his enthusiasm Thursday while performing at The Greek Theatre – a venue he said he didn't dare dream of since it hosted the likes of Bruno Mars and One Republic.
He wore a huge, infectious grin the whole time he co-headlined with Gavin DeGraw. Though both singers have similar voices with a country-pop influence, Grammer complemented his upbeat hip-hop with comedy whereas DeGraw disguised his vocals with rock instrumentals and a moody aura.
[Throwback: Q&A: Andy Grammer opens up on his rise to fame in 2012]
Going in, Grammer already stood out because of his songs' admirable messages about fidelity, respect and positivity. In "Ladies," he sings about his mom telling him, "Most of this world sees / Women like candy / You'll be a man who / Will be standing for me," compared to most pop artists who objectify women.
But watching him live in concert only added to his lovability. He's a genuine good time, not only for the audience members as they chanted to his optimistic "Keep Your Head Up" but also for him as he smiled on stage and reminisced about his Los Angeles roots.
"It's good to be home," Grammer said in between the first few numbers. "I'm super freaking psyched to be here."
The opening number, "Keep Your Head Up," led into another hit "Fine By Me." He grooved his shoulders up and down while showing off the smooth vocals from his 2014 album "Magazines or Novels" that sound more titillating in person. He drew out the last line, "We can lay like this forever / It's fine by me" in an almost jazz-like a cappella arrangement to show off his vocal range.
His energy was so high that it felt like his first concert, yet his sound was as clear as a seasoned star.
Though his show wasn't the most impressive in terms of the background and props, he radiated joy despite what must be an exhausting tour. His performance at the House of Blues in 2015 felt more intimate because the venue is smaller and covered, but since the open-air Greek Theatre is so much larger, the audience could watch his elated expressions up close on the projector screens.
He had fun with his lively bandmates during "The Pocket" when the four men stepped in sync to a choreographed dance during breaks in the song. The carefree attitude continued with two giggly, bouncy numbers: "Holding Out" about his struggles to stay a virgin and "Forever" about how long women take to get ready. Throughout the set, Grammer shocked by rotating playing the piano, guitar and even trumpet at one point.
Grammer said he's working on his third album, and shared a new song "Good Parts." It began as a slow ballad about hating small talk and turned into a powerful belt about wanting to know the deep parts of another person.
Throughout his one hour on stage, his positive vibes and talented voice combined expertly with the nonderogatory – albeit cheesy – rhythmic lyrics like in "Honey, I'm Good" and his truly ecstatic – albeit sweaty – face.
[Related: Concert Review: Coldplay at the Rose Bowl]
When DeGraw took the stage, the clash was clear. Wearing a dark fedora and zip-up leather jacket, the singer offered his blend of country pop rock – sans smile, for the most part. His vocals were raspier and at times competed with the blasting instruments.
While Grammer offered a pleasurable happy-go-lucky experience, DeGraw seemed to take himself more – perhaps too – seriously in the dark attire and with the solemn expression. Instead of highlighting his backstory like Grammer, DeGraw said at one point he usually tells "a bullshit story" but decided not to.
DeGraw transitioned into an acoustic segment, including "In Love With a Girl" and "Soldier" that feature his signature style of moody soft rock. He also covered "Let It Go" by James Bay, closing his eyes and playing piano during the slow song that perfectly fit his rough voice.
He wrapped up by emphasizing his powerful rock music during the most spirited portion of his set, which featured his biggest songs "Not Over You" and "I Don't Wanna Be."
Both male artists showed off their high and strong voices under the full moon, but Grammer's contagious energy was more moving emotionally and physically than DeGraw's suave pop/rock.
Weinberg is the prime content editor. She was previously the A&E editor and the assistant A&E editor for the lifestyle beat.
Weinberg is the prime content editor. She was previously the A&E editor and the assistant A&E editor for the lifestyle beat.