Movie review: 'Game of Aces'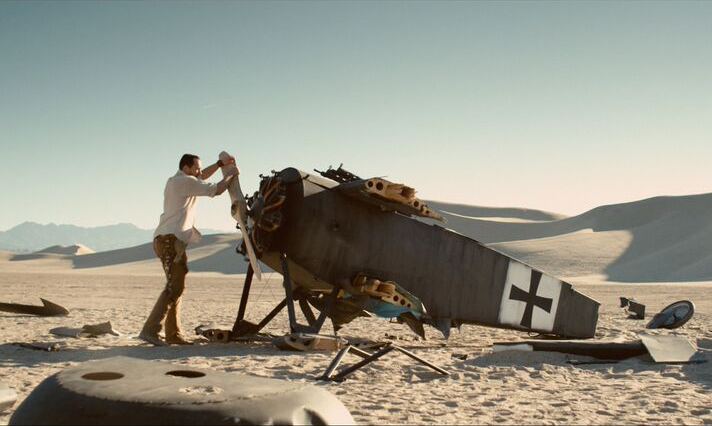 "Game of Aces" Layfilm Directed by Damien Lay Released Friday
A wounded German officer in the vast Arab desert says to himself repeatedly in German, "There is no pain," as he takes out a splinter stuck in his thigh. The credits appear in a Tarantino-esque font and filter while a nondescript biker rides in front of a backdrop of the pyramids.
The opening credits of "Game of Aces" are the only indication that the film is set in Egypt. Shot on an ostensibly low budget, the movie disappointingly feels like a three-character stage play with a single set, which consists of a vast, empty desert and two pitiful set pieces — a battered truck and a crashed plane.
"Game of Aces" is about rescuing a German spy who holds valuable information for the American protagonists during World War I. Chris Klein of "American Pie" plays the male lead, Captain Jackson Cove, an American pilot grounded for crashing too many planes. He teams up with with nurse and German language translator Eleanor Morgan (Victoria Summer). The duo sets off in the Arabian desert driving an old truck to find German spy Josef Von Zimmermann (Werner Daehn), who has crashed on his way to deliver a message he intercepted from the Germans.
The movie's simplistic way of telling a complicated story is applaudable. It cleverly demonstrates the futility of elaborate sets and special effects in a story that can be told with much simpler tools like good acting. While "Game of Aces" aced the acting with its three talented main actors, the script was crammed with rookie mistakes in dialogue, continuity and chronology.
The film has an enticing story and a good structure. The buildups, the escalations, the twists, the big reveal — everything is exactly where it should be. It boldly topples all the obstacles of filming a foreign period piece, such as elaborate sets and costumes that could shoot the budget up manifold, only to fail in the area that does not require any additional budget, which is the script.
Toward the beginning of the film, a plane flies a few feet above Jackson's and Eleanor's heads while they drive their truck across the desert. This plane drops a can suspended by parachute, which they unwittingly take for an undetonated bomb and try to diffuse it with no prior experience in bomb diffusion. Eleanor covers her ears, as if it would protect her from the loud noise of imminent death.
It is difficult to believe two supposedly intelligent characters would believe bombs are dropped by parachutes when it clearly looks like a refill of supplies. Moreover, if Eleanor wants to survive a bomb explosion, she should take cover, not cover her ears.
Despite such overlooks in writing and directing, Damien Lay deserves credit for finding innovative ways to shoot this ambitious period piece on such a low budget.
Lay used a desert with no landmarks as his set throughout the film and kept the number of actors confined to three: the protagonist, the antagonist and the damsel in distress.
Klein said he adored the scenes where Jackson and Eleanor bantered back and forth. He also enjoyed exploring the world of independent filmmaking, which is very different from the blockbuster movies he is famous for.
"I've been a big fan of participating in independent movies for a very long time," Klein said. "It challenges us actors to get it right in a limited time."
He also said independent film sets don't have big tables of catering or big trailers with cushy cushions, and the actors don't have a lot of downtime.
Klein also said his character was an homage to his hero, Indiana Jones. The action-adventure elements of this picture were what attracted him at first. Klein fell in love with such films when he was a little boy. Had it not been for "Indiana Jones and the Raiders of the Lost Ark," he probably wouldn't have pursued acting, he said.
Summer, on the other hand, was worried about her German dialogues at first, but got carried away by the California desert.
"The sunsets were just so magical, so peaceful and so expansive," she said.
Despite Summer's concerns, her German sounds confident to the untrained ears of a non-German audience.
"Game of Aces" has a lot to offer to audiences who enjoy analyzing films. There's much to learn from the director's choices: the ones that worked, like the modest stage play look, and the ones that didn't work, like the total absence of set details that would make the location look like Egypt.
Email Khalid at [email protected]