TFT professor explores cultural differences in film 'August in Berlin'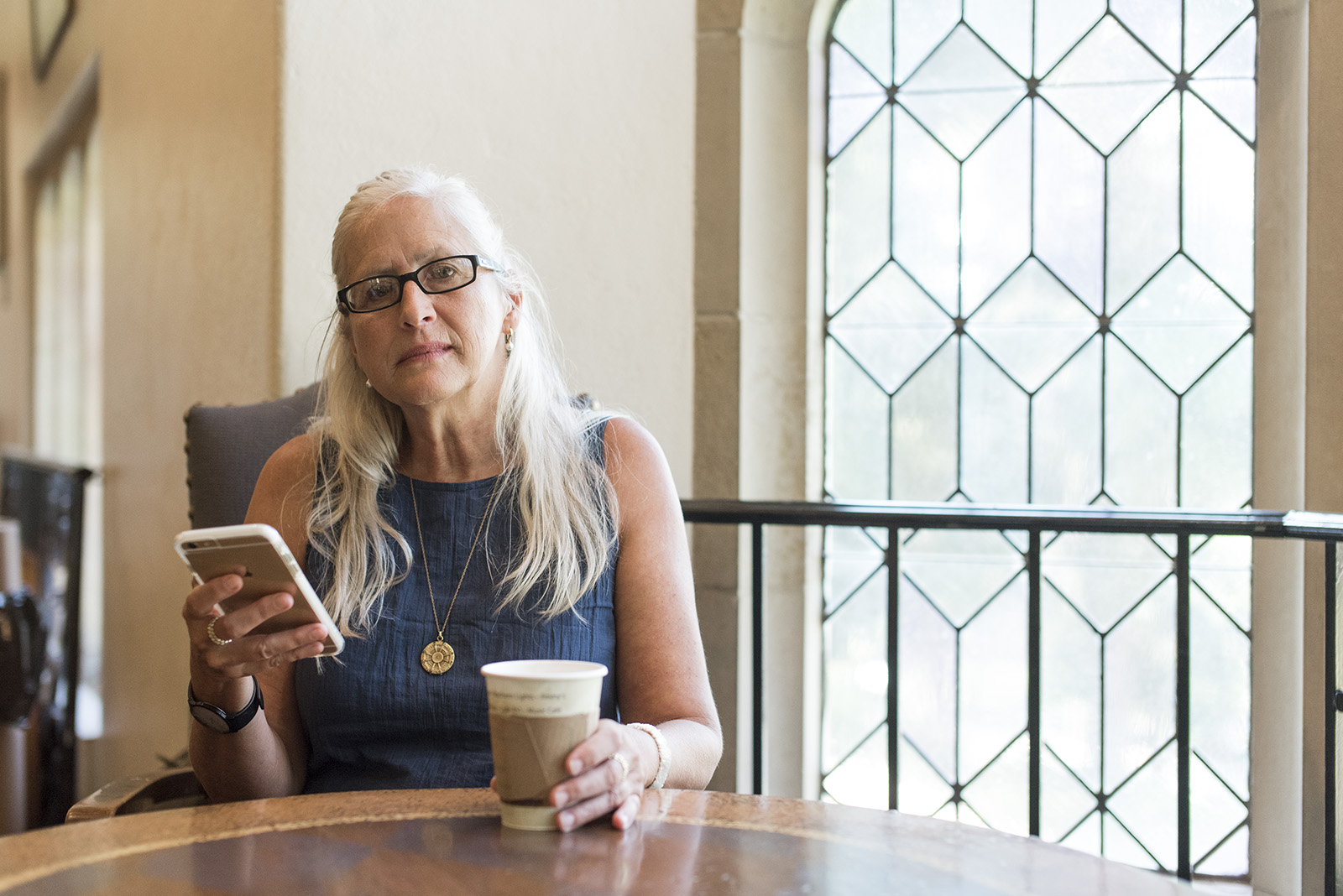 Film professor Becky Smith wrote and directed the film "August in Berlin" about two strangers meeting in a coffee shop. She filmed the movie over a span of eight days in Berlin, Germany. (Miriam Bribiesca/Photo editor)
A small coffeehouse in Berlin housed the fortuitous meeting of two strangers, a German man and a Canadian woman. Although the two were reluctant about each other at first, spending 48 hours together allowed them to overcome barriers crafted by their own assumptions about their cultures and romantic statuses.
This is the central premise for "August in Berlin," a feature film written and directed by film professor Becky Smith, who is the vice chair of production for the UCLA School of Theater, Film and Television. In August 2014, Smith and her crew shot the film entirely on location in Berlin over the span of eight and a half days using an international cast, crew and set. The film is currently in post-production.
For "August in Berlin," Smith said her inspiration for creating a film over a concentrated period of time came from one of her favorite films, "My Dinner With Andre." The 1981 film depicts two estranged friends meeting for dinner in a cafe over one evening, conversing about topics such as the nature of theater. "My Dinner with Andre" was shot in 16 days.
"I ultimately decided that if I could use two-camera coverage, I could shoot the film in an insane eight days," Smith said.
Despite spending the past five summers in Europe, Smith said she felt she only knew Germany from an outsider's perspective, because she did not know the language. She wanted to shoot a film in Berlin, which has a relaxed filming permit structure that made it easy for the crew to use the city as the setting of the film.
For one scene, the crew was able to gain access to the Weissensee Cemetery, the second largest Jewish cemetery in all of Europe, containing nearly 115,000 graves and encompassing about 100 acres of land.
"I still to this day don't know why they gave us permission (to shoot there), but they did," Smith said.
However, after spending a day of shooting in the cemetery, the crew began to digitize the footage, only to find that one of the two cameras had somehow erased all the footage from that day, Smith said. On an eight-day time crunch, they spent five extra hours on a ninth day of filming to reshoot the entire scene.
"You hope that everything is going to stay in line and be okay, but you just have to do two takes and move on," Smith said.
Though the relaxed permit structure in Berlin gave the crew access to many locations, the crew had to cooperate with the city's crowds.
Smith said she and the crew had a close relationship with the owners of the restaurant that was one of their filming locations. They allowed Smith and her crew to film scenes freely. But in the middle of shooting one day, they told the crew to leave because they needed to open the restaurant to customers.
Instead of leaving, the crew explained to the customers of the restaurant that they were shooting a film, and most customers did not mind at all — they just wanted to eat their meal, Smith said.
"Their presence ended up giving the scene a very natural feel, and I was able to film it in a way where the continuity worked with them eating their dinners," Smith said.
For Max von Pufendorf, the lead actor in the film, another challenge was learning the English script since it's not his first language.
He said the more emotion-based, dialogue-filled style of "August in Berlin" is not common in Germany, where according to him, nearly 70 percent of films are criminal films.
"These kinds of intellectual, romantic, thinking-about-yourself stories are very rare," von Pufendorf said. "I really loved that."
Iris Helfer, the assistant director of the film said the multicultural aspect of the film is not something all film crews get to experience. The crew had members from different parts of the world, including America, Israel, Spain and Germany. However, it posed challenges because every country has its own distinct industry and work ethic.
As an American writing for a Canadian-American and a German actor, Smith said she had to ensure her script maintained authenticity to the male, German character's dialogue. She said she wrote the female character from an American perspective, channeling her own view as an outsider into the female lead's character.
Smith said she plans on completing post-production by the end of September and placing the film into the film festival circuit. She hopes for it to be bought out by a distributor such as Warner Bros., which bought out her last independent film "16 to Life."
"There's that old adage — whatever can happen, will happen," Smith said. "You just have to go with the flow."