Composer's style integrates classical theory and modern soundscapes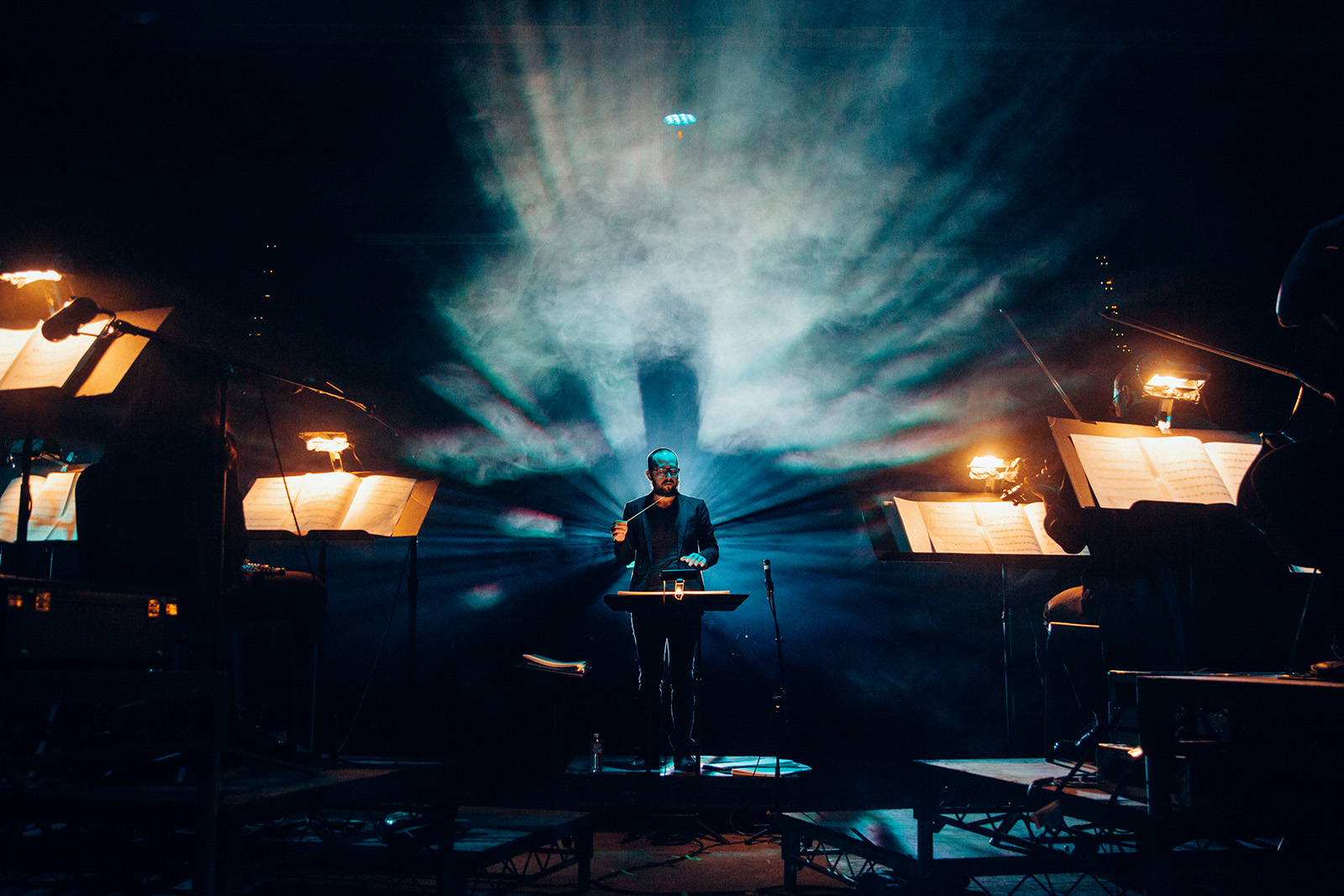 Alumnus Joe Trapanese is a Hollywood film composer whose previous projects include the "Divergent" series and "Straight Outta Compton." He will perform with the The Echo Society as its musical conductor. (Courtesy of Tim Navis)
The Echo Society: V The Theatre at Ace Hotel Wednesday 6:30 p.m. $35 to $150
The fusion of synthesizer sounds and violin harmonies in space opera "Star Wars" inspired Joe Trapanese to score for films like the ones he loved as a kid.
Film composer Trapanese studied classical music composition at the Manhattan School of Music in New York City and earned his master's degree in composition for visual media from UCLA in 2008. He utilizes his dual training in classical and contemporary music to blend orchestral elements with electronic sounds in the scores of blockbusters like "Straight Outta Compton" and "Oblivion."
Trapanese brings his perspective as a multitalented composer to his role as the musical conductor of The Echo Society, an ensemble of seven film composers who perform live concerts that integrate traditional instrumentation and electronic beats. The Echo Society will perform their fifth event, an aural-visual installation titled "V," Wednesday at the Theatre at Ace Hotel in downtown Los Angeles.
Trapanese said his fascination with the intricate structure of classical music dates back to his days playing with Legos as a kid.
"It goes back to the Legos," Trapanese said. "I used to be very formal about building buildings as perfect structures, and that translates very well to classical music where you have to study a lot of formal things like proper orchestration and harmony theory."
Trapanese started playing the piano when he was eight years old but was not fully satisfied playing preexisting compositions. He said he soon had the desire to write his own melodies on the keyboard.
Trapanese discovered a playground for his passion in composition when his middle school music teacher introduced him to a music notation software on the computer. This software allowed him to mix the classical sound of piano with the modern electronic sensibility of the synthesizer and create his distinct musical style.
Trapanese's style is a hybrid of electronic and orchestral sounds alternating between minimalist, repetitive patterns and cinematic pops, which makes for his epic film scores, said Rob Simonsen, creative director of The Echo Society.
"(Trapanese) constantly pushes himself to grow and his style is always evolving," Simonsen said.
At the Manhattan School of Music, Trapanese said he would not settle for the classical compositions he was instructed to write and dared to add electronic twists to his sounds. However, even though he strayed away from becoming a classical composer, Trapanese said he always incorporates the orchestra into his scores.
"(Trapanese's) voice is distinguished by the different ways he uses the orchestra in his scores, since he is classically trained," said Nathan Johnson, co-founder, along with the other six composers, of The Echo Society.
In The Echo Society, film score composers have the opportunity to experiment freely with their style since the music is not necessarily bound to a motion picture, Johnson said.
While The Echo Society provides Trapanese more freedom to experiment with his sound, Trapanese said when it comes to scoring films it is essential to adhere to the musical demands of the director.
"You don't have just a white piece of paper and do whatever you want," Trapanese said.
While at UCLA, Trapanese would attend various film classes which taught him that film scoring is essentially about accentuating the film's storytelling. For this purpose, Trapanese said he needs to fuse his personal taste with the narrative demands of the film.

"Composing is like you are a chef and people come to your restaurant and ask for a peanut butter jelly sandwich, and you say, 'Hey, I make excellent steak,' but the customer just wants a PB&J," Trapanese said. "As an artist what I have to do is make the best peanut butter and jelly sandwich this person has ever eaten."
Trapanese recently brought his versatile film sounds to the crime thriller "Shimmer Lake," which is currently in post-production. The film, set in the Midwest, required Trapanese to use traditional folk instruments like the Appalachian dulcimer to create a parochial sound. However, to add his own modern twist to the thriller, Trapanese played them out of tune for an eerie outcome.
Trapanese said he is constantly finding new ways to fuse classical and electronic sounds to achieve the most musical impact in his compositions for film and for The Echo Society.
"Nothing I've ever worked on is my favorite thing, I just try to keep evolving and improving," Trapanese said. "If I ever start going, 'Oh, what I just did is my best attempt,' it's time to retire."