prime: How to plan a summer garden party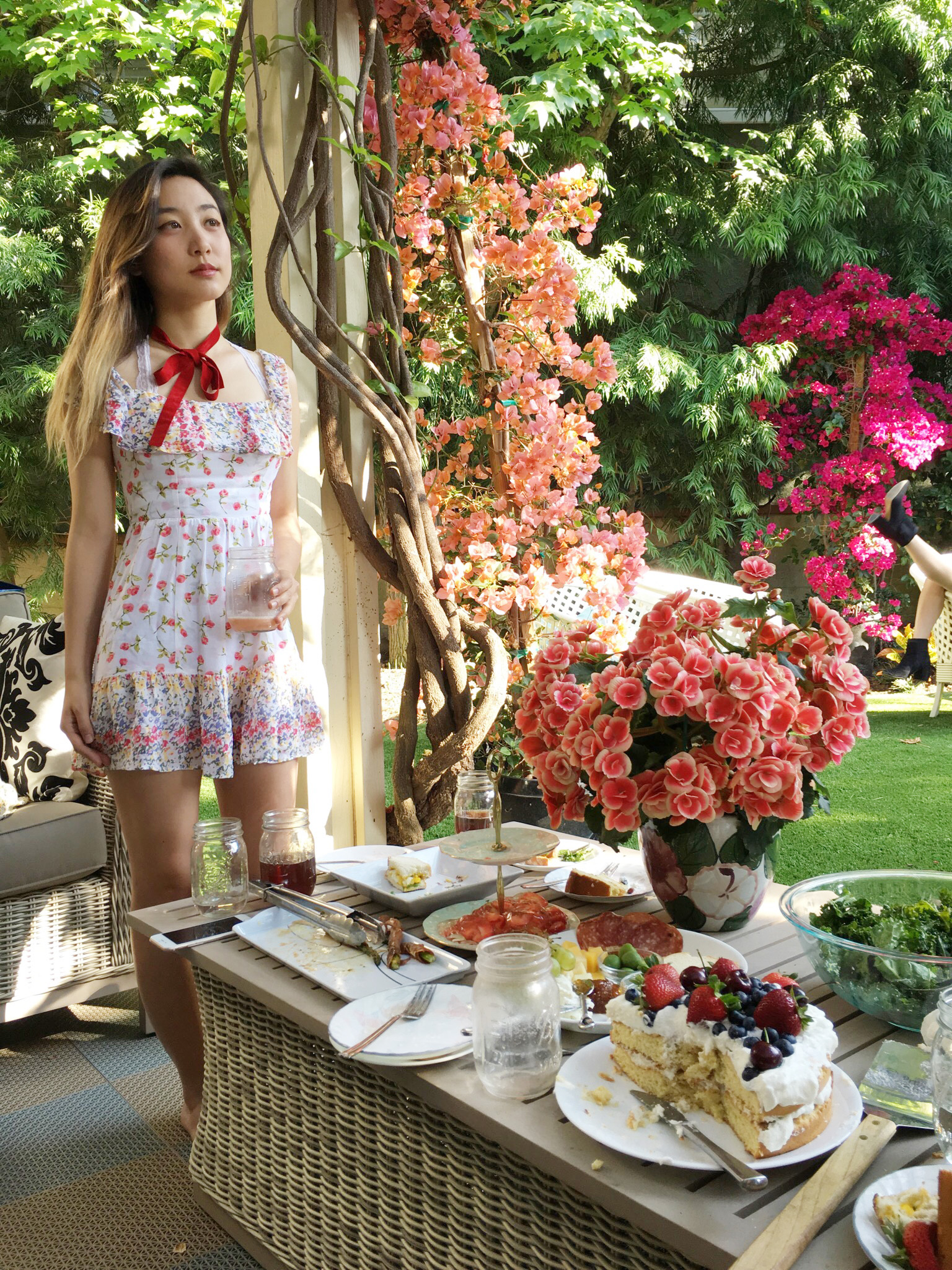 No summer garden party would be complete without food, beverages, decor and music. (Kelly Yeo/Blogging editor)
If you're in town for the summer, spend a day picnicking at the Getty Center, or take advantage of the sculpture garden or your apartment building's rooftop common area to plan a summer garden party. Westwood may be emptier than it is during the school year, but your weekend afternoons don't have to be. With enough preparation and foresight, a picnic or daytime get-together shouldn't cost more than a restaurant meal.
My experience with party planning was that as long as the ingredients are kept fairly simple, planning is a cinch. I wanted a "ladies who lunch" themed party, with lots of fresh fruits and vegetables, and a femme dress code to match. If you're into Pinterest, there are a lot of great decoration and party-planning ideas, although it isn't entirely necessary if you already have recipes in mind – I found most of mine on Buzzfeed.
Being an LA native, I threw a party at my house in Culver City. I made a salad and jello shots the night before, and did everything else – making the punch, assembling the charcuterie plate, and other baking – in the late morning before my guests arrived. However, everything wasn't quite done by the first guest's arrival. If you haven't thrown a party before, having a friend on hand who's willing to help with hosting can be an enormous help to make sure everything is made on time.
As a good rule of thumb, plan on three to four drinks per guest and if planning food in terms of hors d'oeuvres, seven to eight pieces per person. I made way too much food and punch – people eat and drink less than you think!
Food
Summer means you can skimp heavier meats and go straight to lighter ingredients, like cold cuts and vegetables. For my garden party, I made bacon-wrapped asparagus and a charcuterie plate: a selection of meats, cheeses, fruit, and other condiments meant to be eaten with crackers and bread.
On the easier side, I made tea sandwiches, and a vegan kale pesto salad. If you want to save more money, buy in season. Although California has many types of produce year round, produce specifically in season tends to be from closer locations, cutting down on shipping costs and making the final grocery store fruit or vegetable much cheaper. Make sure you have a combination of savory and sweet dishes – I made a berry-topped sponge cake, in addition to champagne jello shots, alongside all the savory dishes. Not everyone may share your sweet or salt tooth.
Both tea sandwiches and a charcuterie plate are great appetizer options since they are customizable in terms of the price range of ingredients. You'd be surprised how cheap some cheeses are, and throwing together an egg salad on top of crustless white bread and arugula is easy and delicious.
Another cheap appetizer I highly recommend would be brie puff pastry bites. This was the most popular dish I made, and it cost less than $20 total to make over 50 little bites. I added thyme on top for decoration but if you don't want to spend an extra $2 on herbs, then just cranberry jelly or some other kind of preserves, which is what really contributes to the taste of each brie bite, is fine.
Beverages
In terms of alcohol purchases, I stuck to the most inexpensive brands, since I was mixing up a large bowl of rainbow sherbet punch and pouring molds of champagne strawberry jello shots. Think lighter, with lower alcohol content, and fruity flavors – unless you're planning for a day drinking party, that is.
Other options include tea cocktails and other punch bowls. Cocktails are a bit more time consuming, so I'd generally recommend making a punch bowl. That means you can actually hang out with your friends instead of mixing up cocktails all afternoon.
Decor and music
If you're planning this as a picnic, decor isn't necessary. Let mother nature be your decor! Otherwise, thrift stores such as the little-known UCLA thrift store, Target, as well as Marshalls on Sawtelle, all carry interesting plates that can help make your get-together festive and summery. If you're on a tight budget, the most important things that would make your picnic or get-together stand out are plates and dining ware, as well as a tablecloth or picnic blanket. At the very least, make sure your guests have enough chairs to sit on.
Music, whether played through a portable speaker or through whatever rigged up audio system you have in your apartment, is probably most important. Here's the playlist I used, for your planning and inspiration purposes: