UCLA alum, chef creates unique LA Mexican cuisine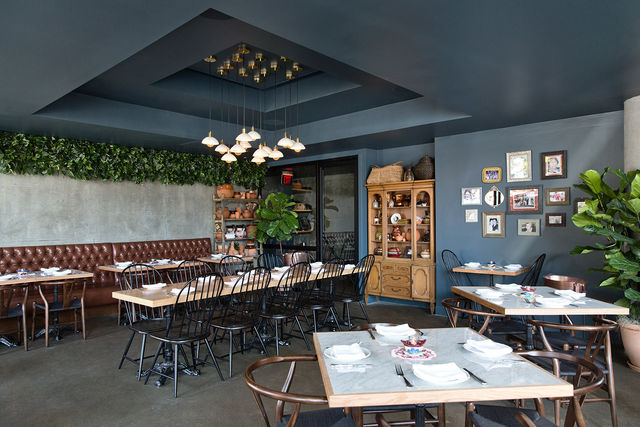 Alumnus Ray Garcia opened Downtown Los Angeles eatery Broken Spanish, a restaurant serving up Latin cuisine. (Courtesy of Ray Garcia)
Like most students, Ray Garcia didn't start teaching himself how to cook until he moved out of his dorm room and into an apartment.
Now UCLA alumnus Garcia is the head chef at Broken Spanish, his second restaurant which he opened in June 2015 in downtown Los Angeles. Since discovering a latent passion for food in his freshman year, Garcia successfully opened two restaurants more than 15 years later and is currently working on expanding both his staff and mission to develop Los Angeles' Latin culinary world.
Garcia graduated from UCLA in 2000 with degrees in political science and business economics. He said during his freshman year, his roommate and friend Brandon Go introduced him to Japanese food, as Go had been preparing sushi since he was 15 years old.
Go said even though he and Garcia were tight on money during college, they decided to splurge one night and go out to a fine dining restaurant in Beverly Hills. Go noticed an instant change in Garcia's demeanor, as Garcia's interest in the culinary arts first seemed to take off.
"I didn't think (Garcia) would become a chef," Go said. "But I think that night kind of opened his eyes to what the dining experience could be like."
During his time at UCLA, Garcia started working as a busser at a Mexican restaurant and then at a North Campus eatery as part of a work-study job.
After moving into an off-campus apartment, Garcia remembers growing jealous of his then-roommate, who owned French cookbooks and prepared elaborate meals using brandies, cognacs and red wines.
"The food world kept peeking through and pulling me in," Garcia said.
Since he originally planned to go to law school and eventually work for the FBI, Garcia took an internship in Washington, D.C. He said it was there that he began to realize his heart wasn't in law, but in food.
He took a year off after graduating from UCLA before he enrolled at the California School of Culinary Arts. Garcia then interned at the five-star, five-diamond Peninsula Beverly Hills as an assistant who helped with prep, before being promoted to the executive sous-chef by the end of his time there six years later.
"I (realized) I love food, and the overall dining and restaurant experience," Garcia said. "Once I was sucked in I never looked back."
Garcia opened B.S. Taqueria, his first Mexican-inspired restaurant, in April 2015. Just a few months later, he opened Broken Spanish, which thanks to the support of friends and family, was an experience Garcia described as nerve-wracking but exciting.
"Opening any restaurant is tough, and doing it in a city like Los Angeles is even tougher," Garcia said. "Opening two at the same time is borderline nuts, so it was crazy to say the least."
Despite the pressures of running successful businesses, Garcia said his favorite part of owning a restaurant and being a chef is the creative control he has, as well as making patrons smile through his food and welcoming them into Broken Spanish, a place he considers an extension of his home.
As for the future, Garcia said he's most excited about expanding his restaurants and seeing his staff and creative teams succeed. Broken Spanish recently catered at its first large wedding and has started bringing food with a Latin flair to offices across downtown Los Angeles.
While Garcia was formally trained in the classic French style during his time in culinary school, Garcia said some of his most powerful influences came from his strong connection to both family and culture. Growing up in predominantly Latino neighborhood Cypress Park, Garcia said he considers Los Angeles as its own culinary region of Mexico.
Viewing Los Angeles as a culinary hub similar to regions in Mexico like Oaxaca or the Yucatan, he said, helps inform each dish of its Mexican roots through its ingredients. Garcia said this blends traditional and modern in a way that reflects Los Angeles itself.
"The food (tastes) authentic, but … at the same time it was unique in that it was modern," said rising second-year microbiology student Namrta Gill, who ate dinner at the restaurant.
Gill, who said she doesn't consider herself a fan of Mexican food, said dining at Broken Spanish was a welcome surprise. Although she ordered a simple salad of hydroponic greens and lemon, Gill was impressed with the elegant presentation of her food.
"It's Angeleno-Mexican (food) through the lens of a third-generation Angeleno," Garcia said. "It's progressive, but also taps into longstanding culinary traditions not only south of the border but in the classic cuisine styles."
So what does Garcia cook for himself at home?
"I'm rarely at home," Garcia said, "But when I do (cook) at home, it's more of the scrambled egg variety."