Alumnus brews up flavors infused with heritage, diversity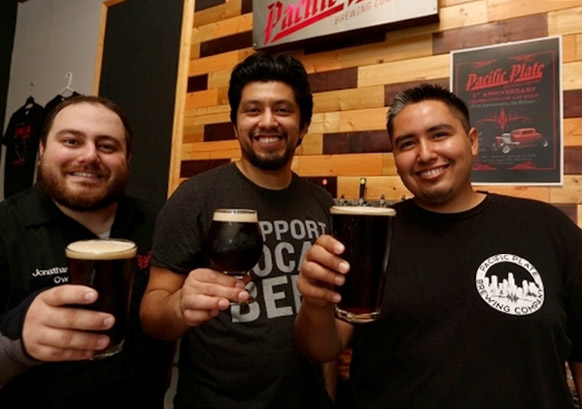 Alumnus Stephen Kooshian brewed his first batch of craft beer in his apartment while he as a UCLA student in 2008. He turned his love of beer into a business and launched Pacific Plate Brewing Company in 2011. (Courtesy of Stephen Kooshian)
Stephen Kooshian brought the cool glass of beer to his lips while sitting in the noisy Manhattan Beach bar. The Sierra Nevada Pale Ale washed over his tastebuds, and Kooshian was shocked beer could taste so fresh.
The Sierra Nevada beer led Kooshianto recreateit in hisPalmsapartment as a third-year history student at UCLA in 2008, and eventually to start his own brewing company in 2011, called Pacific Plate Brewing Company.
After graduating college, he lost his corporate job, which became an opportunity for Kooshian and co-worker Jonathan Parada to turn their love of beer into a business. Along with Kooshian's friend Steven Cardenas, the three founded the craft brewery, incorporating Latin American flavors from their own backgrounds into their beers.
Kooshian was first attracted to beer because of his interest in the origin of different beer styles, like loggers or stouts, as a 21-year-old frequenting Westwood Brewing Company. He said he studied the history of beer after seeing the connections between technological developments in European history classes at UCLA and evolving beer styles in his own research.
Due to the large five-mile distance from his apartment to campus, Kooshian said he often grew bored and saw homebrewing as a hobby to fill his time after classes.
Parada said homebrewing involves converting the starch in barley to sugar water, called wort, and then adding hops at various stages of boiling to add flavor, aroma and bitterness. He then ferments the liquid, keeping bathtubs full of ice water to store the buckets of beer within the appropriate temperature range.
When the pair first began brewing, Parada said they noticed there was a lack of craft beers that appealed to the Latin American community. He said they wanted to bring craft beer exposure to a market that is dominated by beers like Corona.
Thus, they originally chose the name Pacific Plate Brewery because they incorporated flavors from all over the boundaries of the Pacific Plate, the ocean tectonic plate that lies underneath the Pacific Ocean, into their beers, Cardenas said. The trio draws from their own cultural heritage for many beers byincorporating flavorslikethe Horchata Stout and Mango IPA.
"When we first started homebrewing and really formulating the concept in terms of business, in terms of what we wanted to do, we knew we had to bring the Latin American attention to craft beer," Parada said.
With help from Cardenas, they began brewing more regularly, upping production to once or twice a month. At first, they gave away their beer to several friends and family members for free. After seeing the success of their final product,they decided to start their own brewery in August 2011.
Kayhan Barabi, a UCLA alumnus and friend of Kooshian, has been a frequent customer at the brewery since its beginning. Barabi said it has changed his opinion toward beer.
"I am never disappointed when I go there; it's a place I don't want to leave," Barabi said. "Every time I leave and go back home, it's a bit of a let down."
Kooshian said they are currently developing a beer that pays homage to his Armenian roots. While studying Armenian history underUCLA Professor Emeritus Richard Hovannisian,Kooshian learned that ancient pots which held a fermented beverage made from grain have been discovered in the Caucasus mountains.
Parada's family immigrated to Guatemala in 1888 in order to start a brewery and escape rising tensions in Germany. Parada is a first-generation immigrant, and said his grandparents cried tears of joy when he told them he was leaving his sales job to start a brewery.
"What we're seeing now is people of Latin American descent who are finally getting the chance to drink beers that come from their experience, and from the Latin American experience," Parada said.
The brewery has also expanded to include flavors from Africa, collaborating with a nonprofit, Global Conservation Force, to create beers inspired by endangered species.Cardenas said a portion of sales from beers like their White Rhino IPA go to support white rhinoceros conservation through GCF.
Despite its focus on Latin American and world influences, Kooshian said the brewery welcomes all people.
"Craft beer lovers come from all walks of life; they're young, they're middle aged, they're old, they're from every socioeconomic background," Kooshian said. "Our target audience is everybody and anybody who loves good beer."