Couple loans unexpected find to UCLA Meteorite Gallery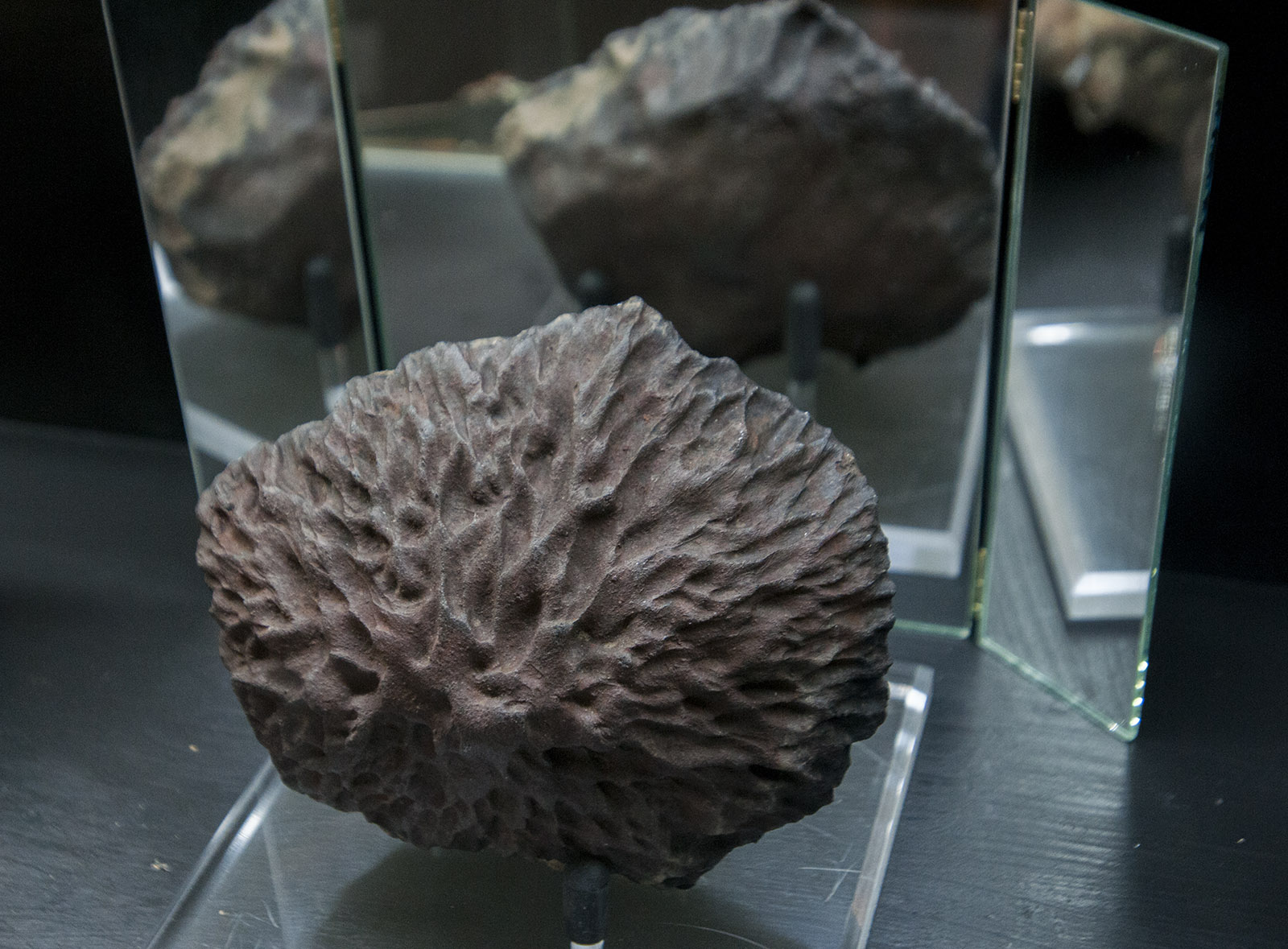 The petal-shaped depressions on Ken and Jill Eltrich's meteorite make it stand out among other oriented meteorites. (Emaan Baqai/Daily Bruin senior staff)
It took Ken and Jill Eltrich three years to realize the 5-pound rock they were using as a doorstop was a 4.5-billion-year-old meteorite.
After almost another year of reading up on the meteorite, the couple decided they wanted to share the stone with others and loaned it to the UCLA Meteorite Gallery. The meteorite will be in the gallery for two years starting June 19.
The Eltrichs, who live in Venice, California, said they discovered the meteorite while hiking near Baker, California, in the Mojave Desert. The stone is approximately 5 inches long, 6 inches wide and about 4 inches thick.
"It was like finding a lottery ticket," Ken Eltrich said. "I just happened to look down and see the back side of this stone and … it was just different from the other rocks."
After a quick Google search Eltrich concluded it was not a meteorite but a rock with unique petal-like patterns, he said. The meteorite sat in his home for three years, often used to prop doors or gates open.
Three years later, Eltrich took the rock to a map and mineral store in Orange County, whose owner suggested it could be a meteorite, he said.
The owner referred Eltrich to Marvin Killgore, the curator of meteorites at the University of Arizona's Lunar and Planetary Lab, who confirmed the rock as a meteorite.
Almost a year later, Eltrich said he met John Wasson, one of the founders and curators of the UCLA Meteorite Collection, and Nick Gessler, a member of the UCLA Meteorite Collection's advisory board, at a UCLA lecture on meteorites.
"I've seen a lot of oriented meteorites and as far as I can determine, this (meteorite) has the most interesting and elaborate pattern," said Gessler, a research associate at Duke University and a UCLA alumnus.
Gessler said the stone is an oriented meteorite, which means it remained stable as it passed through the atmosphere and had only one edge directly exposed to friction. Though oriented meteorites are not rare, there are few in the world as well-defined as the Eltrichs' stone, he added.
"The main interest of this rock is not in what it's made out of," Gessler said. "What is unique is its record of passing through the atmosphere in this plasma sheath of extreme temperatures and pressures and wind."
Gessler said the meteorite's internal elements melted at different rates on its journey through the atmosphere, which created elaborate petal-shaped depressions on its upper surface. Though the meteorite does not yet have a name, Gessler said he refers to it as the "Chrysanthemum stone" because of these petal-shaped patterns.
Jason Utas, a graduate student in cosmochemistry and geochemistry who collects meteorites, said the Eltrichs' stone is one of the best oriented meteorites in the world because of its shape.
"It's physics frozen in time," Utas said. "It's a wonderful example of physics in motion."
Eltrich said he has received offers from private collectors for the meteorite but he refused to sell it and instead chose to loan it to the gallery at UCLA.
"If you sell it then it's going to go in somebody's private collection," Eltrich said. "I want it to be for the public and that's what I really like about the gallery – anybody can walk in and check it out."
Wasson, a retired professor emeritus of cosmochemistry and geochemistry, said the collection contains around 1,500 unique meteorite pieces and adds more than 50 specimens every year. He added UCLA's collection is one of the largest on the West Coast.
Eltrich said since finding his oriented meteorite, he's always on the lookout for meteorites whenever he goes hiking. He added he has been on numerous trips with members of the UCLA Meteorite Collection but has yet to find another meteorite.
"I'm not a meteorite hunter, but I'm trying to be," Eltrich said.