Theater professor Sue-Ellen Case leaves mark on feminist, LGBT theory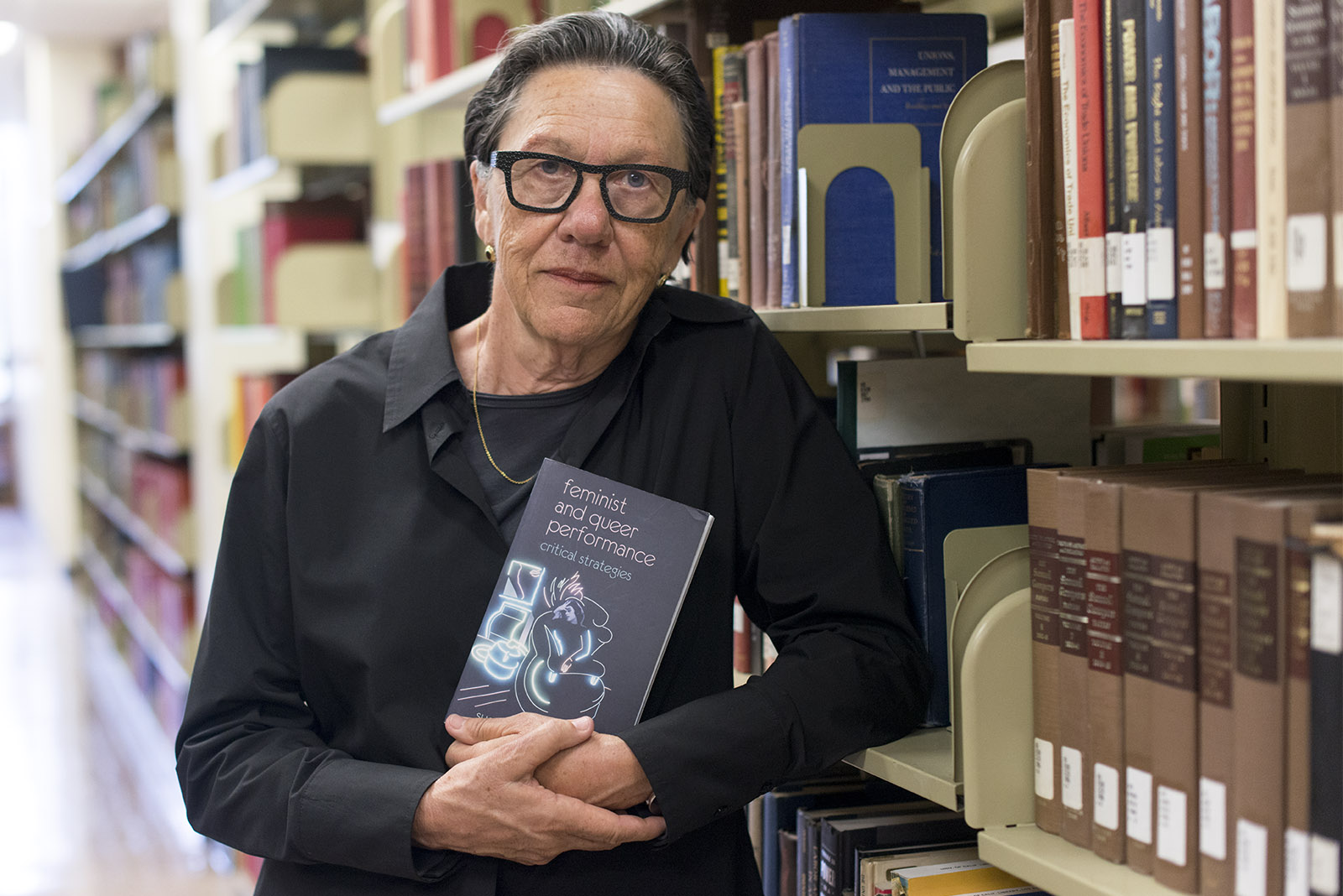 Distinguished theater professor Sue-Ellen Case plans to spend time with her dog, work in her garden and ultimately continue her research in theater after retiring from UCLA. (Mischa Rajendiran/Daily Bruin)
When Sue-Ellen Case had to decide whether to go to Stanford or UC Berkeley to complete her doctorate in theater, the choice was a no-brainer.
At the time, Berkeley was at the forefront of the feminist movement. Case said she was fascinated with the city's rich history of radical activism, and, although she didn't find UC Berkeley to be as politically avant-garde as she hoped, it was there that she found her calling in performing arts.
Case, a distinguished theater, film and television professor at UCLA, began teaching in Westwood in 2001 in the doctoral program in theater and performance studies. She is the director of the Center for Performance Studies, an interdisciplinary center she founded in 2005.
Case received the Lifetime Achievement Award from both the American Society for Theatre Research in 2007 and the Association for Theatre in Higher Education in 2012. After teaching at UCLA for 14 years, Case retired at the end of spring 2016 to take time off before continuing her research in feminist and queer theory.
Case's written works reflect her activism in feminism and lesbian, gay, bisexual and transgender rights, overlapping areas of focus she said first piqued her interest in college. She said her passion for making radical ideas more available to the general public led her to attend demonstrations such as Take Back the Night and march in Berkeley's gay pride parades during her college years. For Case, college was a place where activism and hard work came together.
She first wrote her dissertation on an East German playwright, but her studies in contemporary German theater led her to the topic of feminism in theater. She said she realized the two most famous classical stages of theater included the Greeks and Shakespeare – and both had men playing as women.
"It occurred to me that I was at this art form with a history of no women on the stage … and even around me there were no women playwrights, no women directors, no women set designers," Case said. "I saw an absence of women, and I felt that I had to address that."
Case published her first book, "Feminism and Theatre," in 1988 and continued to question the tradition of male-dominated playwriting and theater.
After the release of her book, Case said she was further inspired to think about feminist queer theory and LGBT rights, noticing that feminism seemed to have a unique alliance with lesbian politics.
Case has published five books and at least 45 articles in the fields of German theater and lesbian critical theory, along with feminism and lesbian contemporary theater.
One article, "Classical Drag: The Greek Creation of Female Parts," analyzes women's roles, or lack thereof, in the ages of Shakespeare and Greek theater and how this reflected popular views of women during those times. "Tracking the Vampire," one of her more unconventional pieces, first theorized the concept of the lesbian vampire, she said.
"The vampire cannot see herself in the mirror, so this kind of invisibility is something we see that is consistent with (queer) systems of representation," Case said.
Since working at UCLA, Case said she has acted primarily as an advisor and mentor to her students, reading their written works closely and trying to instill a work ethic that extends beyond college. Case maintains that her greatest pride lies in the work she has done for her students, especially when they successfully graduate and get hired by prestigious universities.
Malik Gaines, a former student of Case's, finished the Ph.D. program with Case as his advisor in 2011.
"She is a very rigorous thinker, a very direct thinker and a very strong advisor," Gaines said. "I finished my dissertation, got my degree and moved through the program because of her very careful attention and leadership."
He said he cited her writings on German theater in his upcoming book, which is scheduled to be published in 2017. Currently an assistant professor at the New York University Tisch School of the Arts' Department of Performance Studies, Gaines said he also incorporates her essays and writings into his curriculum.
Eng-Beng Lim, another former student of Case's, first studied with Case in 1999 at UC Davis before following Case to UCLA's graduate school in 2001 after she recruited him for the school of theater, film and television.
Now an assistant professor in the Women's, Gender and Sexuality Department at Dartmouth College, Lim said Case's professional acumen and dedication as his advisor helped him work toward being awarded tenure as a professor. Lim recently received the John M. Manley Huntington Award for Newly Tenured Faculty.
"(Case) really has a commitment to the highest standards of writing and thinking," Lim said. "She is able to shape (your) ideas and … steers you into directions that would engage the kinds of thinking that … at the end of the day essentially lands you jobs."
Lim's book, "Brown Boys and Rice Queens: Spellbinding Performance in the Asias," was born from ideas that he said developed during his time working with Case at UCLA.
"She really lights a flame under your ass to keep you thinking and working," Lim said.
While Case said she is looking forward to time to play with her German shepherd, dig in her vegetable garden and eventually continue her research in theater, it brings her joy to mentor her students and see them thrive in academia.
"You're always behind them trying to support their work," Case said. "When you're a mentor, you're a mentor for life."