Movie review: 'Finding Dory'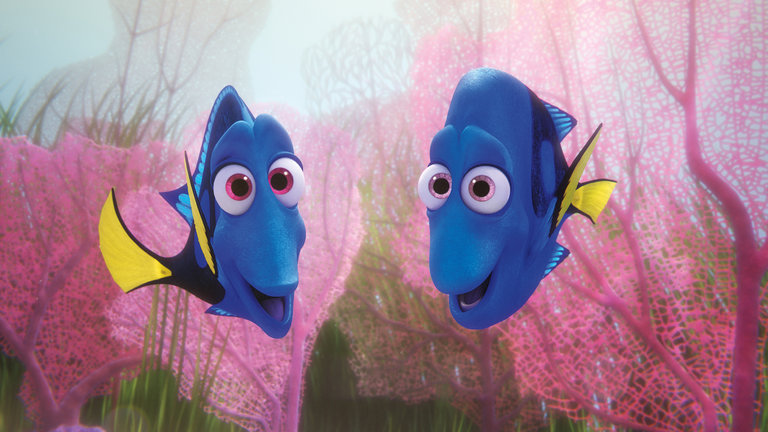 (Courtesy of Walt Disney Studios Motion Pictures)
"Finding Dory" Andrew Stanton and Angus MacLane Pixar Animation Studios, Walt Disney Pictures June 17
Viewers of "Finding Dory" can be as forgetful as Dory and still follow her story. There's no need to remember what happened in Disney's 2003 hit "Finding Nemo."
In "Finding Dory," the adorable and heart-warming blue tang fish, Dory, goes through a series of pitfalls to find her long-lost parents. With Dory (Ellen DeGeneres) as the lead, "Finding Dory" is one of the least disappointing sequels of the studio. However, the movie seemed more like "Finding Dory's Parents" than "Finding Dory."
Forgetful Dory has a flashback of her childhood. She remembers glimpses of her parents, Charlie and Jenny, and sets off to find them with Marlin (Albert Brooks) and Nemo (Hayden Rolence) as her sidekicks. Her journey takes her to the California Marine Life Institute, where she makes several anthropomorphic marine friends such as Destiny, Bailey and Hank.
The story has similar structure to that of "Finding Nemo," where the characters are chasing each other throughout the film. The only major difference is in "Finding Dory," the search takes place in a wildlife center instead of the Great Barrier Reef.
Dory has chronic short-term memory loss. But she triumphs over obstacles like being sent to the wrong fish tank by making quick decisions based on the given situation, not relying on lessons learned from past experiences. In every roadblock, she literally asks herself, "What would Dory do?" which becomes repetitive after a while.
"Finding Dory" follows many animals with disabilities. Hank, a hilariously grouchy octopus known as a "septopus," is missing a tentacle. Bailey, a beluga whale, has lost his sonar skills after a head injury. Destiny, a near-sighted whale shark, keeps hitting every wall.
Disney uses light humor to feature persons with disabilities without offending or preaching.
Much like the repetitions in Dory's dialogue, the movie is repetitive; Dory continuously swims through numerous tanks and aquariums to find her parents. Too many small obstacles don't feel organic, but imposed. Scenes exploring the interesting new characters like the sea lions and the octopus could replace some of the chase scenes.
"Finding Dory" relies heavily on cartoon logic, like an octopus driving a van or a beluga whale using its sonar powers as GPS. The stakes never felt real because, at the end of the day, "Finding Dory" is a Disney movie, which typically means the leads won't be killed off and they'll all live happily ever after.
The story may be monotonous and lack originality, but the characters are memorable.
The jagged-feathered sea bird and the cockney-accented, capricious sea lions with their proprietorial attitude toward the rock they lounge on all day are characters the audience will want to see again because they are so engaging.
Hank (Ed O'Neill), the octopus, was so delightfully entertaining that "Finding Dory" fans will want to buy tickets to watch a "Finding Hank" movie.
When watching "Finding Dory," kids can enjoy the lushly hued talking fish and parents can sympathize with the hardships of Dory's parents of constantly worrying about their child's whereabouts.
Despite the repetitions, Pixar's "Finding Dory" won't let down audiences that loved "Finding Nemo."