UCLA to convert doubles into triples to house additional students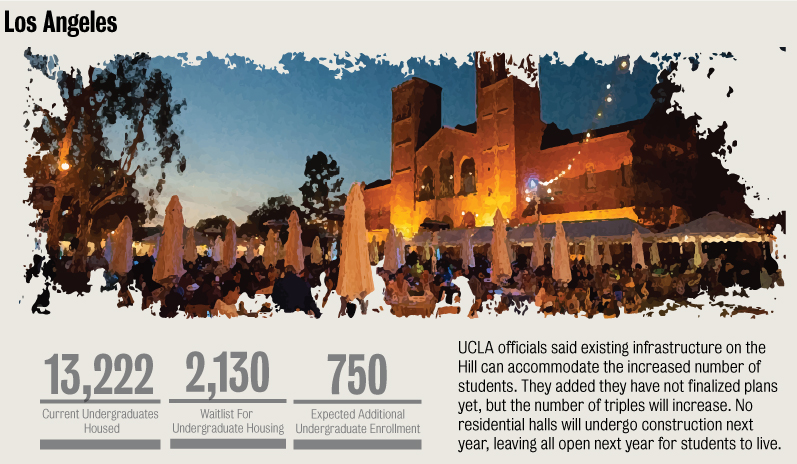 (William Zou/Assistant Graphics editor)
UCLA will convert double dorm rooms to triples to prepare for an increased enrollment of students in the 2016-2017 academic year.
In 2015, the University of California received state funding to enroll an additional 5,000 students across the UC for the 2016-2017 academic year, said UC spokeswoman Kate Moser in a written statement.
UCLA agreed to enroll 600 more freshmen and 150 more transfer students, said UCLA spokeswoman Rebecca Kendall in an email. The university has not decided which residential halls will have an increased number of triple rooms.
In the 2015-2016 academic year, about 11,200 students lived in on-campus residential halls, according to the Office of Residential Life website.
Steve Olsen, UCLA vice chancellor and chief financial officer, also told the Daily Bruin Editorial Board in March that the university finished a 15-year construction project on the Hill this year. He said he thinks all residence halls are fully capable of accommodating the increased enrollment.
Delta Terrace, which closed for renovations this year, will house about 500 students next year.
Moser added the UC has not finalized details about how they will increase housing options across the UC, but has prepared strategies to reduce shortages in student housing.
At the January regents meeting, UC President Janet Napolitano launched a new student housing initiative, which aims to add approximately 14,000 beds to the dorms by 2020. The UC intends to accelerate the completion of housing projects in order to accommodate student enrollment increases, she said at the meeting.
UC Executive Vice President and Chief Financial Officer Nathan Brostrom and other officials met with administrators and students from all 10 UC campuses to discuss how to tailor housing increase plans to each campus, said UC spokesperson Claire Doan.
"Solutions that may work for one campus may not work for another, so we are working closely with campuses and getting creative in identifying and executing solutions to these challenges," Moser said.
At the January UC Regents meeting, Brostrom said he thinks the temporary increase in the number of triple rooms will not be a problem because students have study lounges and common areas.
UCLA Housing is also renovating Hedrick dining hall, which will reopen in the fall and serve as a communal study lounge with group meeting rooms and a bakery.
However, some students said they are worried the Hill's infrastructure cannot sustain the influx in student population.
Daqian Bao, a first-year material sciences student, said he said he thinks communal study areas may become even more crowded.
Erica Wu, a first-year Design | Media Arts student, said the increase in residents may increase the likelihood for people accidentally setting off false fire alarms. Wu added she thinks dining halls may also get more crowded next year.
"The lines at the dining halls are already so long, especially at Bruin Plate," she said. "I cannot imagine 700 more people trying to eat all at once."
Wu added she thinks increased students on the Hill will increase the workload for custodians and cleaning crews.
Varun Rathi, a first-year civil engineering student, said resident assistants may also have to deal with more students than they can manage.
Brostrom said he expects the UC Board of Regents to approve plans to add 7,200 beds across the UC system by 2020 at the July regents meeting.
Brostrom said at the May regents meeting that the UC plans to add about 2,000 beds next year, spread among UC Davis, UC Irvine and UC Santa Barbara.