Graduating film student doubles as ROTC midshipman, hip-hop dancer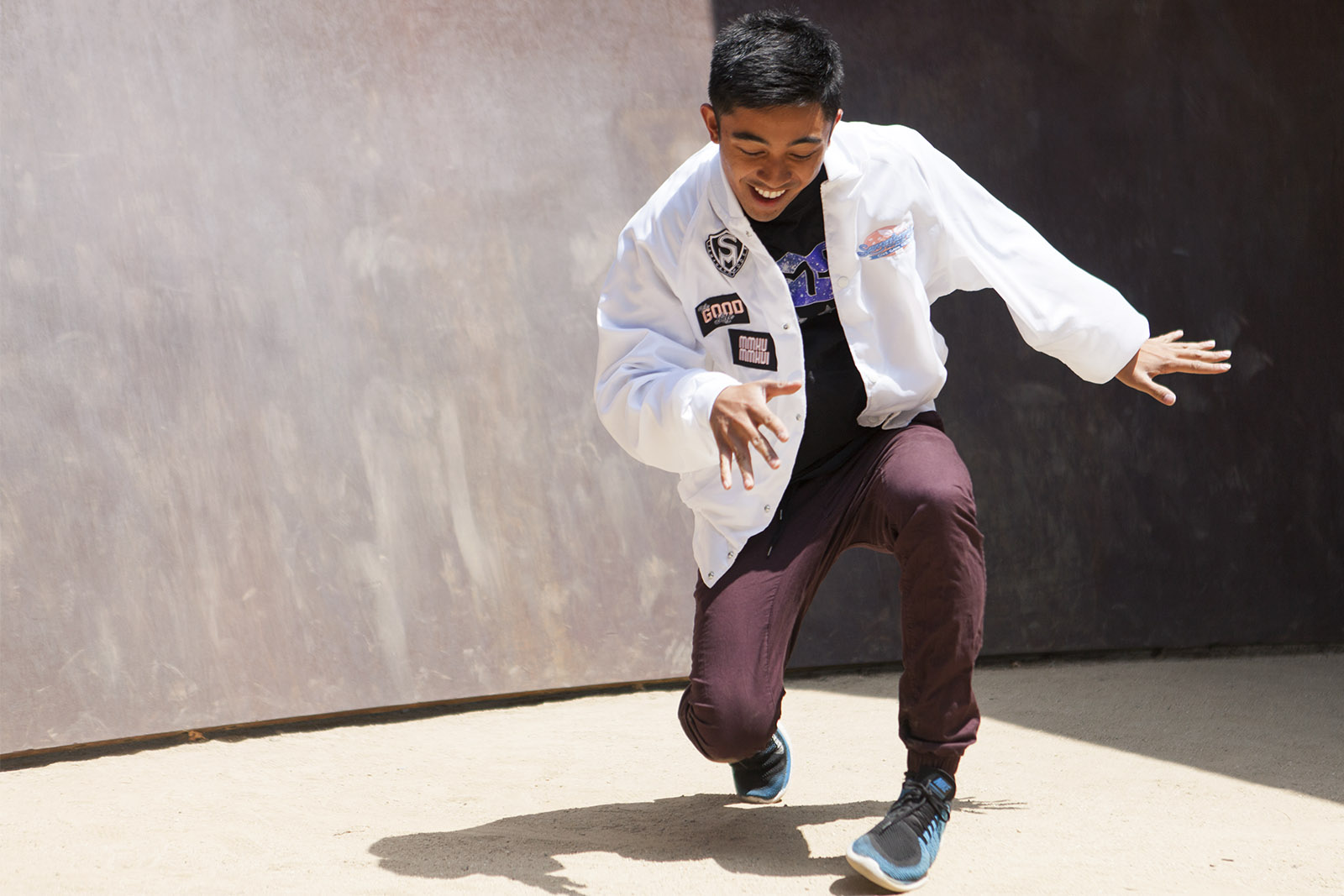 Fourth-year film student Shawn Semana begins ROTC drills at 6 a.m. and practices hip hop dance with Samahang Modern throughout the night. (Hannah Ye/Daily Bruin senior staff)
Shawn Semana barely had enough time to shower the morning of May 25. Samahang Modern dance rehearsal ended at 5 a.m., and he had to leave for ROTC 30 minutes later.
The fourth-year film student's schedule often looks similar on Wednesday mornings.
He said although his commitments of film, dance and ROTC allow for little downtime, they make him happy and have helped him grow as a leader at UCLA. Semana said he wants to write screenplays while in the Navy and hopes to go to graduate school for film when he is done with his service.
Semana said his father, who previously served as a chief in the Navy, inspired him to apply to ROTC. Semana said he saw the military service program as a stable job after college and as an opportunity to travel.
Semana's military background has been a launching point for his work in film, he said.
He spent his fourth year working on his film thesis, a movie about a Filipina maid pursuing her dream. Semana gained inspiration for this story from spending time in San Diego this past summer through ROTC, where he met a group of Filipina maids who worked in the hotel he lived in.
"I love telling stories," Semana said. "That's my biggest thing. I had a grandmother that recently passed away who loved telling stories."
He said his grandmother often told accounts of living in the Philippines under Japanese occupation during World War II. He did not understand the importance of these stories until he realized he derived many of his values from them, such as selflessness and standing up for what is right. Semana said his grandmother inspired him to become a storyteller, and this passion ultimately led to his decision to become a film major.
After completing his undergraduate work in film, Semana will attend flight school this November in Pensacola, Florida, as a naval student aviator for two years and will continue to serve in the Navy for a total of 10 years. He was selected for the position out of a pool containing more than 1,000 ROTC students in the entire country, he said. A combination of his grades, physical fitness, staff recommendation and standardized test scores landed him the job.
Both ROTC and Samahang Modern have taught him about being responsible and learning quickly, whether that be with drills or dance moves, he said.
"Being a part of a dance team, you learn hard work ethic, how to work with a group of people all towards a common goal," Semana said. "(It's the) same thing with ROTC."
Semana decided to audition for Samahang Modern because he wanted to push himself to do something out of his comfort zone. He said the team is comprised of a strong, talented group of dancers, and he wanted to learn from them. Semana finds dancing a means to express himself, so he is willing to sacrifice his time to be with the community of artists.
"You're dancing for the moment to share on stage with your fellow dancers," Semana said.
Matt Evangelista, a second-year cognitive science student and dancer with Samahang Modern, met Semana at the dance group's audition. He said Semana is constantly supportive and attentive to the mental health of the team. Regardless of whether he is prominently featured in a dance piece, Semana cheers his teammates on and encourages them to improve.
"He doesn't care so much about being seen as doing his part in the team," Evangelista said.
Cody Huber, a fourth-year biology student and a member of UCLA's ROTC program, lived with Semana during their first and second years. He recognized Semana's busy schedule and his resulting habits, like constantly eating on the go and taking quick five-minute naps.
Huber first met Semana during their first year at ROTC orientation in San Diego at Marine Corps Base Camp Pendleton. Both students were required to fold their bedsheets with hospital corners, a specific military folding pattern, but Huber did not know how to do so. Every morning, Huber said Semana would fold both of their bedsheets.
In order to power through drills with ROTC at 6 a.m. and then dance practice with Samahang Modern starting at 8 p.m., Semana relied on friends and family, he said.
"If you are stressed, you have to know your support systems and hold onto that," Semana said. "Find ways to keep you happy and take care of yourself."