For their final trick, senior members of MIST will graduate from UCLA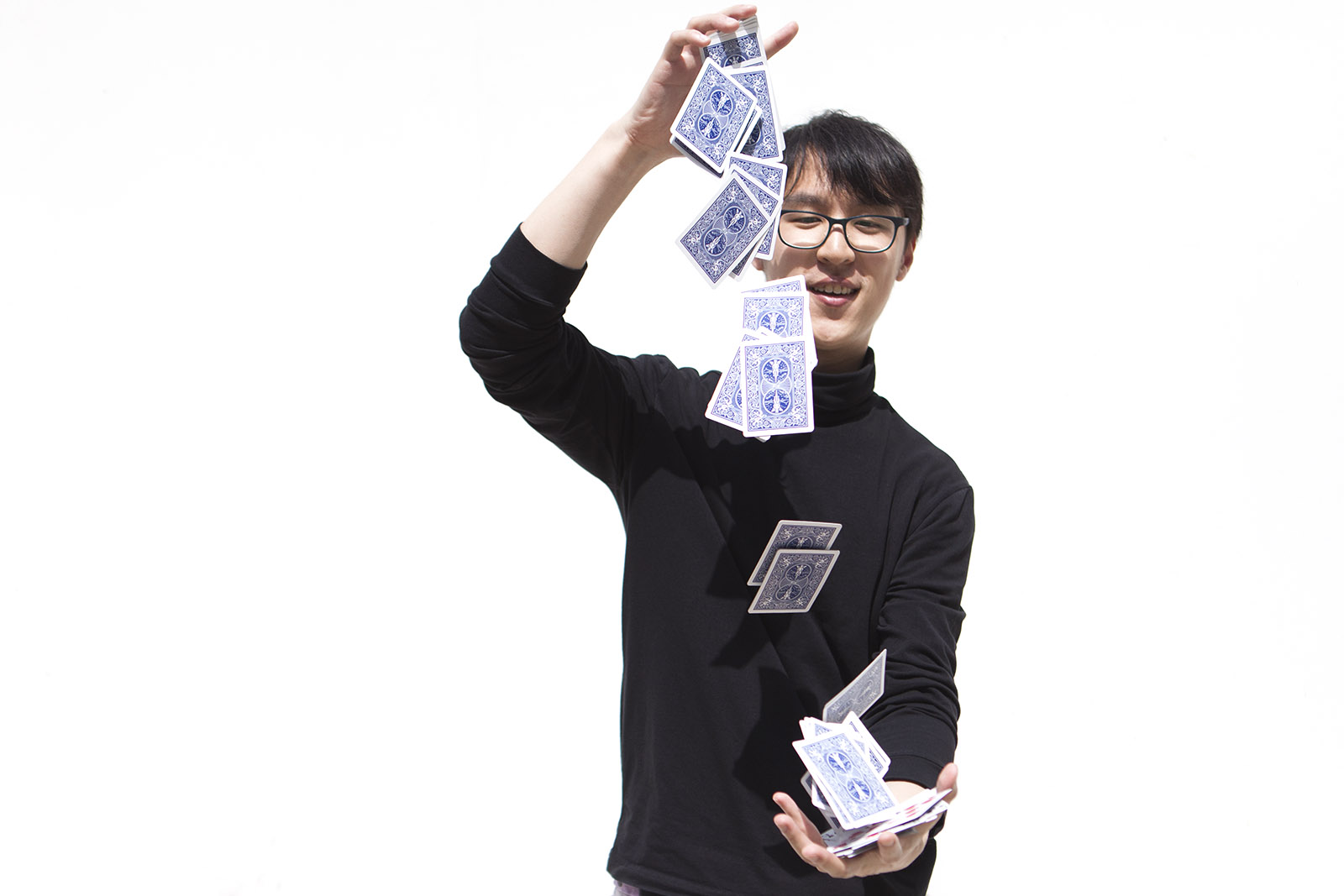 Magic and Illusion Student Team senior member Mike Li plans to pursue industrial/organizational psychology. However, magic will always remain a hobby for Li. (Hannah Ye/Daily Bruin senior staff)
A student magician walked onto the Northwest Campus Auditorium stage with a bag full of newspaper clippings. He shook 10 clippings and the audience gasped as the pieces took the form of an unscathed issue of the Daily Bruin.
The trick launched the 2015 annual show for UCLA's Magic and Illusion Student Team, a student club in which students discuss and practice magic.
Mike Li, the president of MIST and a fourth-year psychology and economics student, and Ada Yu, the treasurer of MIST and a fourth-year neuroscience student, started their journeys as magicians in their first year at UCLA with MIST. They will graduate in June.
Li discovered his interest in magic five years ago while living in China. In high school he watched the Taiwanese "Big Magic Competition" on TV. Around the same time, a famous Taiwanese magician Lu Chen performed on national television in China for the Spring Festival Gala – which is like the Super Bowl in China, Li said.
"To have this extremely famous magician perform in this super important traditional festival made magic much more popular in China, and I got more and more interested," Li said.
When Li came to UCLA in 2012, he joined MIST to get to know like-minded magicians. In the year he joined, MIST had 15- to 20-minute performances in between shows of other clubs at UCLA.
The same year, Yu found MIST as a first-year, when she approached their booth at the Enormous Activities Fair on seeing one member perform a magic trick. She said the fantastic and mysterious aspects of magic with a themed performance and story are what attracted her to the art form, but she never practiced it before.
Yu said a lot of the mystique of magic comes from not knowing how the tricks are done. But when existing MIST members train the new members, their secrets are exposed.
Last year, Li and Yu performed card tricks at MIST's annual show, which ended with one member tearing a string into many pieces, then putting them back together, all while telling a story of how students separate after graduation but their shared experiences and memories tie them in a single string.
"Mike is a very knowledgeable magician. His style is theatrical. It transcends tricks," said Shijun Huang, a third-year computer science student who joined MIST in 2013.
After graduation, Li and Yu don't plan to take up magic as a profession, they said.
"Magicians are entertainers," Yu said. "It's hard to break into that field. You have to come up with your own stuff, work really hard for your material, get good at it, then put your name out there."
Instead, Yu said she will take a gap year and will not pursue magic because she's not comfortable performing in front of people. She performs in the annual MIST shows and she enjoys practicing and talking about magic, but the performance part is nerve-wracking for her. Her fascination with magic is not primarily in performing in front of a large audience.
"Ada is shy when it comes to performing, but she is very supportive," Huang said. "She practiced a lot in the last two years and performed really well at our shows."
For Yu, magic is a hobby, but she hopes to keep in touch with MIST after graduation by attending club meetings and discussing magic.
After graduation, Li will attend graduate school at New York University to study industrial/organizational psychology and continue magic as a hobby. Li said his academic background in psychology relates to his passion of performing magic, because magic involves knowing how people think.
Li said he wants to keep his freedom to choose where he wants to perform magic.
"Only amateur magicians and top professionals will have the luxury to perform to whoever they want and not to perform for whoever they want," Li said.