Alumna showcases graduates' individuality with custom cap toppers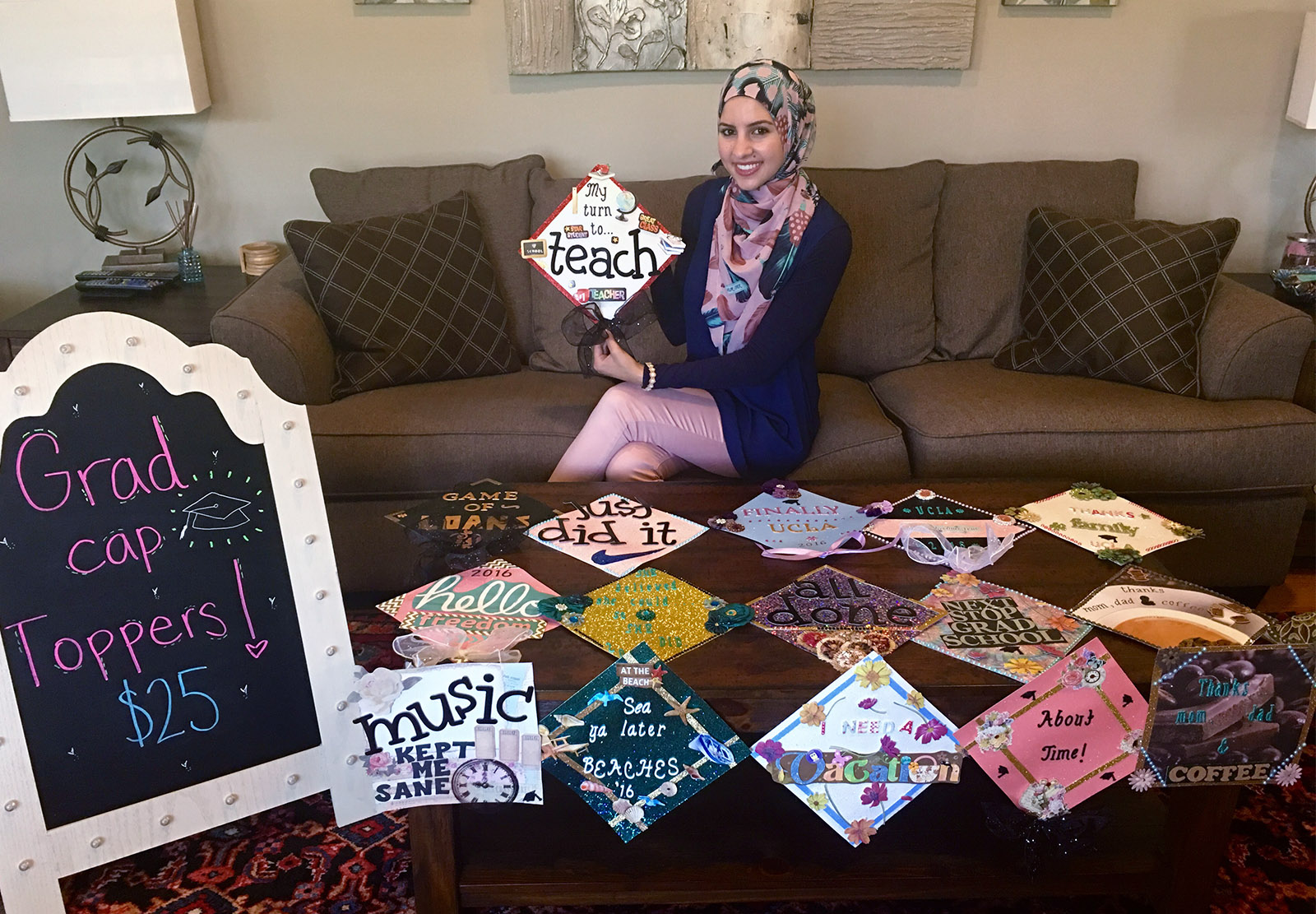 UCLA alumna Leanna Maaz started decorating graduation caps after her friends saw her own personalized grad cap when she graduated last year. Since then, Maaz has started a grad cap decorating business for current graduating students after posting an ad in UCLA's Free and For Sale Facebook page. (Courtesy of Leanna Maaz)
Leanna Maaz embarks on a scavenger hunt every time she travels abroad. In each city she explores, she collects a souvenir that contains the name of the city and arranges the items in a scrapbook to document her journey.
"For any restaurant I go to, I collect the menu, and I grab a napkin with the city's name and the tour guide pamphlet," Maaz said. "When you put these things in a scrapbook and decorate it with ribbons and everything, it all just comes alive."
Maaz, a UCLA alumna, incorporated her passion for crafting into a business this year, decorating personalized graduation cap toppers for students. She collects craft pieces such as jewels, flowers and sticker letters over time from large craft stores in downtown Los Angeles. She then uses the pieces as custom decorations for students' caps, she said. She has sold more than 50 cap toppers via UCLA Facebook groups for $25 each.
When Maaz watched her sisters graduate from UCLA a few years ago and eyed the line of caps moving across the stage, she envisioned her own graduation cap the following year as one specially decorated to fit her own style.
Maaz's graduation cap last year was the first she designed and embellished, with its large gold letters that spelled out UCLA. She also bordered the cap with fake sunflowers and a polka-dotted yellow ribbon, layered onto a sparkly, white background.
After designing her own cap in June 2015, Maaz posted a photo of it on Instagram. The photo garnered comments from her friends, who asked her if she had time to make theirs as well. Maaz made cap toppers for some friends for free but didn't have time to make more during school, she said.
In March 2016, Maaz put an advertisement on the UCLA Free & For Sale Facebook page that displayed photos of a series of caps she made, to see if other students wanted her to design their cap toppers. Maaz created these caps based on designs she found on Pinterest and other do-it-yourself websites. Some of her favorites read "game of loans," "I'm psyched!" and "thanks mom, dad and coffee," and were decorated with the craft pieces she collected and customized for the buyer.
At the end of March, Maaz set up a one-day booth on Bruin Walk that displayed her premade cap toppers.
Brittney Tabel, a fourth-year sociology student, said she chose one of Maaz's premade cap toppers decorated with the words "UCLA graduate" on a sparkly, blue-paper background bordered with jewels.
"Decorating grad caps is about the whole personal touch, and I love how even though they were all made by one person they still reflected very individual personalities," Tabel said. "As I looked through all of her designs, I found so many that, though they weren't perfect for me, they seemed perfect for friends that I knew."
READ MORE: Prime: DIY Graduation cap
Chigo Anene, a fourth-year sociology student, said she asked Maaz to make a custom cap order in memoriam of her father, who had passed away two days before her senior year began.
The cap featured the words "Daddy, I did it" embroidered across the surface along with the dates of her father's birth and death. In the center of the cap, Maaz placed three photos of Anene and her father, held in place by clips from Maaz's collection.
"He couldn't be there for her that day and she did it all for him, so it was really special, and it felt good to give her that cap," Maaz said. "It was the nicest feeling when I gave it to her. You could see in her eyes that it was something she really, really appreciated."
Maaz said while she enjoys the process of making the caps, the rewarding part of the experience is making designs for people that know what they want in a design, but either don't have the time to make one or are not sure how to make it themselves. She said the more caps she designs, the better she becomes at organizing the layout to make it more eye-catching and learning what colors work well together.
Though she is currently pursuing her teaching credentials and is interested in obtaining her master's degree next year, she hopes to keep the cap-making business as a hobby, she said.
"It's nice to help people who have that vision of what they want, and I enjoy making it for them, so it's a win-win," Maaz said.