Inconsistent safety procedures in Hill housing are mostly for show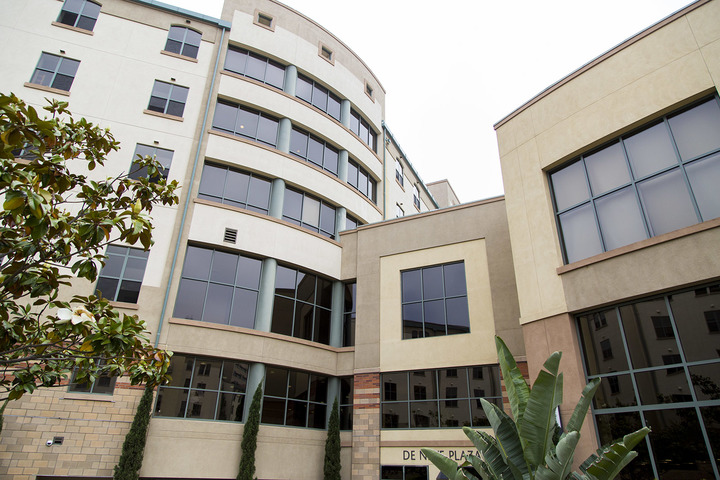 Guest access policies vary on the Hill with not much reason behind them. (Daily Bruin file photo)
UCLA Housing's policies on guests are a lot like some of our parents' rules on sleepovers – strict, overbearing, grounded in good intentions, but definitely a little annoying.
Depending on which building you live in, signing in a guest can be as quick and easy as swiping your BruinCard to let them in the building door, or as tedious as waiting in line to fill out a guest pass as the access monitors fiddle with both your IDs.
According to the on-campus housing regulations, resident hosts must accompany their guests the entire time of their visit, and the host is responsible for whatever trouble the guest may cause. Buildings with access control, which include classic and deluxe residential halls, require all guests entering between 9 p.m. and 5 a.m. to be signed in by access monitors by showing valid photo ID.
Why is this the case? Many people didn't have a clear answer, including even the workers of several buildings' respective residential offices, other than the vague and obvious reason, "for safety." They referred me to Dana Pysz, assistant director of UCLA Residential Life, who could better explain the perplexity behind this oddly well-accepted rule.
According to Pysz, the access program began in the mid-80s with the installation of public cameras around residential buildings. Layers of security continued to be added until specific BruinCard-only access into buildings and elevators became the current norm.
Pysz explained that the sign-in policies are a way to confine residents within their respective buildings as much as possible, thus increasing residents' privacy and safety. Some buildings, like residential suites and plazas, are not affected by these policies because they have too many access points, or ways into the building, that make them difficult to monitor.
But that raises the question – shouldn't more access points prompt even more monitoring?
Apparently that isn't the case, with buildings such as Saxon and Hitch suites subject to almost zero regulations regarding guests.
When asked if she had ever had to go through a process to let in a guest at night, Ally Gong, a first-year economics student and Hitch Suites resident responded, "No way, it's like apartment-style. Why would I have to sign someone in?"
Meanwhile, other buildings have strict, inconvenient and time-consuming guest sign-in procedures. At Hedrick Hall, both the host and guest have to show valid photo IDs to an access monitor, fill out and sign a guest pass, hold onto the guest pass for the entire night and still be present as a pair along with the guest pass in order to re-enter the building.
The paper guest passes were implemented as a result of the UCLA Office of Residential Life trying out different methods of the sign-in process, exclusively in Hedrick Hall.
"It's honestly over-the-top and takes a long time for my friend to be able to come over. Rieber Vista and Rieber Terrace don't have these sign-ins, so why do we? There should be a faster way of doing things," said Amy Choi, a first-year psychology student and Hedrick Hall resident.
Other UC schools like UCSD have much less complicated and more reasonable guest policy protocols. They only require that a residential host obtain the approval of their roommate(s) and adhere to basic housing policies throughout the visit.
Ultimately, the reason why some residents are forced to follow this policy boils down to a quintessentially American conviction about college – for the experience. Terms like "access control" and titles like "access monitor" help sell the false sense of safety to worried parents of undergraduate residents. Just as UCLA spends hundreds of millions of dollars on student amenities, like library nap pods and a second gym, the access program is just another addition to a long list of attractive add-ons. In this case, the feeling of security is treated as yet another amenity for a product called the "undergraduate experience," which is then sold to student and parent consumers.
Though it's commendable that Residential Life has started responding to residents' input by looking to upgrade the process by implementing new monitors and computers to minimize the sign-in hassle, the entire guest sign-in policy is a ridiculous way of coddling students, no, pretending to coddle students, especially when it fails to yield actual results.