Film with diverse cast depicts plight of undocumented transgender Latinas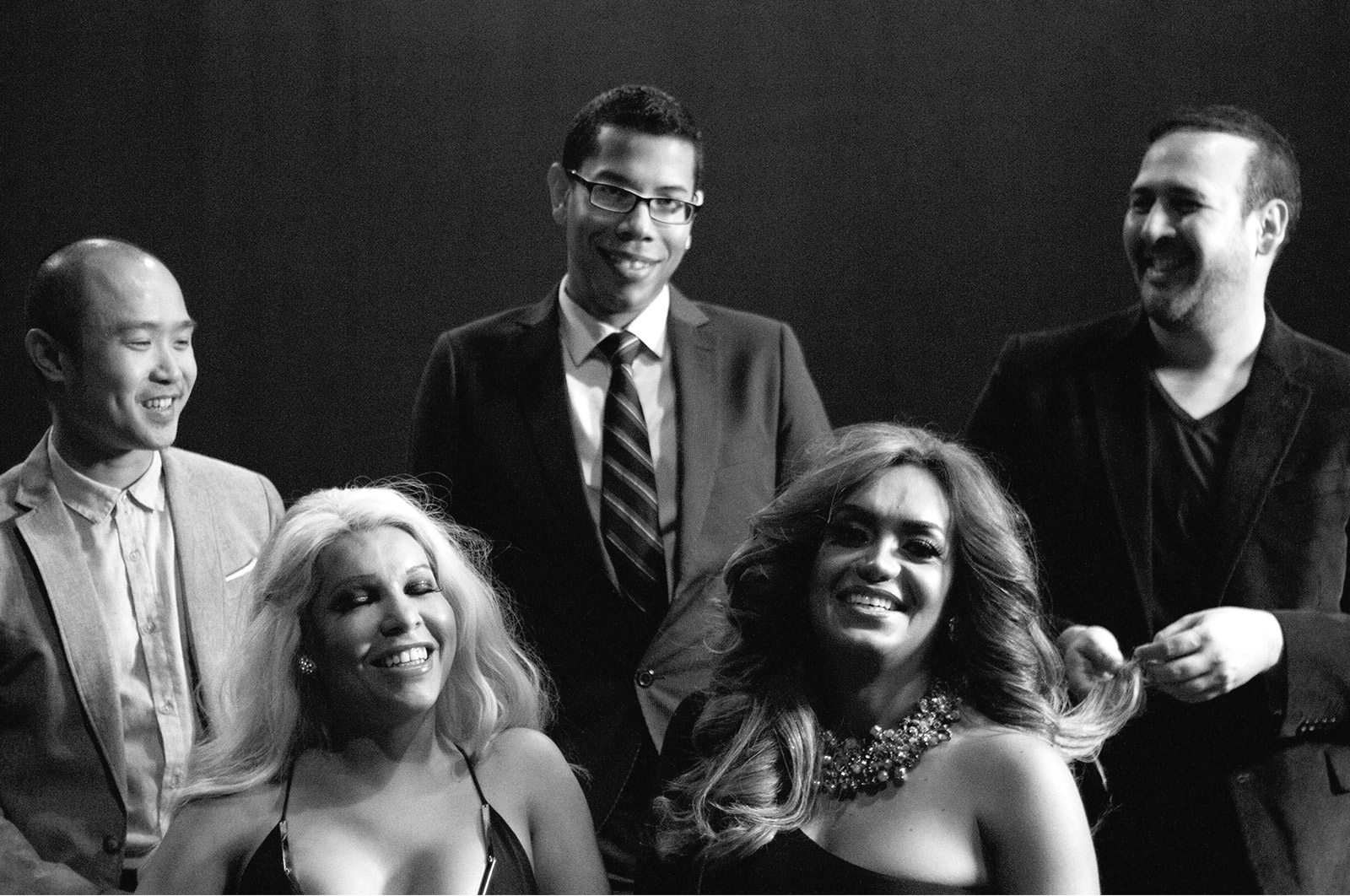 Fine arts graduate student Steven Liang (back left) directed the short film "Afuera," about the struggles of transgender Latinas. The film was written by Steven Canals (back center) and stars Jennifer London (front right). (Courtesy of Steven Liang)
Jennifer scours every corner of her cluttered room, but she can't find her estrogen pills or the money to buy a refill. Her boyfriend doesn't understand why she resorts to the sex trade to keep her transition going, but as an undocumented transgender Latina woman, she doesn't have much of a choice.
Jennifer is the protagonist of "Afuera," a 15-minute short film that will premiere at the Los Angeles Film Festival June 3. "Afuera" is about the everyday struggles of transgender Latinas who have no legal status in the United States.
The film's director, fine arts graduate student Steven Liang, said he decided to make the film when he was shooting a documentary about a community's fight for justice for Zoraida Reyes, an undocumented transgender activist who was murdered in June 2014 in Anaheim, California.
On the set of the documentary, Liang met Jennifer London, who plays the protagonist in "Afuera" by the same name. When she stepped in front of the camera as a documentary subject, her on-screen presence compelled Liang to ask her if she wanted to star in a drama to portray the untold story of her community.
Liang and the writer of "Afuera," alumnus Steven Canals, wanted to make the script and the performances as authentic as possible to resonate with the transgender Latina audience.
Liang said he made an active effort to incorporate diversity in his film, ensuring a high level of diversity in the cast and crew – 65 percent people of color; 54 percent women; 34 percent lesbian, gay, bisexual, transgender and queer people; and 40 percent international.
"As a filmmaker, it is very important to champion diverse talent because our stories are getting much more diverse and global. … It's important for filmmakers to reflect our changing audience," Liang said.
Canals said he wanted to tell stories about marginalized people. He said he felt telling a story about an undocumented Latina transgender sex worker could help to generate some understanding and empathy among viewers.
London said the greatest challenge in the transgender community is finding a good job. In the film, the transgender characters gravitate toward drug dealing and the sex trade because they lack options.
Liang said it is also challenging for immigrants to get health care and the medication needed to transition when they don't have legal status.
For London, the biggest challenge of transitioning was the unemployment and learning how to live as a transgender woman, she said. London said it was hard to live as a transgender person in a community where people accepted her half-heartedly.
Undocumented transgender women are virtually invisible in the mainstream media, Liang said. Films like "The Danish Girl" and TV shows like "Twin Peaks" did not hire transgender talent to play transgender roles.
Hollywood is a money-making machine, Liang said, so they need star power. Unfortunately, there are very few transgender stars, and transgender actors are not getting the support they need to have their careers flourish in Hollywood. Hollywood is so dependent on stars that they are willing to sacrifice the authenticity of their films about transgender community in order to make more money, Liang said.
London said she didn't watch "The Danish Girl" because the film did not cast transgender talent. She added that even though Eddie Redmayne, who plays Lili Elbe in "The Danish Girl," is a talented actor, the film would have felt more real to the transgender community if a transgender actor had played that character.
But despite everything, London said she feels her transition was worth it.
"It's like making your dream come true," London said.
Email Khalid at [email protected]