Diverse music playlists give each dining hall its own flavor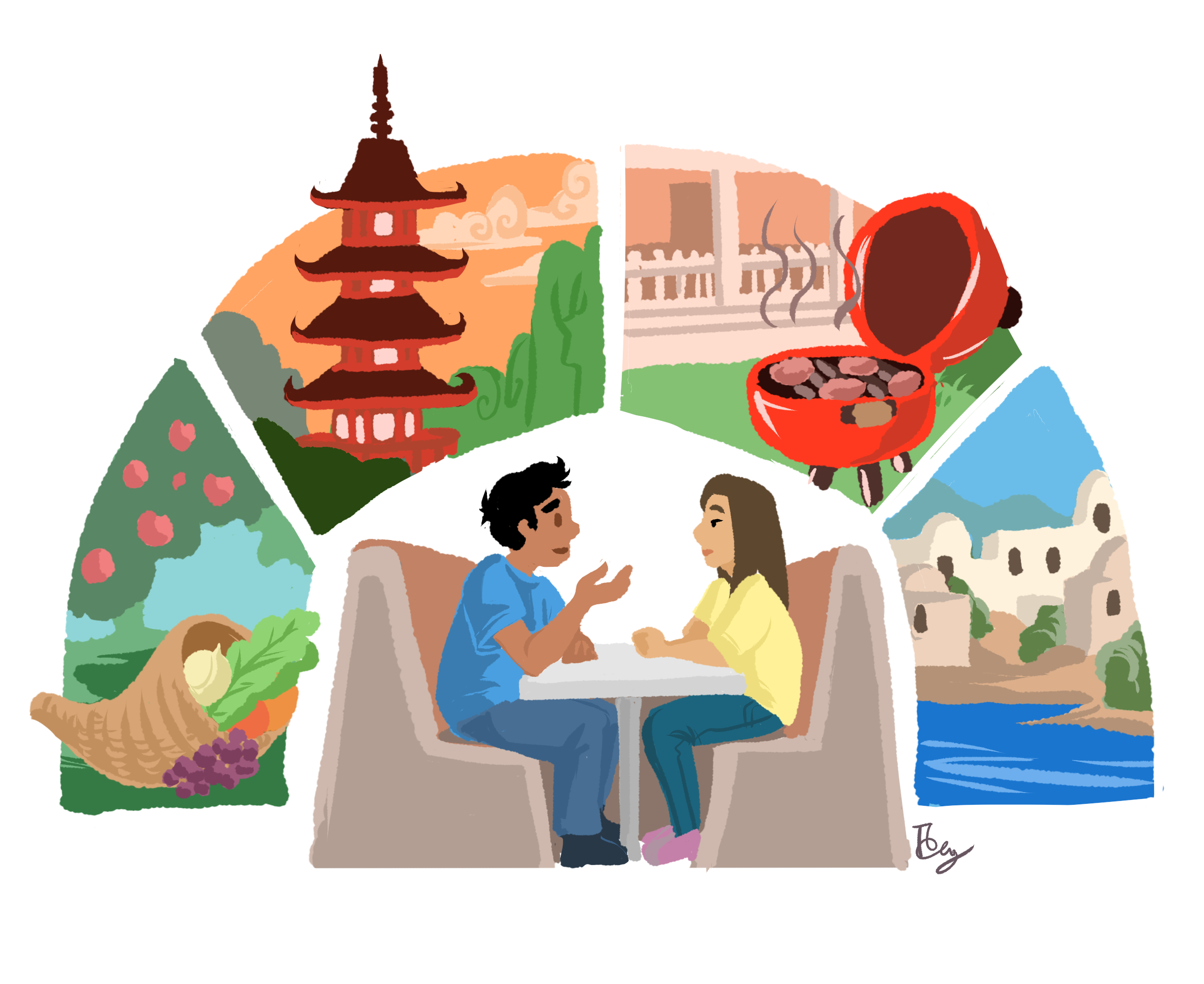 (Taylor Leong/Daily Bruin)
Kristóf Almásy ducked into Rendezvous to make a call about organizing a club event. Just when the conversation turned serious, the familiar "Macarena" blared through the restaurant's speakers. The catchy tune turned what would have been a routine phone call suddenly into an amusing memory for the third-year political science student.
Each UCLA dining hall has established its own musical personality that mirrors the cultural variety of cuisines featured at the Hill's restaurants. Students can listen to musical scores from movies like "Star Wars" and musical genres from K-pop to Latin. Using recipes and music, each restaurant's playlist is carefully constructed to create a specific mood, said UCLA dining associate director Charles Wilcots.
To customize the playlists, fifth-year geography student and Rendezvous student supervisor Michael Mehlberg and fourth-year musical performance and applied linguistics student and Bruin Plate music coordinator Pearl Lee send a list of song requests based on the theme of their dining hall to a third-party music provider called Gray V.
The staff at New York-based Gray V then incorporates as many of the students' requests as possible, finding similar substitutes for any tracks they cannot provide, and sends the playlist back via satellite to a Gray V box located in each dining hall.
For Covel, the atmosphere the staff aims to create is the Mediterranean Sea, while Feast transports its diners to Pacific Asia with varieties of Asian pop. The Bruin Plate staff aims for a state of health and relaxation, while De Neve's contemporary playlists try to return visitors to the comfort of their homes, Wilcots said.
Mehlberg said his job is to capture the dual cultures of Rendezvous, which features Mexican cuisine on its Western side and Pacific Asian delicacies on its Eastern side. Mehlberg curates playlists to feature a mix of Latin, K-pop, J-pop and Mando-pop music.
Jessie Chen, a second-year biochemistry student and co-social chair of UCLA's K-Pop International Student Association, said she feels nostalgic when older songs are played because she has been a K-pop fan since she was in middle school. She added she is glad Feast and Rendezvous are playing more up-to-date K-pop songs compared to last year.
"When my friends and I heard Super Junior's new song "Devil" being played at Feast, we were super excited because Super Junior has always been one of my favorite K-pop bands," Chen said.
However, Rendezvous music also includes genres such as pop, rock and alternative, which Mehlberg said he chose to keep the content current and recognizable to the student body.
When compiling tracks, Mehlberg consults his student employees to get a sense of what the UCLA community listens to. Mehlberg updates the playlists about once a quarter.
"I'm trying to cast as wide a net as possible," Mehlberg said.
Diner Kristóf Almásy enjoys the many genres of background music while he eats, he said.
"(The Rendezvous playlist) gives a cozy atmosphere," Almásy said. "Everyone's welcome, whatever your music taste."
Lee has honed Bruin Plate's music collection to a more specific blend of edginess and tranquility. Lee noticed Bruin Plate's ambience was more abstract compared to the other dining halls, which followed more concrete themes like homestyle or Pacific Asian, she said.
Lee said she felt Bruin Plate's soundtrack should reflect both its abstract quality as well as the zen-like ambience of the dining hall. To achieve this goal, she decided to play mainly indie and instrumental music.
"Indie is the oddball of all the genres," Lee said.
Dining hall playlists also change depending on the time of day. Lee's decision to limit Bruin Plate's morning playlist to the classical genre garnered mixed reviews from diners. In response to complaints that the soothing sounds of strings and piano left students unenergized, over the past two years she has compromised by adding classical renditions of more upbeat, popular songs.
Rendezvous also has separate playlists for morning and night. Mehlberg included more instrumentals in the form of movie and TV themes into the late-night playlist, which he said strike a balance between classical and popular, and between mellow and energized.
A recent addition to the Rendezvous playlist and personal favorite of Mehlberg's is the "Game of Thrones" theme, which Gray V was able to provide, to Mehlberg's pleasant surprise.
"I didn't think (Gray V) would be able to get that in there," Mehlberg said. "But, you try, you make a bunch of suggestions, you see what sticks."
Mehlberg said reactions to his musical selections have been overwhelmingly positive. His favorite piece of feedback came from a student who said, "This music slays."
"I like the idea that the atmosphere of the dining hall would correspond to the music," Almásy said. "I think that music can enhance your food experience."
Contributing reports by Gabriella Kamran and Sally Lee, Daily Bruin contributors.
Carras is an A&E senior staff writer. She was previously the assistant editor for the Theater Film and Television beat of A&E.
Carras is an A&E senior staff writer. She was previously the assistant editor for the Theater Film and Television beat of A&E.