Former winner inspired by Spring Sing experience for music career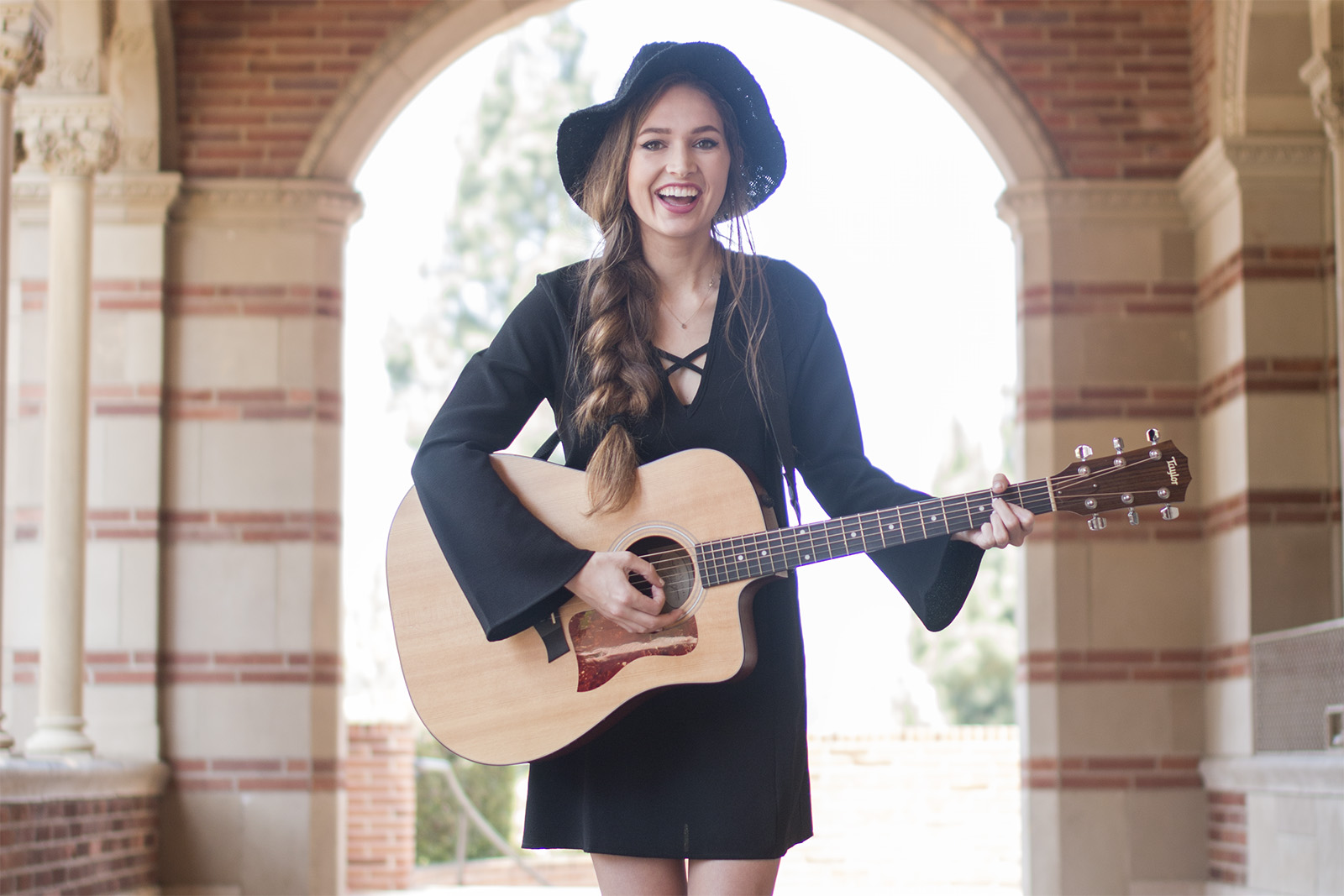 UCLA alumna Courtney Randall was a Spring Sing participant three out of her four years at UCLA. She is currently pursuing a career in music. (Stephanie Choy/Daily Bruin)
The deadline for Spring Sing 2011 entries was fast approaching, but Courtney Randall still hadn't finished composing her song.
Randall, then a first-year student, tried to rhyme lyrics and fit them over a guitar melody in her dorm room and in the middle of monotonous lectures. She had procrastinated on her Spring Sing entry, and she felt her chances of making it past the audition stage with her rushed songwriting attempt were slim.
She made it to Spring Sing, though, and the nervousness subsided when she set foot on stage. In fact, she won the talent show with her song "The One."
"On the stage, I felt like I was home," Randall said.
Randall, now an alumna, competed in Spring Sing for three out of her four years at UCLA. She is now pursuing music as a full-time career and working on her growing YouTube channel dedicated to music and lifestyle content; she will also release an EP in the summer. She said her Spring Sing experiences gave her the confidence to show her original work to the world.
In her first-ever Spring Sing, Randall said she was nervous because she had not performed in front of such a large audience before. But the bright stage lights hid the audience from view, and she became lost in her own world, feeling like she was playing the guitar in her own room.
After she won, she became more confident in singing and sharing her original work, she said. She tried out and made the cut for Spring Sing her second and her fourth year with a solo and duet performance, respectively, but did not audition her third year because she wanted a break.
Tyler Randall, a second-year biomedical engineering student at UC Irvine and Courtney Randall's brother, said ever since he saw her perform and win her first Spring Sing when he was a high school freshman, his sister's love for her music has inspired him to improve his own music production skills.
The siblings now work together on their music – Tyler Randall said he reaches out to his sister when he thinks of an interesting track and vice versa. However, he said the distance between Irvine and Los Angeles and the heavy traffic on the 405 Freeway makes it difficult to collaborate in person. He misses her input during the school year.
Tyler Randall said his preferred genre of music production is hip-hop and R&B, genres he said his sister usually does not perform in. He added she is a folk and acoustic musician, and that she often asks him to tweak his music to fit her style.
After she won her first Spring Sing, Courtney Randall created a YouTube channel to continue improving her music and to share it with an audience. During her first year of college, the songs she composed talked about falling in love – typical love songs, she said.
Now, her YouTube channel has more than 65,000 subscribers from all over the world. Randall said she receives comments from people asking her how to improve their self-confidence, how to love themselves and how to feel beautiful.
She said her lyrics unintentionally became less preoccupied with fairytale ideas of love and began mirroring the everyday struggles of ordinary people, as a result of tweets and the YouTube comments.
"I'm writing more about self-expression and staying true to oneself," Courtney Randall said. "I never really wrote about that before, even though I've always wanted to inspire younger people."
Madelyn Skinner, a UCLA alumna and Courtney Randall's roommate, said she can often hear Courtney Randall practicing new and old songs in their shared apartment. Courtney Randall has her own room, but Skinner said the sound of Courtney Randall's voice and guitar strumming floating through the apartment makes her reminisce of her own days performing a cappella during college.
While she promotes her music and prepares to release her EP, Courtney Randall works as a nanny and with producers and studios she met through Spring Sing. Though Courtney Randall misses the lights and the thousands of cheers that accompany her Spring Sing songs, she said she looks forward to making her own music for people to feel good about.
"Just imagine that you are singing or performing by yourself because you love it, and just think about the reason that you're doing this – because it makes you happy," Courtney Randall said.