Feminist fashion collection finds alternate meanings in everyday objects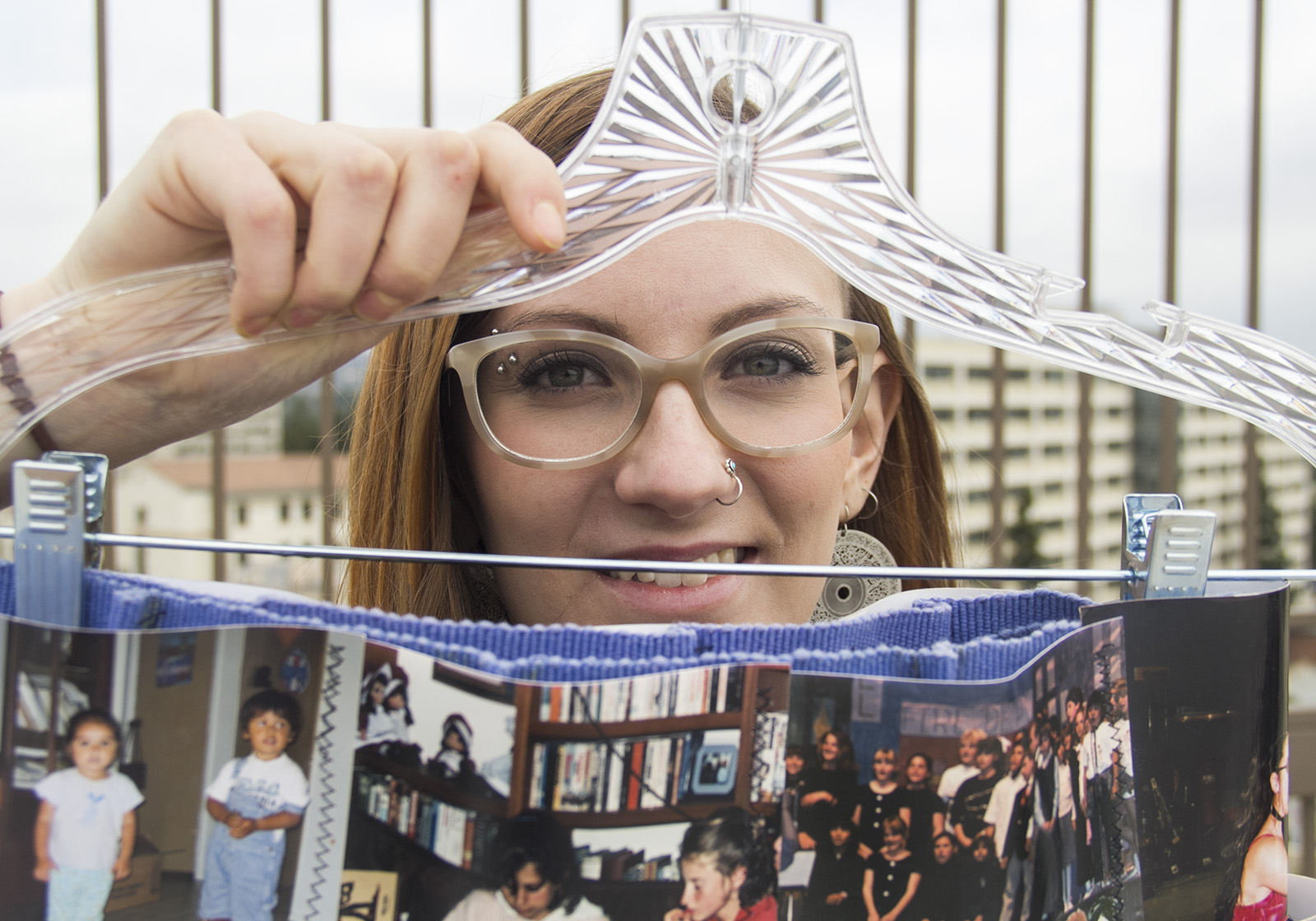 Third-year sociology student Natalie Kirsten made a skirt from recycled placemats, covered with found photos she bought from a flea market. The accompanying bustier was fashioned from a shower curtain and magazine clippings. (Zinnia Moreno/Daily Bruin)
Natalie Kirsten walked across campus carrying a broken white lamp cover she had stolen from one of UCLA's numerous streetlights.
Kirsten, a third-year sociology student, has been collecting random objects since December to include in her dress collection called "The Procession of Simulacra" for the Fashion and Student Trends fashion show Friday. Kirsten repurposed the items for their conceptual meaning to comment on prostitution and femininity through her collection, she said.
As Kirsten grew older, she faced new, gendered expectations about how to dress and act, a feeling she incorporated into one of her dresses made of family photos, she said.
"It was very unsettling for me, and I would say that's an experience that a lot of young women have," Kirsten said.
Working out of her Westwood apartment, Kirsten spent hours huddled in the corner of her living room, sewing together abandoned bras with a borrowed sewing machine and hand stitching burlap sacks using 99-cent dental floss.
All seven of Kirsten's designs are made of abandoned materials she found around campus or in redistribution places like the reDiscover Center in West Los Angeles and the Stray Cat Alliance thrift store in Santa Monica. Some of Kirsten's dresses include stick framing from a discarded mattress in front of a fraternity house and green material ripped from a UCLA construction site fence.
Many of the materials holding the dresses together are also the result of chance encounters with lost objects. When walking to class, Kirsten stumbled across a gallon tub of Elmer's glue that now holds together catalog clippings as a shirt in one of her dresses.
"I really like the whole idea of repurposing things and reusing things," Kirsten said. "You can have something and it can have new life."
Several models will flaunt Kirsten's collection on the runway, including third-year dance student Timna Naim. Along with modeling, Naim also collaborated with Kirsten on the seventh design, which features plastic bags fashioned into a Cinderella-like gown.
The clothing line is different from traditional lines because it exists beyond fashion as an art piece that could also stand on its own, Naim said.
"She's very honest with her approach to the clothing in that same sort of light of not trying to make (the clothing) what it's not," Naim said. "It feels really genuine and interesting to see how she goes about the process."
A video created by third-year Design | Media Arts student Michael Becker will accompany Kirsten's collection at the FAST fashion show. The video will project abrupt changes in color and saturation onto two screens and include media clips ranging from footage of Beyoncé to a Russian fashion show.
Becker said he and Kirsten worked in coffee shops and her apartment for over a week to create a visual piece that fits into his own aesthetic and bolsters Kirsten's collection by connecting it to media.
Although he had seen found object assemblages in different artworks and sculptures before, Becker said Kirsten's collection was the first time he saw the style in a fashion setting.
"She's bringing all of it together from a sociologist background, and it is really quite a unique mix of interests," Becker said.
Using repurposed objects, Kirsten said her collection focuses on femininity and prostitution. Kirsten added that she wants viewers to engage with questions like, "Is education the way out of prostitution?" and "What type of women become prostitutes?"
To highlight images of prostitution in the collection, Kirsten said she emphasized the shape of the hips in many of her dress designs and included common symbols of prostitution like a red sash.
"Because these found objects are often things we encounter in our day-to-day lives, we have already assigned meaning to them," Kirsten said. "So when I make them into a sculpture or something different, they have even more meaning; a second layer is added to them."
Nickolai is the A&E editor. He was previously the assistant A&E editor for the Lifestyle beat and an A&E reporter.
Nickolai is the A&E editor. He was previously the assistant A&E editor for the Lifestyle beat and an A&E reporter.