Starting a louder conversation on cultural appropriation in fashion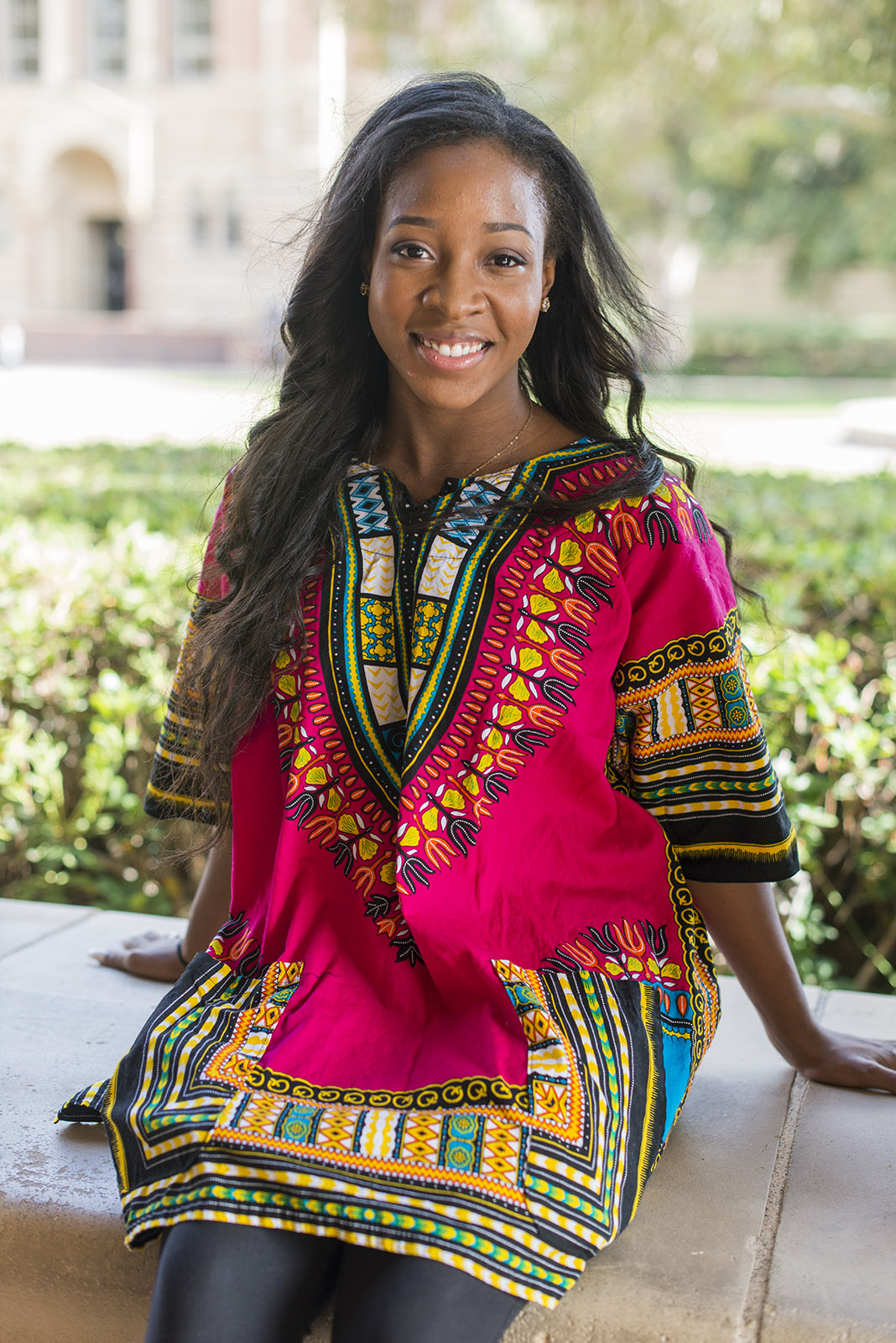 Third-year philosophy and African American studies student Alicia Frison, who is also part Native American, said she is offended to see feather headdresses and tribal dresses sold at Halloween stores. She said turning feather headdresses into costumes eradicates their spiritual significance. (Mischa Rajendiran/Daily Bruin)
As Sanjana Nidugondi, a second-year neuroscience student, headed to an event with Indus Bruins members dressed in a sari, two white men on Bruin Walk turned around and yelled at her, "Where are your cows?"
Nidugondi was shocked at the question, which revealed complete ignorance about her culture, she said.
UCLA students of color witness the traditional dress or religious symbols of their culture turned into party costumes or fashion statements. For them, this appropriation is a constant reminder that their cultural identity is not accepted by their peers.
In kindergarten, Nidugondi's traditional South Indian saris were met with grimaces from other parents.
Even though she was proud of her Indian heritage, Nidugondi was weary of her classmates laughing at her for being foreign. In elementary school, Nidugondi finally decided to escape her classmates' mockeries by wearing the uncomfortable jeans and T-shirts the rest of the kids wore.
"Wearing traditional clothing is like carrying a big electric sign above your head that you are foreign, and for some reason that's not accepted in this country," Nidugondi said.
At the same time, Nidugondi felt frustrated seeing non-Hindu people wear bindis at the Coachella Valley Music and Arts Festival to make a bold style statement. A bindi is a symbol of a Hindu woman, Nidugondi said, and seeing it taken out of its spiritual context at a music festival shows no appreciation for the South Asian culture.
"A bindi on a white girl registers as an exotic fashion style, but on me it registers as a sign that I am foreign," Nidugondi said.
Cultural appropriation arises when one group picks up the materials of another cultural group for their own use, said Steven Nelson, professor of African and African American art history at UCLA. People have been stealing the art, dress and mannerisms of their neighbors since they had neighbors, Nelson said.
"If we're talking about African American appropriation, it's been happening since about 1619 when the first black people were taken from Africa to Virginia as slaves," Nelson said.
Appropriation by itself is not criminal, Nelson said, since culture is not property. The problem arises when the act of appropriation serves a discriminating agenda. To Nelson, the appropriation of African art by Pablo Picasso was thoughtful since it was used to invent cubism rather than mock African art. But picking up parts of black dress, black dance or rap in order to be offensive crosses a line, Nelson said.
Even though the bulk of cultural borrowing has been completely innocent, Nelson said, blatantly offensive instances of appropriation surface, like the Kanye Western-themed frat raid in October. At the raid, white students allegedly used pads to stuff their butts and lipstick to plump their lips, Nelson said.
Third-year philosophy and African American studies student Alicia Frison had a hard time believing her mother's words that blackness is beautiful when she was a child. She noticed that the only successful black actors on TV had skin complexions much fairer than hers.
When white celebrities like Kylie Jenner mimic black features, they are praised in the media for their edgy fashion styles, Frison said, but when MAC cosmetics posted a photo of a black lipstick model on its Instagram page it was swamped with racist responses.
Such discriminating instances teach young black girls to physically hate themselves, Frison said.
The merging of black culture into mainstream fashion is not a sign of acceptance since no credit is given to black culture, Frison said.
"Most of my life I have been offended by such appropriation of black style," Frison said. "The borrowing wasn't respectful in the 1600s and it's still not respectful now."
Frison, who is part Native American, said she is offended every year when she sees feather headdresses and tribal dresses sold at Halloween stores. Feathers for headdresses were offered to tribe warriors for their bravery. Turning them into a costume or a mascot eradicates their spiritual significance, Frison said.
Erin Wilson, a fourth-year philosophy student, initially found the abundance of Native American patterns in fashionable outfits a flattering sign that his community still has a strong presence in American culture. On a daily basis, Wilson notices students with T-shirts and backpacks that resemble Native American patterns like the popular patterns of the Navajo tribe.
However, the image of feathered headdresses adorning Native American men is an artifact of Western cinema because many tribes never used headdresses, Wilson said. Wearing headdresses at Halloween parties or at music festivals as a Native American costume perpetuates such misrepresentations of the community, he said.
"This allows Western society to define what being Native American is," Wilson said.
Frison said the discussion on cultural appropriation is not meant to exclude one culture from borrowing off of another culture's fashion, but to promote respect for marginalized groups.
"It's easy to follow a fashion trend blindly," Frison said, "But I encourage that we all acquire knowledge about each and every item we touch."