Q&A: 'The Beauty in You' art gallery aims to foster body positivity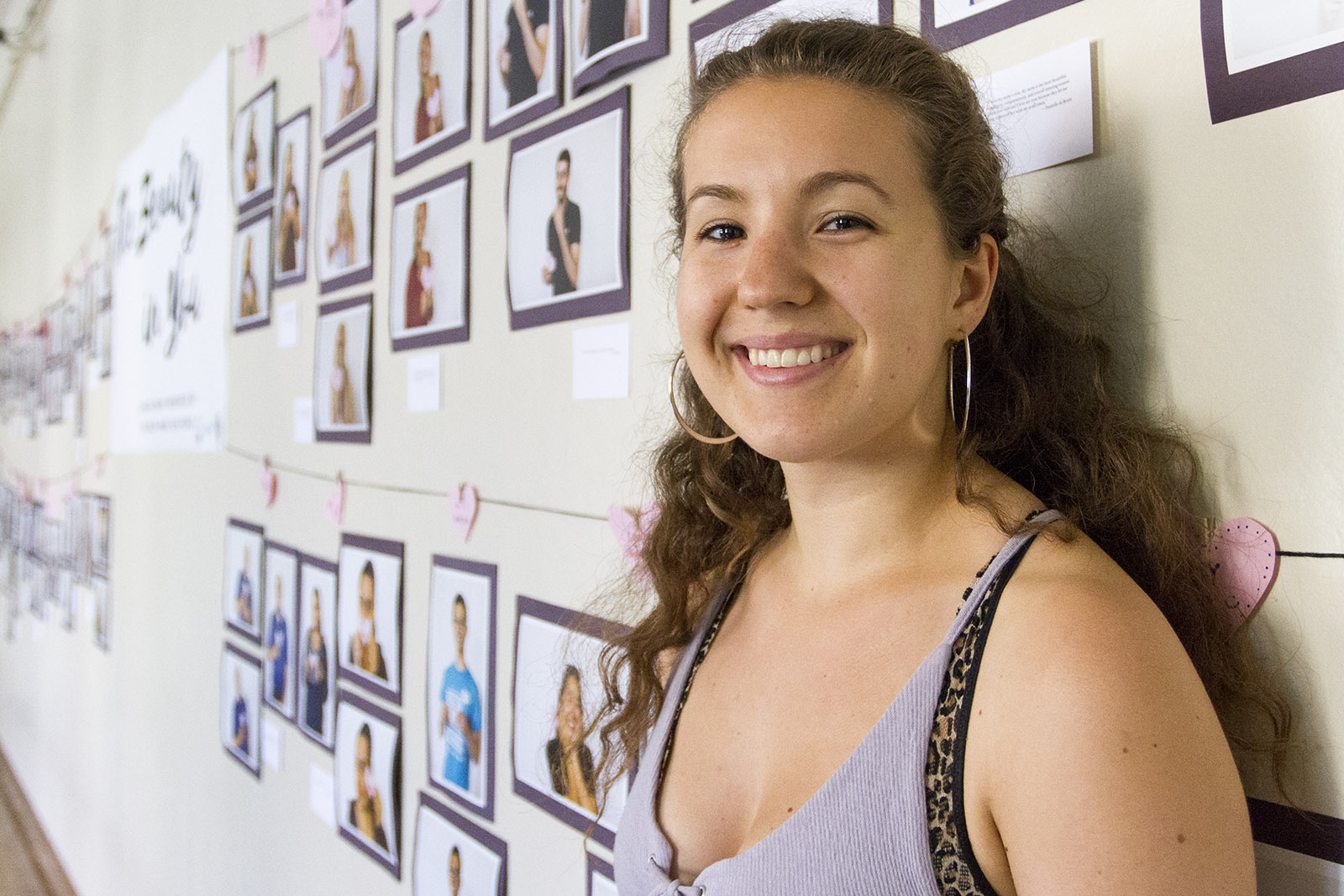 A photo of third-year sociology student Danielle de Bruin's eyes is featured in the photo exhibition titled "The Beauty in You," which was organized by the Student Wellness Commission's Body Image Task Force and the Cultural Affairs Commission. The exhibition runs through Wednesday in the Kerckhoff Art Gallery. (Kira VandenBrande/Daily Bruin)
Danielle de Bruin has her mom's eyes. She loves her eyes because she can keep a small piece of her mom with her all the time. De Bruin, a third-year sociology student, said her mom is the most intelligent woman she has ever met.
A photo of de Bruin's eyes are featured in an art gallery titled "The Beauty in You" along with photos from 55 other UCLA students and staff members. The participants submitted photos of their favorite body part that they love for any reason.
The exhibition, organized by the Student Wellness Commission's Body Image Task Force, runs through Wednesday in Kerckhoff Art Gallery.
The Daily Bruin's Ishita Gambhir spoke with de Bruin, the co-director of the Body Image Task Force, about the exhibit, body image issues at UCLA and the taboo around body image.
Daily Bruin: Did you want to get people to talk about body image issues?
Danielle de Bruin: I wanted to give people a space to find beauty in themselves. It wasn't necessarily the idea to foster healthy body image in and of itself, but just to give people a space to share what they love about themselves because they are the ones that get to decide that. … I think people should have the opportunity to say, "I love this about myself," because why not?
DB: What do you think makes body image issues so pervasive on college campuses like ours?
DD: One of the reasons I think body image can be even a bigger issue on college campus is media. UCLA has inherently a competitive culture. We might think that academically because we are a top-tier university and people here are inherently super smart. But we compare ourselves to each other in all other ways, and a lot of it is by looks, levels of fitness, because we do live in LA, and there's such a health-conscious culture in LA and on this campus.
I find myself comparing myself to other people on this campus. I think social media exacerbates that because the reason that social media exists is to share things about yourself … and it's hard not to think about yourself in relationship to others.
DB: Did you ever personally struggle with any body image issues?
DD: Yeah, that's why I joined the (Body Image Task Force) in the first place and it's taken me a long time to realize that body image is a huge part of mental health.
I used to think that having a positive body image was being happy with myself all the time. … But what I have come to realize is that having a healthy body image is having a healthy relationship between you and your body. … You have ups and downs with every relationship in your life, and you're gonna have ups and down with your body no matter what. But the important part about having a healthy relationship with your body is having a loving and accepting relationship, knowing that it's not always gonna be positive, but having an unconditional love for it anyway.
DB: What issues do you think students face while trying to combat body image issues?
DD: I think one of the biggest issues about body image is just the fact that we don't talk about it. … I think there's a misconception that body image is only about gender and body type, but really it's about culture, sexual orientation. Every group is affected by body image, and it's something that we all experience. But it's so taboo because no one wants to admit their insecurities … or people don't want to be vulnerable in front of other people.
DB: Do you think body image issues can often precipitate bigger mental health issues?
DD: Body image problems come from external issues, so if you think about how you feel about your body day-to-day, it changes.
There are all these external influences that are happening in my head in that they are hard things to deal with. So what I've learned in my position and working with different professionals is that these external influences are what are influencing our body image. Because these things that we're dealing with on a day-to-day basis are hard to talk about … a lot of the times those feelings get projected onto our body, because we think of our bodies are easier to fix and easier to change than these big overarching issues that are in our life. I think that's why body image can change so quickly on a day-to-day basis is because things in our life are changing on a day-to-day basis and we're projecting that onto ourselves.
DB: What should students do every day to make sure they're not advancing negative body image stereotypes?
DD: I think respecting everyone, not making comments about other people's appearance. … When you give someone a compliment, it's almost always based on their appearance. … Focus on the aspects of the person that aren't physical, tell them that you admire their courage, tell them that you're so impressed by the last paper they wrote – it was so witty and so well-thought-out. To focus on the aspects of what people can control about their lives … stop evaluating people solely based on their appearance.