Sound bath strikes chord with participants looking to relax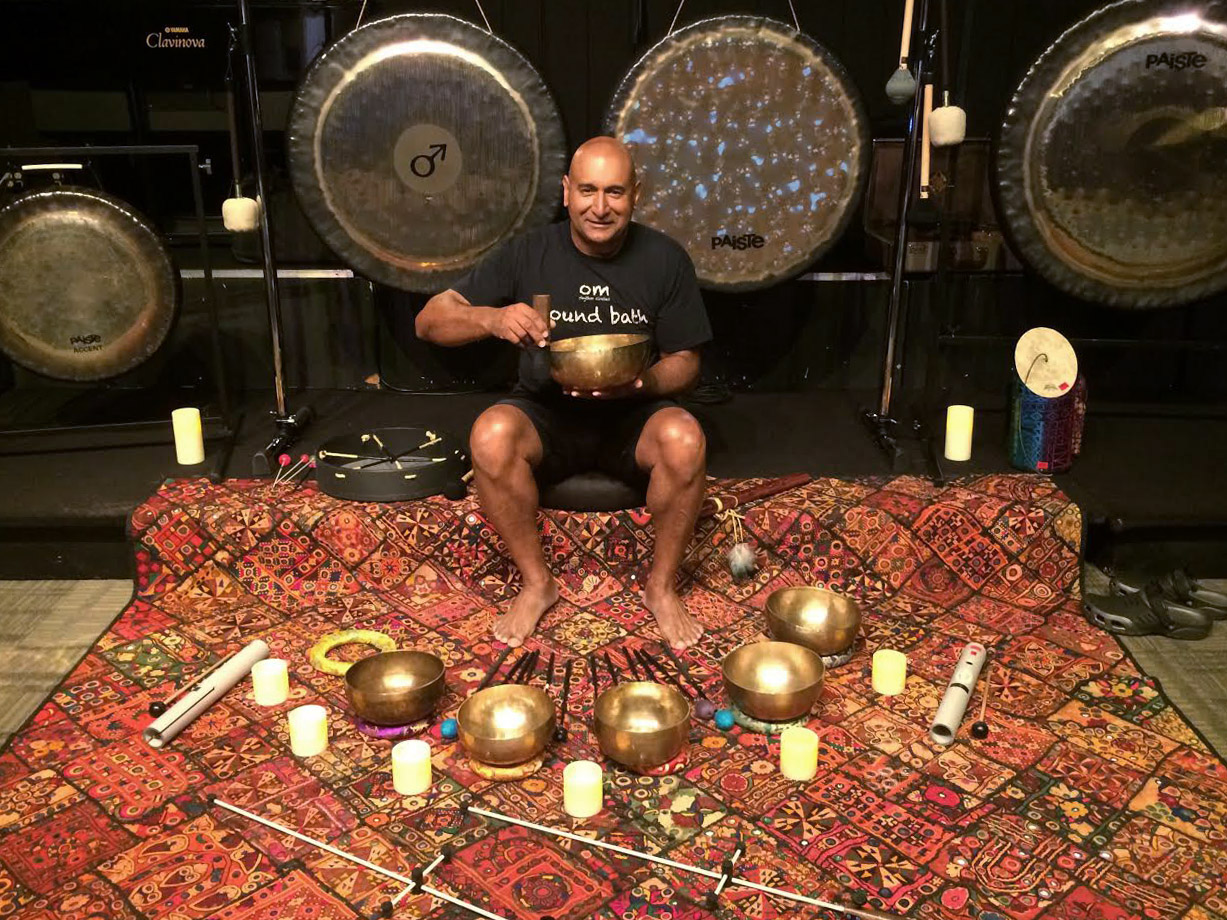 Ossie Mair, a licensed marriage and family therapist, plays instruments like the Tibetan singing bowl, creating calming and meditative vibrations. The sound washes over students and other attendees; some even fall asleep. (Courtesy of Jayne Mair)
Raymundo Baltazar-Flores expected his first sound bath to be like a rave. Instead, when he got to Broad Art Center, he lay down on the ground and let the sounds of didgeridoos and Tibetan singing bowls wash over him and put him at ease.
"All you really have to do is listen and allow for the sound to enter your body, your consciousness and unconsciousness, and be able to relax, enjoy and partake in the experience," said Baltazar-Flores, a third-year world arts and cultures student.
UCLA's Visual and Performing Arts Education, or VAPAE, program will host "Spring Sound Bath Under the Stars" Monday at Broad Art Center. Participants will settle down on the grass on blankets, yoga mats and pillows, where they will be bathed in the sounds of vibrational instruments like gongs, Tibetan singing bows and didgeridoos.
The goal of the sound bath is to provide a space for students to get in touch with their identities, enrich their creativity and return to their studies feeling rejuvenated, said Lindsay Lindberg, the program coordinator and a lecturer for VAPAE.
"Spring Sound Bath Under the Stars" will be the second sound bath at UCLA this year and the first outdoor one. During a sound bath, participants are immersed in sounds and the vibrations from the music flow through the body and replace tension with positivity, Lindberg said.
Baltazar-Flores, who is pursuing a minor in the VAPAE program, lay down with around 40 strangers on the floor of the Broad Art Center during the February sound bath. Ossie Mair, a licensed marriage and family therapist who incorporates drumming and sound bath into his therapy practice, walked among them, playing instruments Baltazar-Flores had never seen or heard before.
The sounds of rainfall, thunder and wind blowing dust through the air resonated throughout the room, Baltazar-Flores said. The sound intensified as Mair walked closer and Baltazar-Flores said he felt a euphoric emotional and physical connection to the music.
Lindberg, who has also attended one of Mair's sound baths, said Mair played one note and it resonated throughout the room for a while, creating a rich and relaxing sound. She noticed some participants used the event as place to meditate while others closed their eyes. Some even fell asleep.
Like Lindberg, Baltazar-Flores was struck by the resonance of Mair's instruments. He said while the sound from one instrument was reverberating through the room, Mair began to play a new instrument. The sound was magical, almost as though Mair was a one-person orchestra, he said.
During the sound bath winter quarter, Lindberg noticed students that stayed late working in the studios at the art center came down to the sound bath. They returned to their studios feeling refreshed and ready to approach their work in a more present, mindful way, she said.
Mair described a sound bath as an experience that helps relieve stress and anxiety. He said he began doing sound baths when he realized people's lives are filled with distractions such as technology and traffic. The brain needs to rest, Mair said, and sound baths create the opportunity to relax and not think.
"If you've ever felt like you're out of alignment, not quite right … the vibrations of the instruments have a way of putting everything back together and making you feel renewed and rejuvenated," Mair said.
Students have full schedules and their minds are constantly trying to memorize facts, Mair said. Scheduling the event during midterm season, Baltazar-Flores said, creates an environment for students to completely relax – something they don't always do on their own.
When Baltazar-Flores arrived at the event, he saw an array of instruments of which some seemed to be ancient and some brand new.
The display of instruments reminded him of a museum. He said he was taken aback that he would be able to see and learn about the instruments and also actually be able to hear them.
"You're being bathed by ancient sounds that make your body at ease," Baltazar-Flores said. "It's also a bonding of body and mind and music, which is very rare in an environment like a university."