UCLA team of scientists explores Mojave Desert for meteorites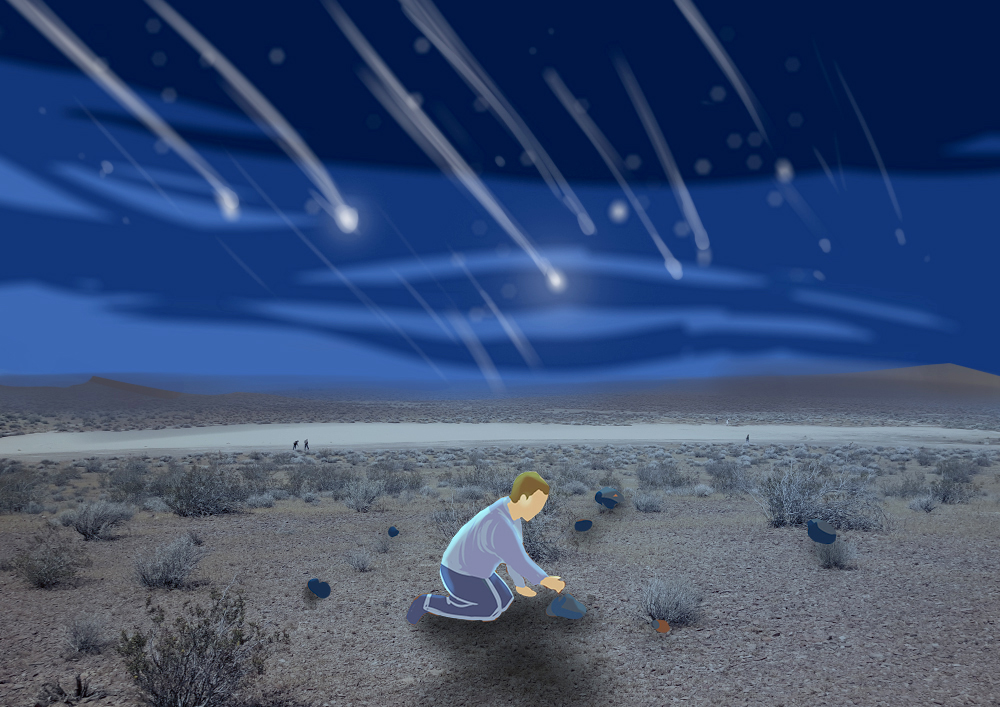 Illustration (Taylor Leong/Daily Bruin) Photo (Kevin McKeegan/Daily Bruin)
The Mojave Desert's dusty red plains constitute a vast landscape of sand, creosote bush and cinder-cone mountains – sparse, uninhabited and dry.
But on certain days, a team of UCLA geologists, cosmochemists and planetary scientists scours acres of the desert landscape for meteorites, chunks of rock that have fallen from space.
Next month, when temperatures strain to more than 100 degrees, the team will hunt there again, exploring a 46-acre donation of land the university received in January.
Finding Earth
The land, donated by the family of UCLA alumnus Leo Wacker, grants faculty members permission to explore an uninhabited region of the Mojave Desert, where fragments of a meteorite are rumored to have landed decades before.
Cosmochemistry and geochemistry Professor Emeritus John Wasson studied meteorites for more than 50 years. Wasson, one of the main assemblers of the UCLA Meteorite Collection, began organizing field trips to the Mojave in November 2014.
In 1976, a rabbit hunter discovered a heavy, iron-rich meteorite near the edge of a dry desert lake in Kern County, California, about 10 miles north of Edwards Air Force Base in the Mojave Desert.
Wasson and his colleagues purchased the specimen for analysis. Based on its sharp, angular edges, they concluded the meteorite had broken into pieces upon entering the atmosphere. He added its fragments could be littered as far as 3 miles from the impact site.
Wasson sent 10 letters to private landowners, asking them for permission to search adjacent properties for other meteorites. He offered them half of any meteorite found on their land and invited property owners to join the search.
The Wacker family agreed to participate, never having seen the parcel of land their late father purchased years before. They joined 18 UCLA faculty members and students on their first meteorite hunt that November.
The Wackers didn't find much on their first trip – only a few small stones – but they weren't finished yet.
Finding space
On a typical day in the field, Wasson tells hunters to look out for black rocks larger than golf balls.
Current meteorite hunting methods don't rely on much more than eyesight. Searchers cross the desert in strict walking formations with magnetic canes, testing the surrounding debris for magnetism, Wasson said.
But finding a vantage point with the visibility of the surrounding land is one of the most important techniques for meteorite hunting, said Jason Utas, a graduate student in geochemistry and cosmochemistry.
Utas, who has hunted for space debris with his family since he was 9, has found more than 200 meteorites in his lifetime. Once, he traveled to Texas chasing down a special type of meteorite called a fireball.
"When I was 8, my parents found me a meteoroid," Utas said. "Things kind of snowballed, and now I'm here."
Utas said meteorites enter the atmosphere at an average speed of 20 kilometers per second, four times as fast and 60 times as energetic as a returning space shuttle.
Isotopic signatures can allow scientists to trace meteorites back to the space clusters they came from. Wasson specializes in the analysis of iron meteorites, examining their composition and signature using neutron irradiation. He said he usually gets to keep a piece of every meteorite sent to him for analysis.
"Meteorites tell us about the formation of the planets, about the cores of asteroids," Wasson said. "They just fall from the sky. Nature has provided them to you."
On the first floor of Slichter Hall, rows of meteorites and pieces of space debris – some dull, some glimmering – lie behind panes of glass in the public Meteorite Gallery. One case holds chondrites, primitive meteorites thought to be older than the planets themselves, and another holds tektites, lumps of silica-rich glass resembling twisted clay.
The Utas family donated several meteorites to the gallery, including their largest: an 811-pound iron meteorite from Namibia.
"(Meteorite hunting) has always been my hobby, so it's hard to make the transition from collecting to studying them," Utas said about his academic career. "Finding them is relatively fun and easy, but then you have to spend three days under a microscope analyzing a tiny section of it."
Finding answers
Gerry Wacker said he considered his family's land donation an opportunity to give back to UCLA.
"We really weren't serious about the science," Wacker said. "We just thought … it could be a great adventure."
Wasson retired eight months ago, but still comes to UCLA every day. The team has explored areas in Kern County since 2014 and hopes to cover new ground next month.