New program to allow students to rent bikes on campus, in Westwood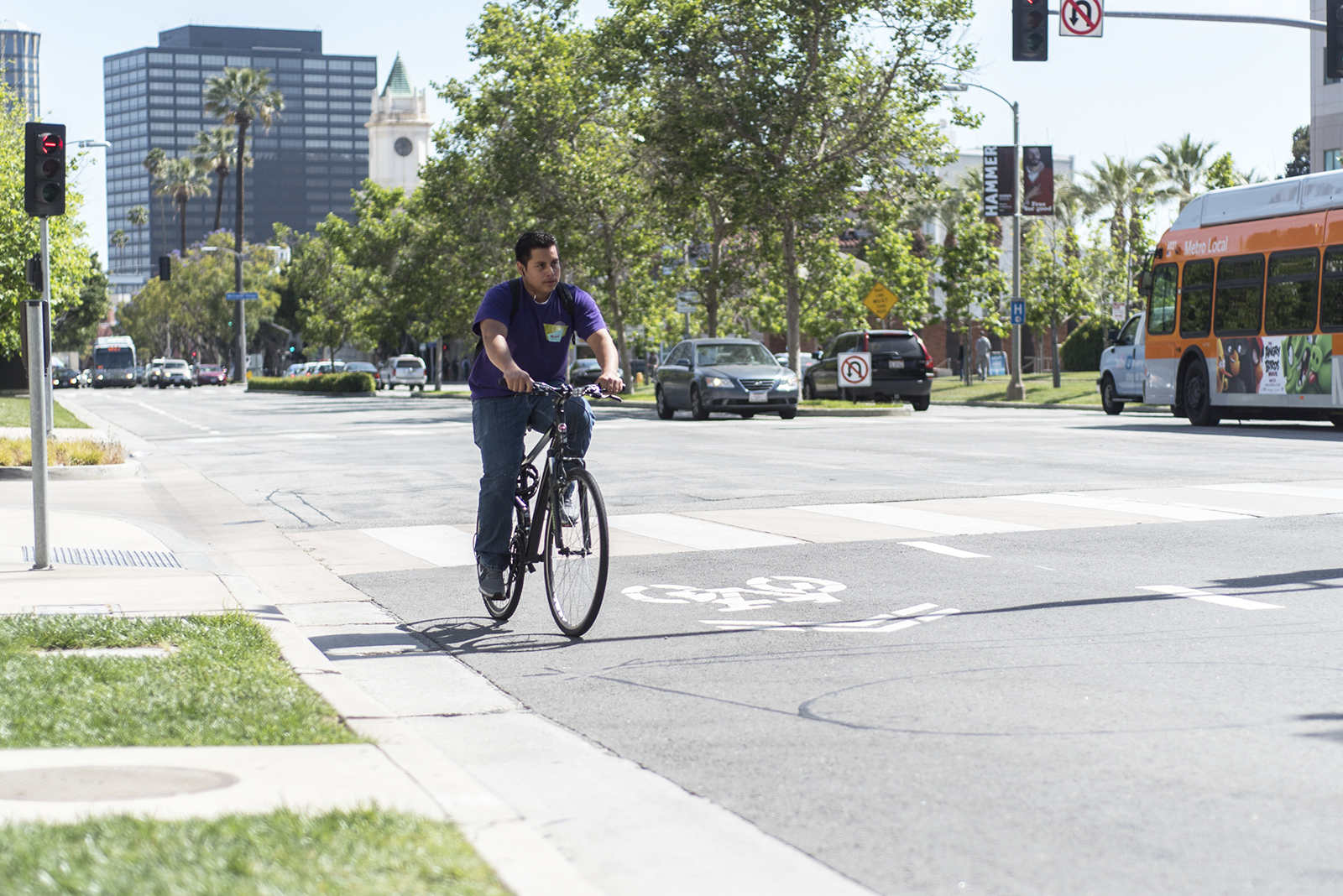 During the 2016-2017 academic year, students will be able to rent bikes from campus through a new bike-share initiative. Students can return their bicycles to any CycleHop station hub on campus or in Santa Monica. (Jennifer Hu/Daily Bruin)
April 28, 2016 12:00 a.m.
This post was updated April 29 at 1:25 p.m.
Students will be able to rent bikes throughout campus and Westwood Village beginning fall 2016.
The bike-share program will allow students to rent a bike for a fee and return it to any other station hub. UCLA Transportation Services officials said in an email statement they decided to pursue the program after Santa Monica's bike-share system proved successful.
Transportation officials said they planned possible bike-hub locations, but anticipate they may change before they release a solidified implementation plan by mid-summer. They added they could not estimate the cost of the program.
A vendor called CycleHop will operate the bike-share program. CycleHop operates Santa Monica's existing Breeze Bike Share program, and will host West Hollywood's as well, so students will be able to pick up a bike from UCLA and drop it off in a neighboring city.
Andrew Thomas, executive director of the Westwood Village Improvement Association, which operates the Westwood Business Improvement District, said he thinks the program will make the Village more accessible to students.
"Students don't want to walk 15 to 20 minutes to the Village when they only have so much time to get lunch," said Thomas. "If it's possible to hop on a bike and get there in five minutes, it would give them more options and bring in more business."
Los Angeles County Metropolitan Transportation Authority officials also plan to implement a citywide bike-share program. It will not be operated by the same vendor as UCLA, but Metro officials are working to make their program compatible, said Metro spokesperson Dave Sotero in an email statement.
Metro's program will begin this summer, with 65 stations open throughout downtown Los Angeles. Metro officials added they plan to expand the program to other communities in the following years.
Gloria Zhang, a second-year economics student, said she doesn't think many students will use the bike-share program because it's difficult to bike around the crowded campus. She added she doesn't think students will go to Westwood Village for lunch because there are several dining options available on campus.
Other students said they think the program will be useful. Varadh Jain, a fourth-year mathematics and economics student, said he thinks the program would create a safer environment for bike riders and help others be more aware of those on wheels.
Christos Kampouridis, a graduate student in mechanical engineering, said he thinks the program will only be beneficial if UCLA creates several drop-off locations on campus. He added he would use the program if it could help him avoid having his bike stolen again.
Kristen Hardy is currently a news reporter covering Westwood, transportation and Los Angeles.
Kristen Hardy is currently a news reporter covering Westwood, transportation and Los Angeles.