2016 NFL draft: UCLA live blog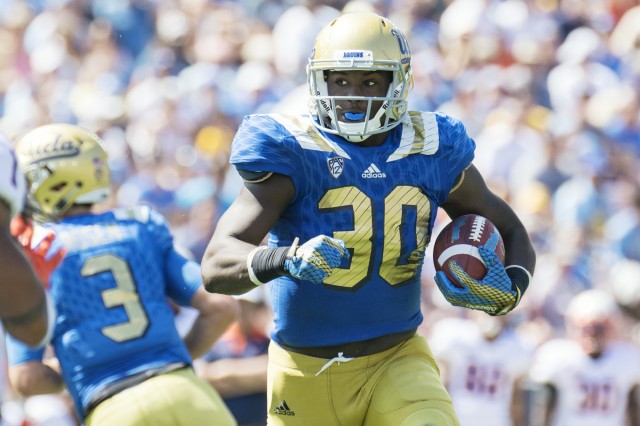 Former UCLA linebacker Myles Jack was finally selected Friday in the second round of the NFL Draft. (Daily Bruin file photo)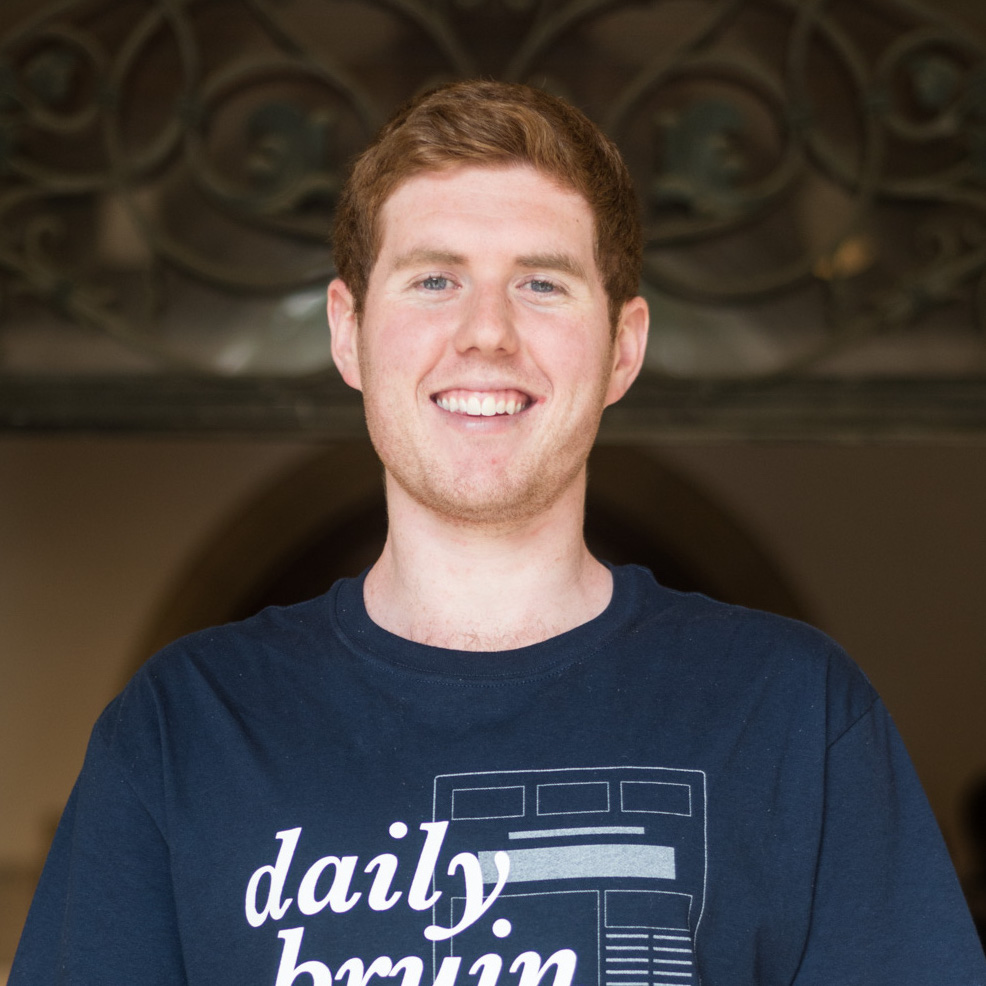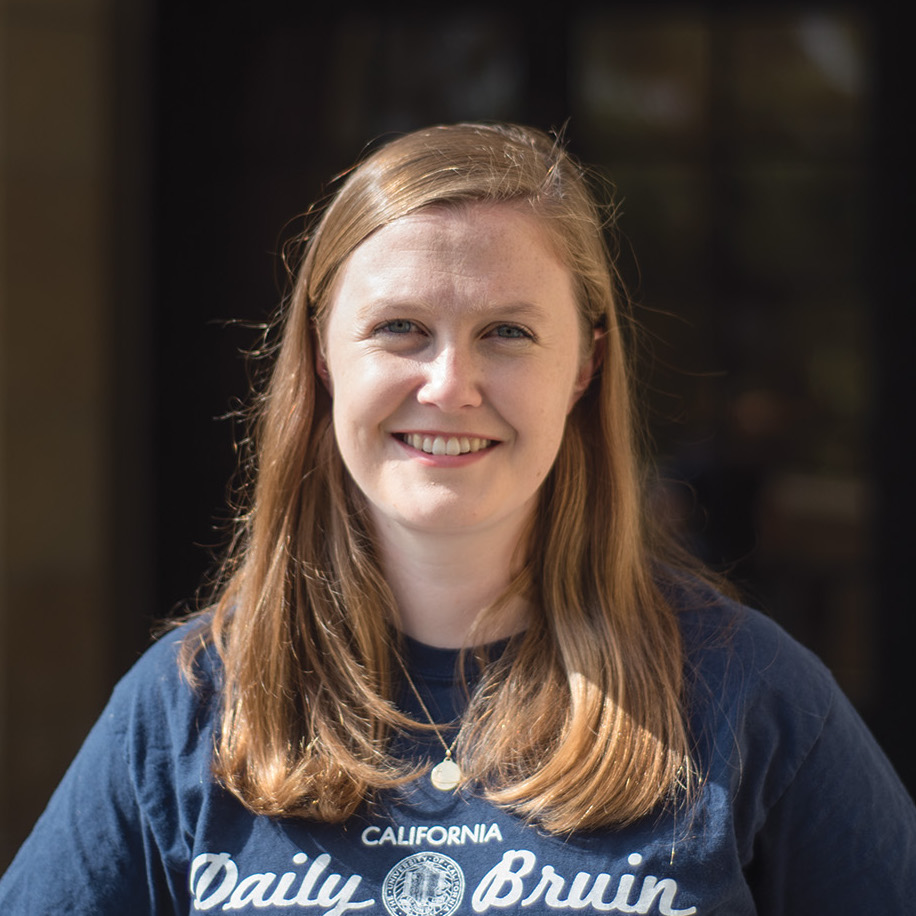 This year's NFL draft could be a busy one for UCLA, with the possibility that up to nine Bruin football players will be taken over the course of the three-day event. Follow along to see which former UCLA players are selected and where they're headed. This post will be updated throughout the weekend.
3:43 p.m.
With the announcement of "Mr. Irrelevant," the 2016 NFL draft concludes and UCLA kicker Ka'imi Fairbairn was not selected.
Fairbairn, the winner of the Lou Groza Award, will certainly be brought in by an NFL team but it's nevertheless surprising that he went undrafted.
3:06 p.m.
Wide receiver Devin Fuller became the eighth Bruin drafted when the Atlanta Falcons snagged the pass-catcher with the 238th pick.
Fuller, who came to UCLA as a quarterback recruit, wowed scouts with a 4.39-second 40-yard dash at the NFL Combine. He only made 24 catches as a senior, but he turned in an impressive junior season with 59 catches, good for second on the team.
2:53 p.m.
Tight end Thomas Duarte came off the board with the tenth pick of the seventh round Saturday, heading to the Miami Dolphins with the 231st pick of the draft.
Duarte led the Bruins with 10 touchdown catches last year, playing more as a wide receiver and almost never lining up attached to the offensive line. That will likely be the key for his NFL development – he has the tools to play wide receiver but would be much more valuable as a tight end if he could make that transition.
2:34 p.m.
With the first pick of the seventh round, and the 222nd pick overall, the Tennessee Titans nabbed UCLA  linebacker Aaron Wallace.
Wallace excelled as a senior in the fall, leading the UCLA defense with 12.5 tackles for loss and seven sacks. He developed significantly – as his NFL.com draft profile quotes an NFC West scout, Wallace was a "completely different player from the BYU game to the USC game. He has some talent but he's like a sophomore in terms of his linebacker instincts." That all means the 6-foot-3-inch, 240-pound Wallace has even further room to grow as a professional.
11:42 a.m.
There have been a flurry of UCLA picks since the start of round five, as receiver Jordan Payton was selected by the Cleveland Browns with the 154th overall pick.
Payton was projected to be picked later in the draft – likely in the sixth or seventh round – but he became the third Bruin taken within seven selections.
11:24 a.m.
That was quick – back-to-back Bruins in the fifth round.
Paul Perkins, who helped guide UCLA's offense with then-freshman quarterback Josh Rosen last fall, has been drafted by the New York Giants with the 149th overall pick.
With the 149th pick, the #Giants select UCLA RB Paul Perkins!

HIGHLIGHTS: https://t.co/kYC29nBgLV pic.twitter.com/vqa713Q5Ji

— New York Giants (@Giants) April 30, 2016
Saturday, 11:22 a.m. The third Bruin is off the boards. Offensive lineman Caleb Benenoch, who decided to forego his senior season, was selected by the Tampa Bay Buccaneers with the 148th overall pick in the draft. He was the first UCLA player to go on day three.
When Benenoch declared back in late December 2015, he was on few draft boards and lacked the same name recognition as Jack and Kenny Clark. But, the 6-foot-5, 305 pound lineman with the ability to play at multiple spots on the field, projects to have the size and skill to succeed at the pro level.
He started 35 games in his UCLA career, primarily at right tackle. With an O-line depleted by injury, Benenoch was forced to also play at guard during the 2015 season. His experience at both positions likely boosted his standing in the draft.
Paul Perkins, UCLA's dependable running back, is projected to be the next Bruin player chosen.
8:14 p.m.
We've reached the end of the third round and it was a quiet conclusion to the second day of the draft – after a big start with Myles Jack, of course.
While a number of draft predictions had offensive lineman Caleb Benenoch going as high as late in the second round, he won't have a chance to hear his name called until Saturday. Along with Benenoch, there could be up to about seven more UCLA players taken on the final day of the draft. Read our full preview here.
Friday, 4:30 p.m.
It took almost 24 hours longer than expected, but Myles Jack became an NFL draftee Friday. With the fifth pick of the second round, 36th overall, the Jacksonville Jaguars selected the former UCLA linebacker.
Jack was at one point projected to be a top-5 pick in the 2016 draft, but after confirming Wednesday that he does in fact have degenerative knee issues, no team was willing to risk a first-round pick to draft him.
UCLA coach Jim Mora warned about a scenario like this in September, when Jack announced he was dropping out of school after a meniscus tear ended his junior season early. Mora said that in his professional opinion – he coached in the NFL for 25 years – there wasn't enough tape on Jack for teams to feel confident signing him.
"He's taking his chips and he's shoving them in the middle and we hope that he draws a good hand, at least I do," Mora said at the time. "This is brand new to me. I've never seen it or been involved with it."
Scouts initially overlooked those issues, including concerns that dropping out of school showed a lack of priorities and resolve, and were even willing to draft him high after not seeing him run a 40-yard dash or perform a shuttle run drill at UCLA Pro Day on March 15. However, when rumors surfaced in recent weeks that the state of Jack's knee may lead to an abbreviated professional career, teams finally decided to pass. That ended Friday.
Thursday, 8:40 p.m.
Former UCLA linebacker Myles Jack's draft stock fell so far this week that he was not selected in the first round of the NFL Draft Thursday. Jack was at one point projected to be a top-five pick, but injury concerns dropped him lower than originally expected – all the way out of the first 31 picks.
The prospect confirmed Wednesday that he does in fact have degenerative knee issues after rumors surfaced to that effect last week. That only fueled continued speculation about how far Jack would fall on draft boards across the league. While his stock was expected to suffer, few anticipated him dropping out of the first round altogether.
Coach Mora and @MylesJack are in Chicago and ready for the #NFLDraft. #GoBruins #NFLBruins pic.twitter.com/wjKHwHozVm

— UCLA Football (@UCLAFootball) April 28, 2016
The linebacker's junior season ended prematurely in September after Jack tore his meniscus during noncontact drills in practice. At that point Jack chose to drop out of school and begin rehabilitation in preparation for the 2016 draft. Following his injury, Jack moved from Westwood to Phoenix and worked with Brett Fischer – an Arizona Cardinals physical therapist and a trainer who works with numerous professional athletes from both the NFL and the MLB – in order to make a comeback.
On Pro Day at UCLA on March 15, Jack registered a 40-inch vertical leap and a 10-foot-4 broad leap, but refrained from running a 40-yard dash due to his right knee. While Jack initially planned on running the 40 on April 1 at a personal pro day, he eventually decided against it.
Thursday, 8:10 p.m.
Kenny Clark became the 27th pick of the 2016 NFL Draft Thursday when he was selected by the Green Bay Packers. Clark was a defensive centerpiece for UCLA during his three-year career, playing nose tackle in the Bruins' 3-4 scheme.
Credited with being effective at freeing up space by his linebackers, in the final year of his career Clark added pass rushing to his defensive skill set. Clark registered six sacks in 2015 after racking up just one in his first two seasons.
During the 2015 season, Clark was second on the team with 75 tackles and 11 tackles for loss to go along with his six sacks. At the NFL Combine on Feb. 28, Clark ran a time of 5.06 seconds in the 40-yard dash and a 4.62 in the shuttle run, also posting a 28.5-inch vertical.
The last Bruin to go in the first round of the draft was Anthony Barr, who was selected ninth overall by the Minnesota Vikings in 2014. Barr was the highest-selected defensive player from UCLA since 1991, when safety Eric Turner was selected second overall by the Cleveland Browns.
Thursday, 5:22 p.m.
The draft is live and the Pac-12 is already represented after the first pick. California quarterback Jared Goff was selected by the Los Angeles Rams, and now we wait to see how far former UCLA linebacker Myles Jack will fall.
pic.twitter.com/n8dcDyRhph — Los Angeles Rams (@RamsNFL) April 29, 2016