Local group inspired to overcome racism and strife through music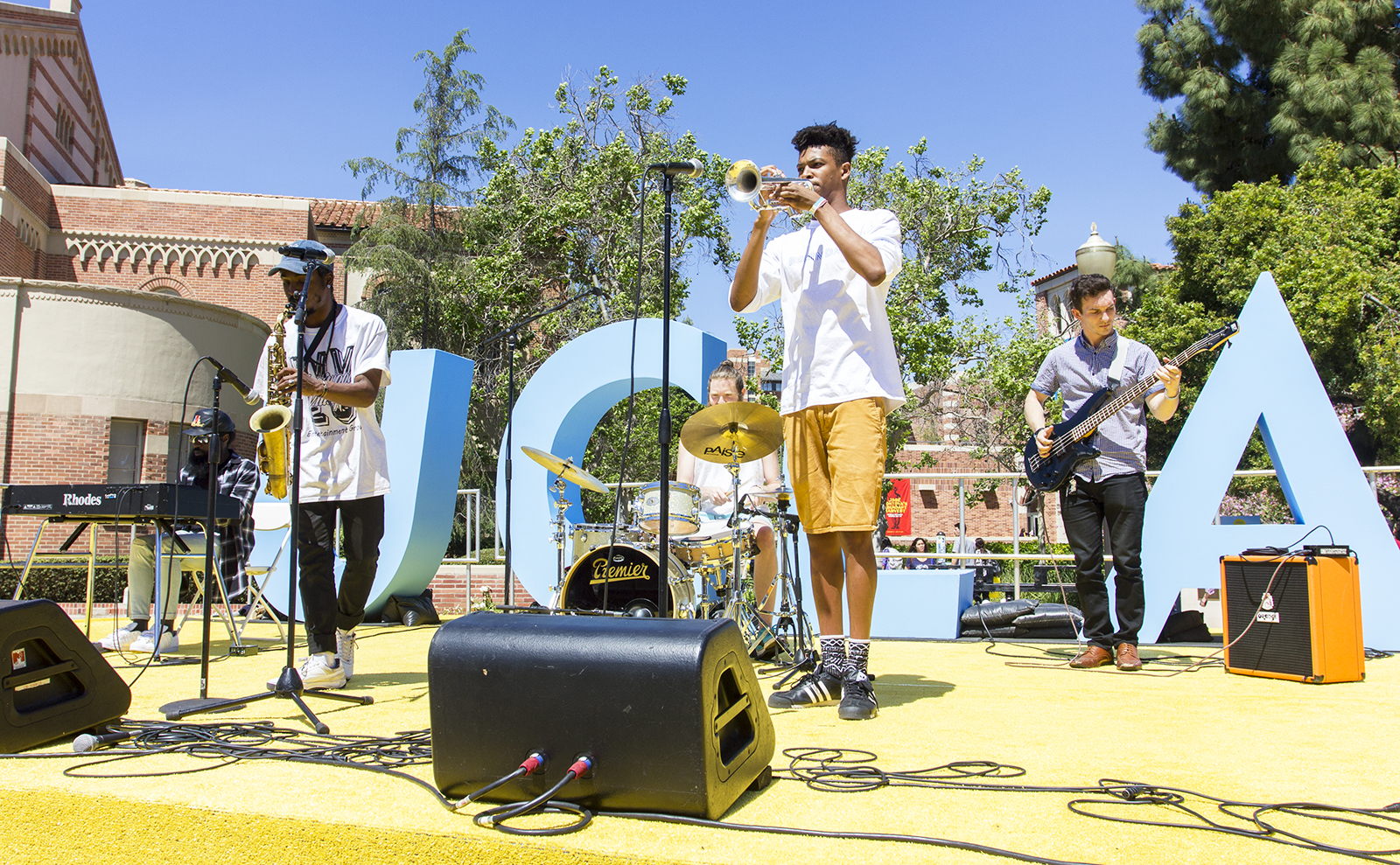 Westwood Village Entertainment Group performed at Bruin Day this year, with founder and third-year ethnomusicology student Munir Griffin (left) on saxophone. (Jintak Han/Daily Bruin)
April 26, 2016 10:19 p.m.
Westwood Village Entertainment Group, or WVEG, was inspired by an old Nigerian proverb: "It takes a village to raise a child." For them, their proverbial child is their music.
Each person in the group is a different part of the village. There's a singer bopping along to Lauryn Hill and Erykah Badu, a Jewish drummer immersed in African world music, a rapper determined to change the hip-hop game toward Black empowerment, a saxophonist who grew up hearing gunshots along with jazz, and others.
The collective is composed of around 12 UCLA and non-UCLA musicians, producers, videographers and songwriters looking for a space to express themselves and support each other through the producing, performing and promoting processes.
The group seeks to revive campus hip-hop culture and establish a safe space for the nurturing of musical ideas, an idea born from founder, saxophonist and third-year ethnomusicology student Munir Griffin, who grew up in crime-ridden Camden, New Jersey.
In Camden, Griffin tried to keep away from the streets and instead spent time taking music, African drumming and karate classes at his local community center. He first met his three music teachers at the center, who would not only teach Griffin music for school, but also mentor him throughout his life.
One of Griffin's teachers, Nasir Dickerson, said he always thought Griffin would grow up to be like Philadelphian saxophonist Jimmy Oliver because both were small in stature, but played big notes on their horns.
Growing up, Griffin threw himself headlong into music. He attended The Creative Arts Morgan Village Academy and traveled with the school's band, performing in places from California to West Africa.
But Griffin, who grew up in a violent neighborhood yet attended a performing arts high school, felt caught between two worlds. After attending different jazz festivals around the country, he would return home to see his friends getting shot or going to jail for crimes like theft or drug dealing.
Griffin said music was an escape, a way to avoid becoming a statistic. He feared becoming a dropout or selling drugs like many of those around him.
"I felt as though when I was leaving Camden, I was leaving hell," Griffin said. "When I would go and perform, it was like a safe haven and a way to relieve stress."
In his second year at UCLA, Griffin formed Westwood Village Entertainment Group after realizing that student-performers had music that could impact audiences but needed help being launched into the limelight.
"We're just trying to hone what we have and be more relevant here at UCLA," Griffin said. "We want people to follow us and know that we have a culture here with hip-hop music because people don't know a lot about the artists here."
Pacing across center stage in front of Griffin is lead singer Ani Abiedu, who sings under the name Indigenous Soul. Abiedu views hip-hop and R&B as more than just music. For the third-year anthropology student, the genres are an integral part of her identity as a Black woman and a messenger of social justice and unity.
Abiedu's sister was the first to turn Abiedu's love of singing into a medium for delivering social messages by introducing her to "Baduizm" by Erykah Badu and various songs by Lauryn Hill and the Fugees.
Buckled in the back of her auntie's car, the 6-year-old Abiedu would keep trying to memorize Badu's lyrics and imitate Hill's "Doo-Wop." Fed by the hip-hop and R&B that soundtracked her childhood, the seeds for Indigenous Soul grew into what Abiedu said is a vehicle for empathy.
Abiedu takes inspiration for her lyrics in the violence and poverty she encountered second-hand growing up. Spending her adolescence with her cousin in inner-city Los Angeles created a sense of empathy for the experiences her friends and family were going through.
Her first close, male friend was a gang member who had lost a close relative. Gang violence affected people close to her and became a social issue that, along with a yearning for unity and peace, came out in her singing.
Abiedu – Indigenous Soul – sees her stage name as an identity nearly twenty years in the making.
"I think we should sing about loving one another regardless of what we look like or where we come from," Abiedu said. "We are indigenous to the universe."
Similarly angered by the promotion of drugs, self-hatred and violence in mainstream hip-hop, Taylor Alford decided to rap about the unity and communal power he experienced in his neighborhood while growing up.
The third-year African American studies student and rapper said he is one of many artists, from Kendrick Lamar to Beyonce, to unearth empowerment from negativity and to help Black youth appreciate their rich cultures through music.
"If I enter the game and talk about Black empowerment, a lot more Black kids will learn to love themselves," Alford said.
Alford's new album "Made in Amerika" is currently under post-production. Alford said the album is a series of eight interconnected raps combined with corresponding short films that provide a continuous history of the concept of Blackness in America.
The album begins with the history of slavery, and ends with a futuristic vision of equal opportunities throughout the United States. Alford said "Made in Amerika" is more than just a critical analysis of the Black community; it is also a personal reflection of Alford's reality as a Black male in his country.
In his first English class at UCLA, Alford remembered scanning the room and realizing he was the only Black student.
"That's a form of institutional racism, because UCLA is not reaching out to communities that are underrepresented," Alford said.
At UCLA, Alford said he gained the knowledge to recognize microaggressions as instances of covert racism. Through his music, he hopes to pass on the value of education to other Black kids and enable them to stand up to racism.
Alec Bailey, a first-year undeclared student, rapper and collaborator of Alford's, said "Made in Amerika" explores Blackness as a construct of American society and as a culture of resistance.
"A lot of Black people struggle with loving themselves and understanding that Blackness is beautiful," Bailey said.
Playing onstage with his bandmates, drummer J.J. Ross found that the music they played was a medium for social activism.
Initially, Ross said he was concerned that his Jewish identity would detract from the identity of the group when he came to play for the group. But the members of the collective accepted the fourth-year ethnomusicology student with open arms.
"They told me this message is about diversity and inclusion," Ross said.
Ross said he loves ethnomusicology because it relies on research and field study rather than relying on stereotypes. Each subculture has its own cultivation of music, but if one studies a culture, one can achieve that sound and play it within that community.
"If the experience is taken respectfully and with a mind to learn, it allows for a mass community to keep going as opposed to confining them," Ross said.
Similarly, Josh Lockhart, keyboardist for WVEG, said social activism is a constant presence in the group's rehearsals and performances. The fourth-year ethnomusicology and African American studies student said every show the collective has performed, whether at Kerckhoff Coffee House, Covel Commons or Bruin Day, has had a specific message.
"The message we're trying to get across is grounded in love, because everything in its fundamental state is grounded in love. We're here to love each other, and to love ourselves," Lockhart said.
As an African American student, artist and entertainer, Lockhart said he pushes for solidarity and love through music in order to shed light on his community's struggles.
WVEG's message of unity, embodied by Griffin's motto for the group, "It takes a village to enlighten the sound," is what the musicians hope to advocate for.
The collective is the village, Lockhart said, and it takes all of the individual musicians doing their individual jobs to cultivate one individual sound.
"Music has always broken color lines," Lockhart said. "Why not start with hip-hop, rock, grime and let that unity blossom in our real societies?"
Email Patel at [email protected], Lee at [email protected], Papantoni at spa[email protected] and Savisaar at [email protected].