First-year gives mischievous voice to 'Despicable Me' character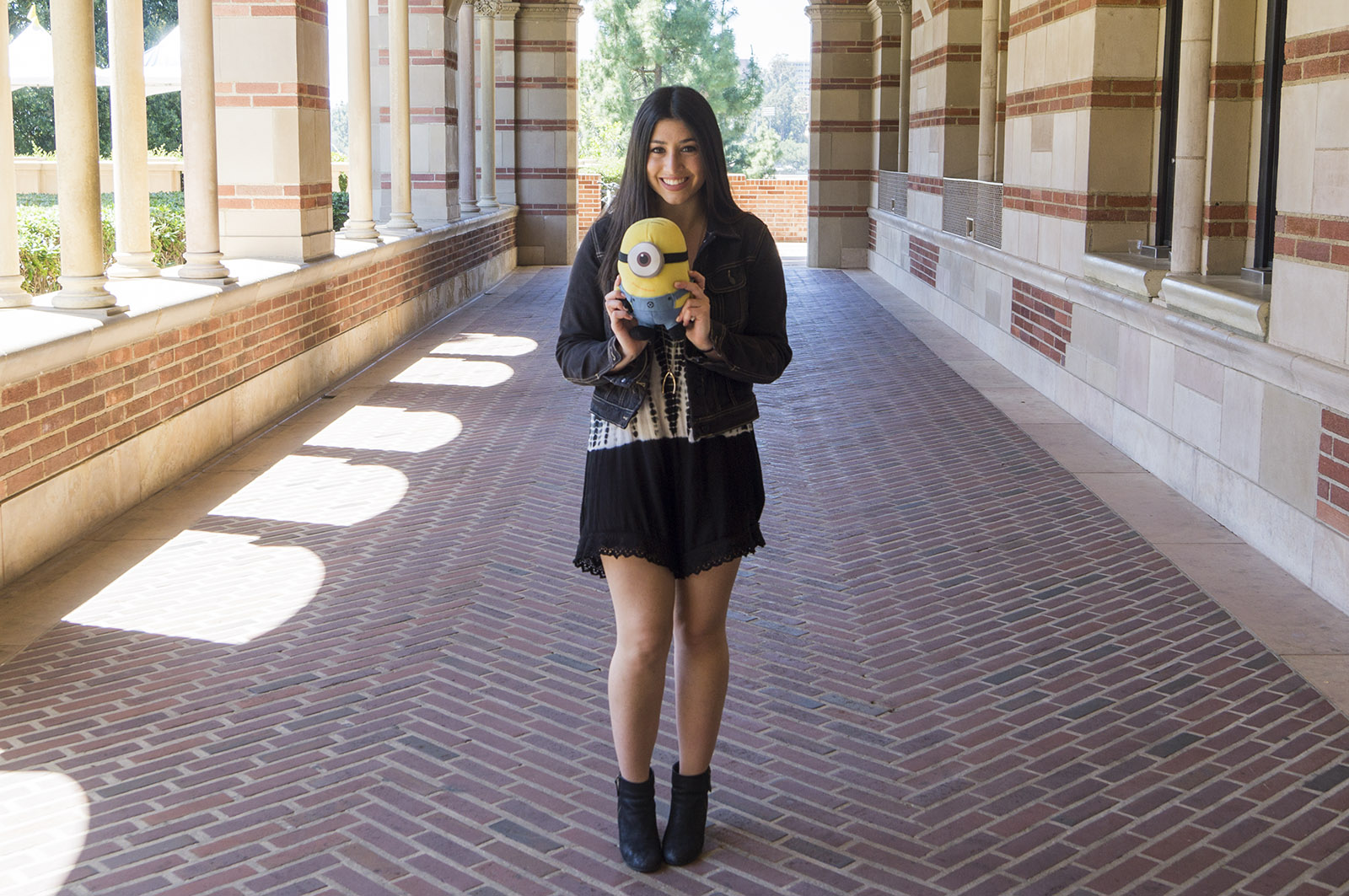 First-year undeclared student Dana Gaier voiced nine-year-old Edith, one of Gru's adopted daughters, in the "Despicable Me" film series. (Julie Hanash/Daily Bruin)
April 19, 2016 12:00 a.m.
Eleven-year-old Dana Gaier fiddled with the hem of her shirt on her first day in the recording studio as rough sketches of evil Gru's innocent daughters hung behind her.
The "Despicable Me" sound technicians were forced to address the nervous tick as the mic picked up the rustle of fabric instead of her distinct, raspy vocals.
Since her first day in the recording studio, brown-haired, brown-eyed Gaier, a first-year undeclared student, has voiced her blonde, blue-eyed character with increasing confidence. For six years, Gaier has been known as the voice behind the animation for Edith, the mischievous middle daughter in the "Despicable Me" franchise.
Gaier said she landed the role of 9-year-old Edith in 2008 because of her gravelly tone. Though the directors had considered other girls before her, Gaier's voice, which provided the perfect counterpart to the clear, high-pitched ones of the other sisters, prevailed, Gaier said. After the callback in Los Angeles, 11-year-old Gaier arrived home in New Jersey to celebratory balloons and treats from her family.
"They flew me home first class, and I was on cloud nine," Gaier said. "I thought I was getting the full celebrity treatment."
After two years in and out of the recording studio, "Despicable Me" was released in 2010. Gaier, her friends and her family heard her familiar voice with an unfamiliar face for the first time.
"When I saw ("Despicable Me") it was so weird," said Michelle Corvelli, a friend of Gaier's. "If you shut your eyes, you would think it's Dana, but you open your eyes, and she's on the big screen as a little girl in a pink hat."
Although she no longer had to compete with other young actresses, Gaier was not immediately handed the opportunity to reprise her role as Edith in "Despicable Me 2." Three years had passed since her first session in the recording studio, and Gaier had to prove her adolescent vocal cords could still reach a 9-year-old's pitch.
As her agent and the audio engineer replayed her first audition tape, Gaier doubted if she could replicate the youthful tone she gave Edith as an 11-year-old.
"I was listening, and my voice was so high," Gaier said. "I was like, 'Is that even me?' I had to work a little harder."
But, after pausing and clearing her throat, 14-year-old Gaier matched the original tape and secured her role in the second installment.
Despite the increased age gap between her and her character, Gaier said recording Edith's lines has come more naturally with age.
She said the recording process for the first film challenged her because of her limited knowledge of the plot, a blind spot that was no longer an obstacle the second time around.
"I have a better grasp of who (Edith) is because I'd seen the movies," Gaier said. "When I look at the lines, I picture how I would say it."
She said she also gained experience repeating each line with a range of emotions when recording for the first film. She recalled one line in particular that required several takes, in which Edith says, "And bless that while we're sleeping no bugs will crawl into our ears and lay eggs in our brains."
Gaier was asked to repeat the line from "Despicable Me" several times, trying it with a whisper in order to produce the desired, creepy effect.
She would read each line on the board in front of her in 10 to 20 different ways before advancing to the next. A line as simple as a yell would go for several takes, with Gaier's inflections ranging from annoyed to concerned.
By the second film, Gaier said she automatically repeated each line in multiple inflections before taking any direction. With two years of recording under her belt, the age gap did not pose much of a challenge beyond reclaiming her role.
"I enjoyed recording for her probably more as I got older," Gaier said. "I think I have more confidence in what I'm doing."
Though Edith interacts with Gru, her sisters and the minions constantly throughout the films, Gaier recorded alone.
It was not until the first screening of "Despicable Me" that Gaier met Miranda Cosgrove, who voiced Margo, Edith's older sister. Gaier and Steve Carell, who voiced the sisters' adopted father, Gru, did not cross paths until the film's premiere when Carell asked the press to quiet down as he introduced himself to Gaier.
"(Carell) came over to me and he said, 'I'm so glad that I finally get to meet you,'" Gaier said. "I was astounded."
While lending her voice to the movies and the Despicable Me Minion Mayhem ride at Universal Studios in Hollywood and Orlando, Florida, Gaier spent most of her time with Elsie Fisher, who voiced the youngest sister, Agnes.
Fisher recalled playing with Gaier before recording sessions and Gaier said she held 7-year-old Fisher's hand as they walked the red carpet in 2010.
Like Agnes and Edith, Fisher said she looks up to Gaier as if she were her older sister.
"(Gaier has) definitely been a bit of a role model," Fisher said.
Though both Gaier and Fisher had to re-audition to keep their roles, Fisher was confident in Gaier's vocal abilities.
"Her voice was made for Edith," Fisher said. "Edith is a good counterpart to Dana because Dana is super nice in real life and Edith is a troublemaker. It's really interesting that it works."
Gaier and Fisher may get the opportunity to rekindle their sisterhood both on and off screen, as a third "Despicable Me" installment has been announced and is set to be released in June 2017. Although Gaier was unable to confirm any speculation surrounding the future of the franchise, she said if presented with the opportunity to return to the recording booth as Edith, she would take it.
"She brings out my kid side," Gaier said. "When I'm recording for her, I do use my own experiences – the way I used to act as a kid – to reach those places I have to in order to get that kind of emotion or energy out."
Carras is an A&E senior staff writer. She was previously the assistant editor for the Theater Film and Television beat of A&E.
Carras is an A&E senior staff writer. She was previously the assistant editor for the Theater Film and Television beat of A&E.