Feminist collective voidLab held poster exhibition at Broad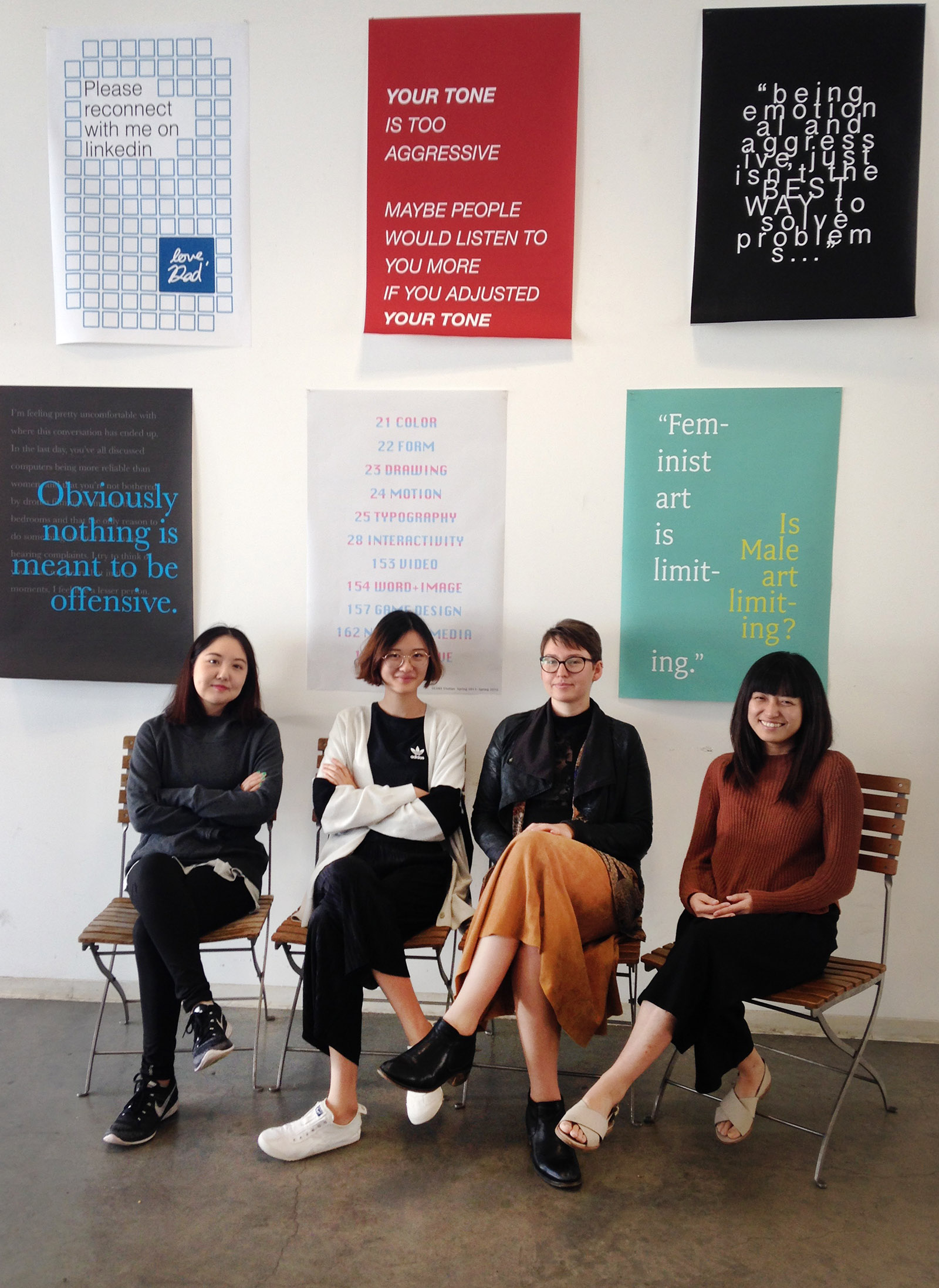 Design | Media Arts graduate students Alice Jung, Yuehao Jiang, Amanda Stojanov and hsinyu lin (left to right) are four of six voidLab members that created a poster exhibition in Broad. (Lindsay Weinberg/Daily Bruin senior staff)
April 18, 2016 12:31 a.m.
A casual party conversation caught Kate Hollenbach off guard.
"So what are you doing at this party? You obviously aren't in computer science."
Hollenbach not only hosted the party but also has a computer science degree from Massachusetts Institute of Technology – but that's not the point. She was bothered when someone assumed that she, as a woman, couldn't possibly be interested in technology.
The UCLA Design | Media Arts graduate student transformed the hurtful phrase into a neon pink and yellow poster that hung for two weeks in Untitled Cafe. Hollenbach and five other members of the feminist collective voidLab created a poster exhibition in the Broad Art Center that ended Monday. The 19 posters, inspired by impactful conversations with peers and family, were visual provokers for the public and cathartic release for their creators.
"(My poster is) an example of the things you have to fight upstream against to be in a technical space, this subtle assumption that you're not supposed to be there," Hollenbach said.
VoidLab was formed in February 2015 under the name Collaboration for Liberation in Technology Lab, known as CLIT Lab, but changed its name in October 2015 to include people not assigned female at birth, member hsinyu lin said. The group hosts discussions, workshops and exhibitions for women, non-binary, gender nonconforming, trans and queer people.
The recent exhibition started with a handwritten poster by lin. During a thesis writing class, lin shared a creative essay with five other classmates and the professor – all male. Though Design | Media Arts professor Chandler McWilliams was supportive of lin's work, lin's peers were confused when lin took on different voices in the writing to signify multiplicity in identity. Lin wrote about scenarios from varying perspectives, like Japanese pop culture leaking into post-colonial Taiwan.
Lin said their classmates' feedback about their work put pressure on lin to filter and translate opinions to help peers understand lin's views, because lin considers the environment discouraging to female expression.
One day after the class, lin jotted their thoughts on paper, which became the first poster.
"It was this toxin that had to get sweated out," lin said.
A week later, lin gathered the courage to post the sheet of paper anonymously on the third floor of Broad. Lin felt vulnerable and scared of being discovered or creating tension within the intimate and small department, lin said.
Then, lin and Design | Media Arts graduate student Amanda Stojanov spent two hours texting about common yet damaging conversations they couldn't forget about, like Stojanov being told she was exaggerating about the difficulties women and people of color face in the technology fields. Using Photoshop and Illustrator, they designed nine posters with offensive phrases the pair originally heard from peers walking through the hallway.
"Because of the speed we were working at, it was also really powerful because there's a rawness to it," lin said.
VoidLab member Alice Jung contributed to the display after she broke up with her boyfriend. His words stuck in her mind.
The Design | Media Arts graduate student added a green and blue gradient poster with Korean script that translated to "You're not the only victim."
"Some people can't read it, but I didn't care," Jung said. "I just wanted it off my chest. I wanted it out of my head and put it out there so I can feel much better about myself."
One of her other posters read, "I want to become a white man but not like you."
She sometimes thinks about being able to say whatever she'd like, to have the privilege of being a confident white man, she said. As an Asian woman, Jung said she has been stereotyped as quiet, small, gentle, submissive and good at origami.
When making the poster, Jung thought about a nagging male peer that lectures his fellow classmates: He is nosy about others' projects but never reveals his own ideas.
"I really want to write this in big letters and just put it out there," Jung said. "I wish he could read that."
For Jung, the posters were therapeutic to help release negative thoughts.
Another voidLab member, Evelyn Masso also said her poster "Please reconnect with me on LinkedIn. Love, Dad" was a cathartic experience.
The poster is about the process of coming out as a queer person and dealing with different value systems, said Masso, an instructor of wearable computing at UCLA Extension. The social media symbolism was inspired by positive reconciliation with her family.
The exhibition revolves around letting go of whatever has been said, instead of harboring the memories, Stojanov said. Her pieces read in part "Yu sem vry sad an angry wen yu tak abut yr exprence as a womn" and "Oh yeah, i've been meaning to talk to you about that … I think you're exaggerating" based on real conversations.
While the posters were therapeutic for the voidLab members, the artists hope their pieces inspire onlookers to converse about the environment in technology, as well as validate the feelings of others.
"If they see it – the people who said it – maybe they'll know it's them, maybe they won't, I don't care," Stojanov said. "But if they do, it's on them now."
Lin came to UCLA after working in Hollywood for five years, so they said they didn't know anything about digital culture and felt uncomfortable surrounded by people more technically proficient. Their shame for not knowing coding helped motivate them to join voidLab.
They want the posters to spark conversations and to help students in the building realize they are not the only ones facing microaggressions, lin said.
"I get so upset when I sense people are not empathetic to social injustice in (Broad) because I describe that building as one of the most privileged places in the world," lin said.
Mosso joined after becoming interested in feminism and social justice and realizing the group wasn't just discussion but active practice through events such as the poster exhibition.
The main core of voidLab is discussing how to help and learn from one another, Jung said.
The contract to display the art at the cafe ended after two weeks. They are unsure what the future will hold for the posters – maybe a new building, maybe a bonfire or maybe a shredder to further purge themselves of the negative emotions.
"Then more art will come," Stojanov said.
Weinberg is the prime content editor. She was previously the A&E editor and the assistant A&E editor for the lifestyle beat.
Weinberg is the prime content editor. She was previously the A&E editor and the assistant A&E editor for the lifestyle beat.