Sounds of Schoenberg: The Venerable Dark Cloud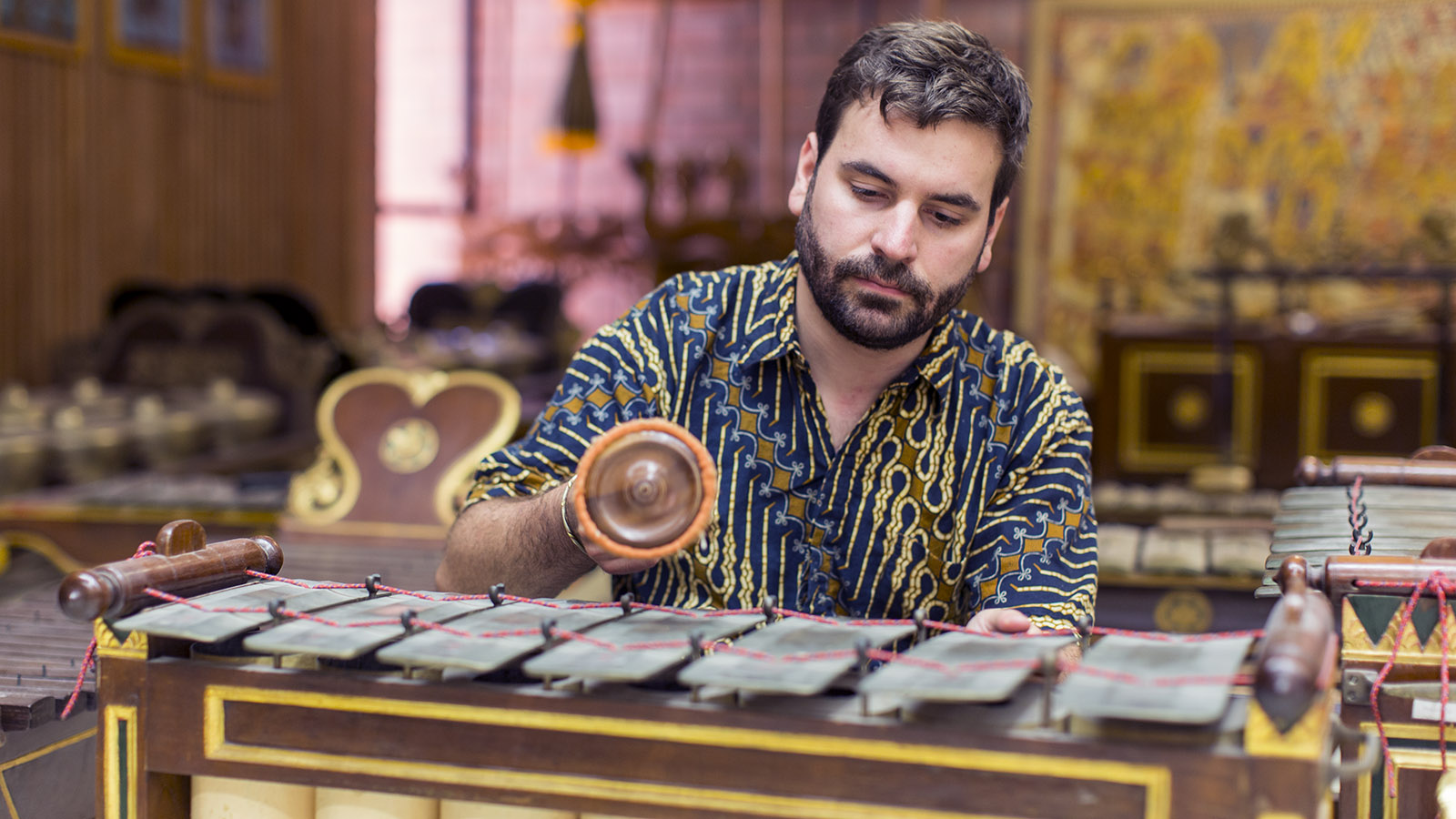 Otto Stuparitz is an ethnomusicology graduate student who is studying Indonesian music. Stuparitz said the World Music Center at UCLA is planning a Javanese gamelan performance scheduled tentatively for fall or winter quarter of the 2016-2017 academic year. (Marley Maron/Daily Bruin)
April 15, 2016 12:00 a.m.
UCLA ethnomusicology students from the 1920s to the 1950s could only study foreign instruments in textbooks before the arrival of the Javanese gamelan.
In 1958, American ethnomusicologist Mantle Hood purchased the Venerable Dark Cloud gamelan, a collection of 83 percussion instruments. Hood bought the ensemble from a Chinese merchant in Solo, Indonesia, for approximately $20,000 with shipping, said Otto Stuparitz, a graduate ethnomusicology student studying Indonesian music. The 178-year-old Venerable Dark Cloud was the first Javanese gamelan to be performed at an American university.
Before the Venerable Dark Cloud was delivered to the steps of Schoenberg Hall, UCLA students could only guess as to what it felt like to strike and damp the keys of the gendèr xylophone. With the gamelan's arrival, students could play the non-Western instruments they studied instead of just hearing about their history in recordings or lectures.
Stuparitz said the most striking component of the Venerable Dark Cloud ensemble is its large gong. The gong is famous for its particularly deep resonance, compared to the gongs of other gamelans.
"(The gong) is the heart of the group," Stuparitz said. "It's not played that often, but it gives it a unique characteristic."
Prior to the Javanese gamelans' journey to America, their melodies, accompanied by singers and dancers, wafted through the palaces and courts of Java, Indonesia.
Because modern-day Java is not ruled by a monarch, Javanese gamelans no longer play in Indonesian palaces. Gamelan ensembles are now found mostly in educational and cultural centers in countries around the world, including Australia, the Netherlands, Poland, Portugal, Canada, the U.K., Ireland and the U.S., such as in the World Music Center at UCLA.
A UCLA Venerable Dark Cloud ensemble has not seen the Schoenberg stage since Indonesian musician Djoko Walujo left his teaching position in 2006, but Stuparitz said ethnomusicology students continue to develop the gamelan craft in their studies. Stuparitz said the World Music Center at UCLA is organizing a Javanese gamelan performance group to play, tentatively, by fall or winter quarter of the 2016-2017 academic year.
Of the instruments in the Venerable Dark Cloud collection, Stuparitz is most familiar and experienced with the bonang's bronze pot gongs, but he plans to continue studying the Venerable Dark Cloud and expand his gamelan repertoire. Stuparitz said the more instruments performers can play, the better they can understand and build off of other gamelan musicians' improvisations.
"The music only really works well and sounds great if the whole group is working together," Stuparitz said. "You really need to rely on one another. That's what keeps me enchanted by it."
Carras is an A&E senior staff writer. She was previously the assistant editor for the Theater Film and Television beat of A&E.
Carras is an A&E senior staff writer. She was previously the assistant editor for the Theater Film and Television beat of A&E.