Musicians of all backgrounds find niche in UCLA's Game Music Ensemble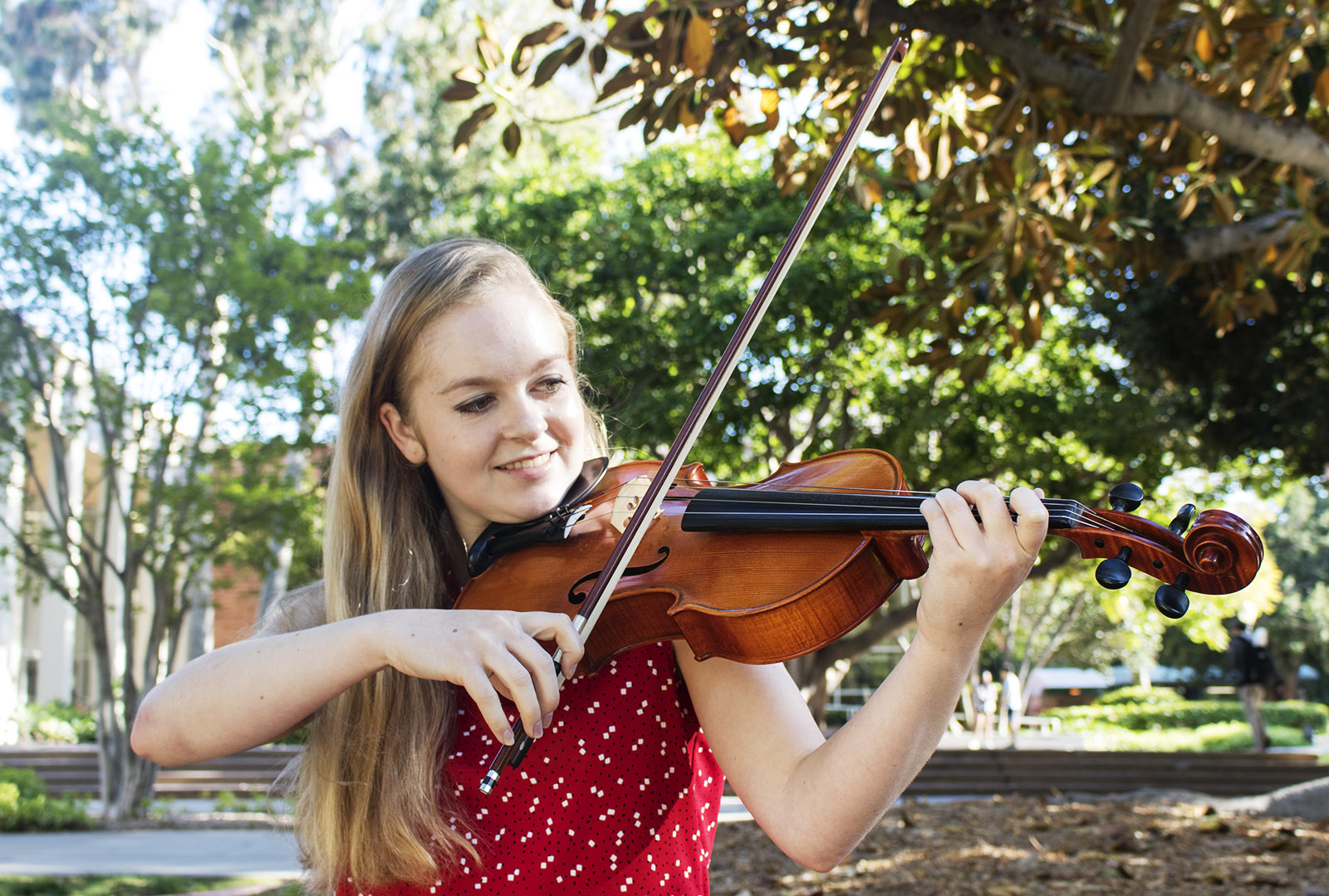 Second-year civil engineering student Ellen Key plays viola for the Game Music Ensemble at UCLA. She and the ensemble are preparing for their upcoming concert "Leveled Up" on May 8 in the Ackerman Grand Ballroom. (Zoe Hessler/Daily Bruin)
Ellen Key first fell in love with the viola in fourth grade and instantly knew she would never stop playing. But she never imagined that her future repertoire would include less Beethoven and more World of Warcraft.
An unexpected turn of events led Key, a second-year civil engineering student, to the Game Music Ensemble at UCLA, a student-run orchestra that performs video game scores. Key is currently mastering her performance of the World of Warcraft theme song on the viola for the band's upcoming concert May 8 in Ackerman Grand Ballroom.
Key, who is not an avid video game player, only joined GME after hearing about it at the activities fair. Key thought it would be a stress-free environment to practice the viola in contrast to UCLA's official orchestras.
Unfamiliar with the world of video games, Key thought of video game music as a tedious pattern of electronic beats until she joined the ensemble.
"Video game music is definitely a genre by itself. It's more complex now than just the theme of Mario Kart I had in mind when joining," Key said.
Classic Nintendo music has evolved into a spectrum of styles that has moved sharply away from the repetitive, synthetic tunes of the 8-bit era, said Kylie Chen, a second-year statistics student who joined GME two weeks ago after suggestions from childhood friend Key.
Chen said the ballad "The Power of One," the theme song of "Pokemon: The Movie 2000," is a prime example of how video game companies started implementing a wider array of musical instruments like the French horn.
Even though video game scores are part of a broad genre that cannot be contained by one style like jazz or baroque, Chen said they have a distinct style like movie soundtracks do.
Video game music is rooted in classical music, Key said, but it is more modern and pop. Each score tells a specific story, setting the mood for the video game, she said.
To Chen, a longtime video game lover, performing video game scores has a personal appeal that was lacking in the classical music she played on the viola for almost a decade.
"The soundtrack of 'Star Wars Battlefront' has a special place in my heart, since my dad and I would always play that game together," Chen said.
But Key said being a video game addict is not a prerequisite for enjoying the soundtracks.
Key's favorite score is from Halo (Original Soundtrack), which she performed with the ensemble Jan. 22 in Powell Library and which she listens to when trying to study or relax. The number of scores with slow tempos accompanying video games was a pleasant surprise to Key, who always thought video games were action-packed with upbeat scores.
Even though they are assigned a piece by the student directors of the ensemble, members of GME also form smaller quartets of four to 15 students to practice specific scores of their own choosing.
All of the members meet every week for rehearsals in the band room in Schoenberg Hall. The ensemble is structured similarly to a regular, run-of-the-mill rehearsal, said Chen, with sectionals where each part of the orchestra goes over each instrument's trouble spots.
Before practicing it is useful to listen to the song first on the internet if you are not familiar with the video game, Chen said. Then practice is the key aspect of mastering the performance, since learning a piece is all about muscle memory.
Many members of GME are not music majors, and Key said it is inspiring to see how many people are actually passionate about the music.
Jessica Flohn, a second-year chemical engineering student and alto saxophone player, joined GME after hearing from friends how the members in the ensemble have bonded. To her, joining the ensemble was a chance to congregate with a lighthearted group of friends every Friday evening and relax through music.
"You often don't realize how many musicians might be walking around every day on campus," Key said. "The ensemble is just a hub for people who love music."