App startup rewards gamers with discounts for Westwood restaurants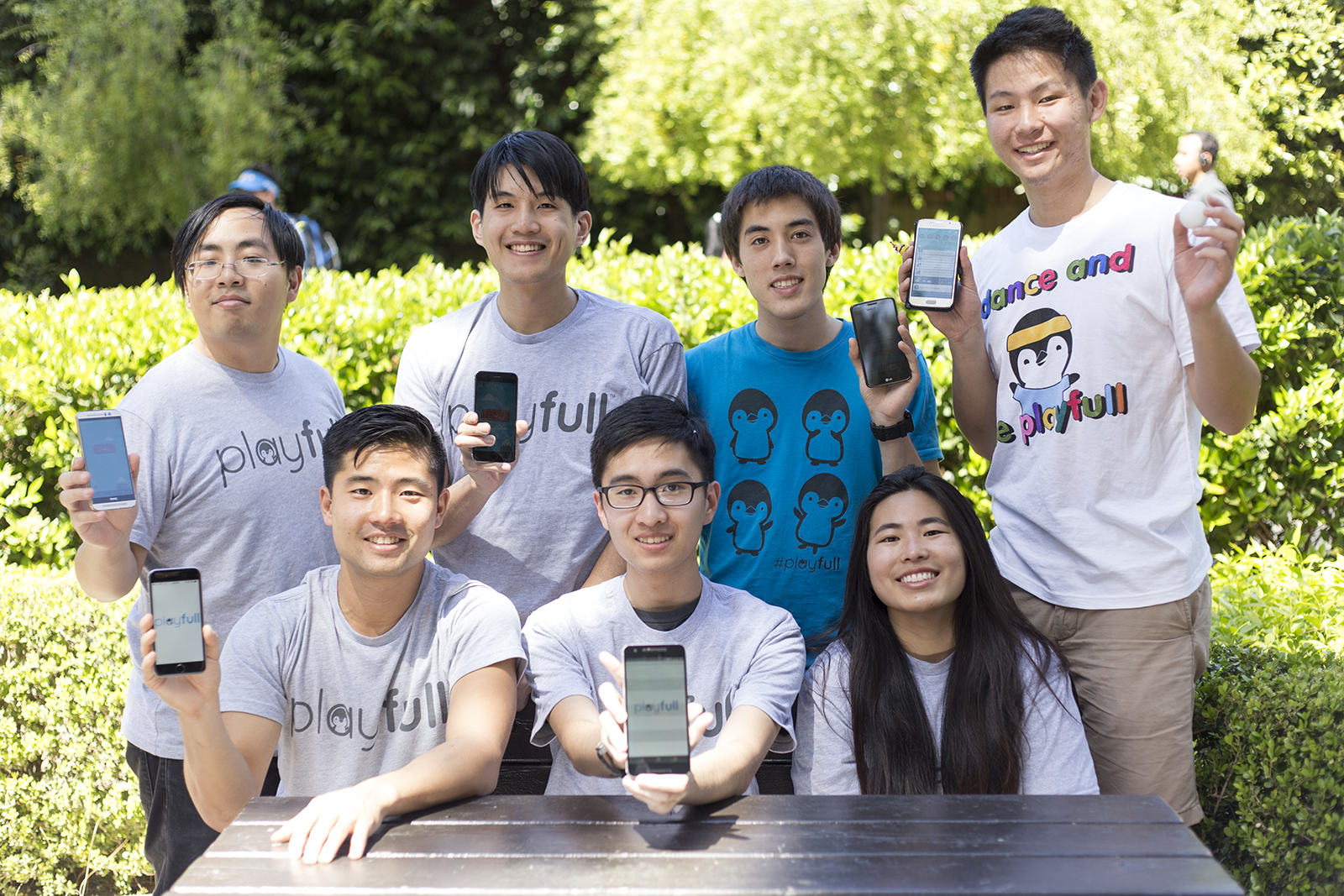 PlayFull is an app run by a group of UCLA students and alumni in which users play games and win points to exchange for discounted food from Westwood restaurants. (Jennifer Hu/Daily Bruin)
Twelve hundred students trudging on the floor of Pauley Pavilion for Dance Marathon took breaks for meals. An app startup called PlayFull had arranged the catering for the five meals served throughout the day and night.
Nine UCLA students and alumni currently run PlayFull, an app in which users play games to earn reward points. The points can be exchanged for discounts at restaurants in Westwood like Koala T Café, Barney's Beanery and Chick-fil-A. Over the past year, about 4,600 users have downloaded the app, said Patrick Lu, UCLA alumnus and co-founder of the app.
The PlayFull team aims to reward people for playing games, said UCLA alumnus and co-founder Zhuping Hu.
Students use PlayFull to save money on restaurants in Westwood, said Danny Wong, a third-year environmental science student who is an active user of PlayFull. On average, students make $10 per hour on PlayFull, Lu said.
Wong said his reward points were useful during finals in a summer session last year. He bought two platters of wings from Chick-fil-A for half the price and shared them with his friends and suitemates.
"I mostly use the app for the games," Wong said. "But the rewards help because I am a college student."
Working at PlayFull is a bonding experience, Lu said. The team members are closely connected because they shared college experiences as friends, roommates, resident assistants or fellow a cappella singers.
PlayFull traces its history back to a gaming app company five years ago called Mad Plus One. UCLA alumni Kimberly Hwang, Hu and Lu started the app along with four other friends, Lu said.
Lu met Hu at UniCamp at UCLA and was a resident assistant along with Hwang. The alumni decided to dip their toes in the world of technology startups with Mad Plus One and wanted to create a popular gaming app for the iPhone, Lu said.
When the founders discovered the potential of integrating digital games with real life, Mad Plus One evolved into PlayFull, where playing games on a phone rewards users with real-life discounts. PlayFull went live two years ago.
"Games are fertilizers for brain growth," Lu said.
But gamers often feel guilty about wasting time following an immersive gameplay – a feeling that those at PlayFull call "gamer guilt," Lu said.
Roman Chang, the backend engineer at PlayFull and roommate of Hu, said the team aims to create a product that stays enjoyable even after a game ends because of rewards its users can use in their daily lives.
The team members are also brought together by the hardships they've collectively faced, Lu said. Three months after the app started, two of the core team members quit suddenly, resulting in a major setback to the app. When a restaurant sponsor for Dance Marathon pulled out at the last minute, the team members struggled to find a replacement, Lu said.
In addition, all team members have a mutual love for gaming. Lu said they frequently stay up late playing board games at weekend retreats.
There is something about games that everybody enjoys, Lu said.
"The (PlayFull) games are very addictive," said Sujith Cherukumilli, a third-year political science student who used the app to get a free boba drink and snack at Koala T Café.
However, some students think the games on PlayFull are entertaining only for a short amount of time and get old quickly. Nisha Sunku, a third-year economics student, said she thinks spending time playing games on PlayFull was not worth the discounts.
"The games are repetitive and not strategic," Sunku said. "The app won't convert any people who do not like mini-games."
Wesley Ho, a fourth-year biology student, said he uses the app during his downtime, but he doesn't enjoy playing games on it continuously.
C.R. May, the owner of Chick-fil-A in Westwood, said he partnered with PlayFull because he wants to increase his restaurant's online presence. Since the app centers around college students having fun on their phones, May thinks it is a useful form of promoting his restaurant.
Lu said PlayFull has increased Chick-fil-A's sales by about $15,000 over the past year.
Rewards and discounts at restaurants are one way to bridge the gap between digital play and reality, Lu said.
"We want to bring the world closer through play," he said.