Producer shares insider experience at on-campus "Top Gun" screening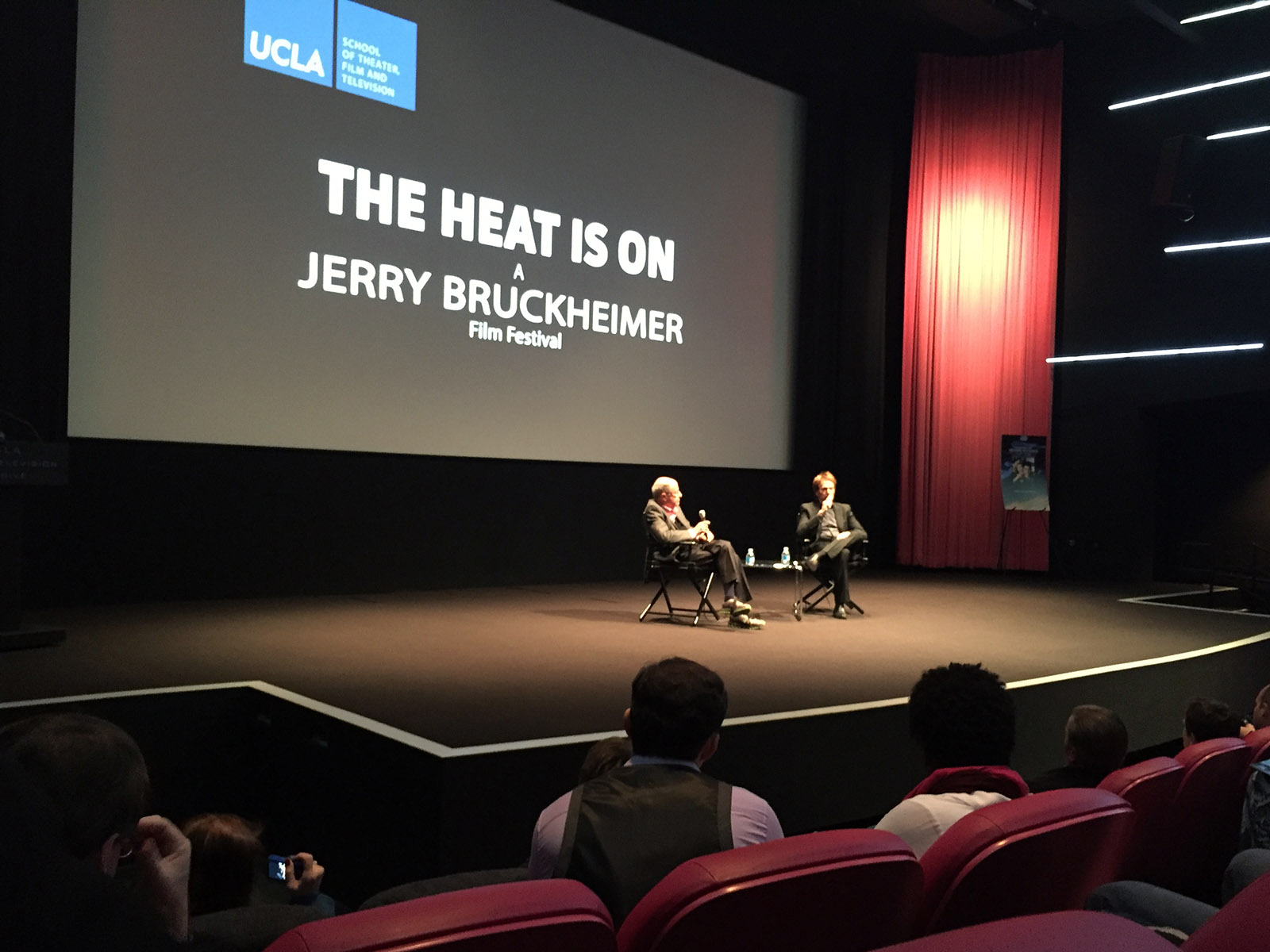 The UCLA School of Theater, Film and Television and Paramount Pictures hosted The Heat is On: A Jerry Bruckheimer Film Festival in honor of the producer who worked on films such as "Pirates of the Caribbean: The Curse of the Black Pearl" and "Crimson Tide." The festival, held at the Billy Wilder Theater throughout April, will showcase 10 films that spanned Bruckheimer's career. (Christi Carras/Daily Bruin contributor)
Applause from every seat echoed off the walls of the Billy Wilder Theater as the names in the opening credits of "Top Gun" appeared on the big screen.
The lively audience of UCLA students, staff and film industry professionals put their hands together for director Tony Scott and leading actor Tom Cruise, but no name evoked more whistles and claps than producer Jerry Bruckheimer.
The screening on April 1, accompanied by a Q&A session with Bruckheimer, was the first of 10 films produced by Bruckheimer to be showcased at UCLA's Billy Wilder theater throughout April as part of The Heat is On: A Jerry Bruckheimer Film Festival. The festival is co-presented by the UCLA School of Theater, Film and Television and Paramount Pictures in honor of the Hollywood producer.
The department selected the films, which also include "Black Hawk Down," "Pirates of the Caribbean: The Curse of the Black Pearl" and "Crimson Tide," for their ability to merge film history and pop culture and for the impact they had on Bruckheimer's career, said Barbara Boyle, an associate dean of the UCLA School of Theater, Film and Television.
Boyle said she feels the Bruckheimer film experience is lost on modern audiences who stream his characters on 13-inch laptop screens and hear his film scores through earpieces smaller than their thumbs. She said Bruckheimer's artistic decisions in film and sound editing can only be appreciated with a big screen and full sound system.
"There's a whole generation, if not two generations, who have never seen these films as they were intended to be seen," Boyle said.
Bruckheimer, who was involved in selecting films for the festival, said if given the time and opportunity, he would screen the majority of his films for younger audiences who did not get the chance to see them in theaters when they were released.
"They're all about things I was very excited about when we made them," Bruckheimer said. "I'm still very excited they got made, and I'm proud of them."
The opportunity to screen his films for college students particularly appealed to Bruckheimer. Inspired by what he called "adventure films" growing up, Bruckheimer said the moviegoing experience was integral in his desire to become a producer.
"I try to make (movies) that I want to go see," Bruckheimer said. "I like to create for a younger audience so, hopefully, they'll get to make films like I'm making."
Amy Monaghan, a student in UCLA's professional screenwriting program, attended the screening of "Top Gun" in hopes of learning some techniques of the film trade.
Though Monaghan did not consider herself a fan of all Bruckheimer movies, his name, success and the opportunity to hear him speak brought her to the festival. Monaghan said she was interested in learning more about Bruckheimer's origins in the film industry.
"With someone who has produced this much, there's a lot to learn," Monaghan said. "(Bruckheimer) is just about as iconic as it gets."
The Q&A discussion was moderated by Peter Bart, editor-at-large of Deadline, a breaking news source for those in the film industry. Bart and Bruckheimer first met during Bart's time as an executive at Paramount Pictures, and his questions spanned topics including Bruckheimer's casting strategies and plugs from actors in the audience hoping to be cast in the next Bruckheimer film.
Though the majority of the discussion centered around Bruckheimer's achievements, he did not shy away from addressing what some film critics and moviegoers have considered to be his failures.
"Sometimes you make something that doesn't capture the imagination of the audience," Bruckheimer said during the Q&A discussion while fielding Bart's questions regarding "The Lone Ranger," a film that failed to meet Bruckheimer's and Disney's monetary expectations.
Though Bruckheimer does not consider all of his films successes, he appreciates every film as part of his past and looks forward to turning some into sequels. During the Q&A, Bruckheimer announced upcoming sequels for "Top Gun," "Pirates of the Caribbean," "Bad Boys," "Beverly Hills Cop" and "National Treasure."
"I'm hoping (my films) can entertain (UCLA students) and inspire them to entertain audiences when I'm long gone," Bruckheimer said.
Carras is an A&E senior staff writer. She was previously the assistant editor for the Theater Film and Television beat of A&E.
Carras is an A&E senior staff writer. She was previously the assistant editor for the Theater Film and Television beat of A&E.