Q&A: First-year blogger discusses embracing imperfection for inspiration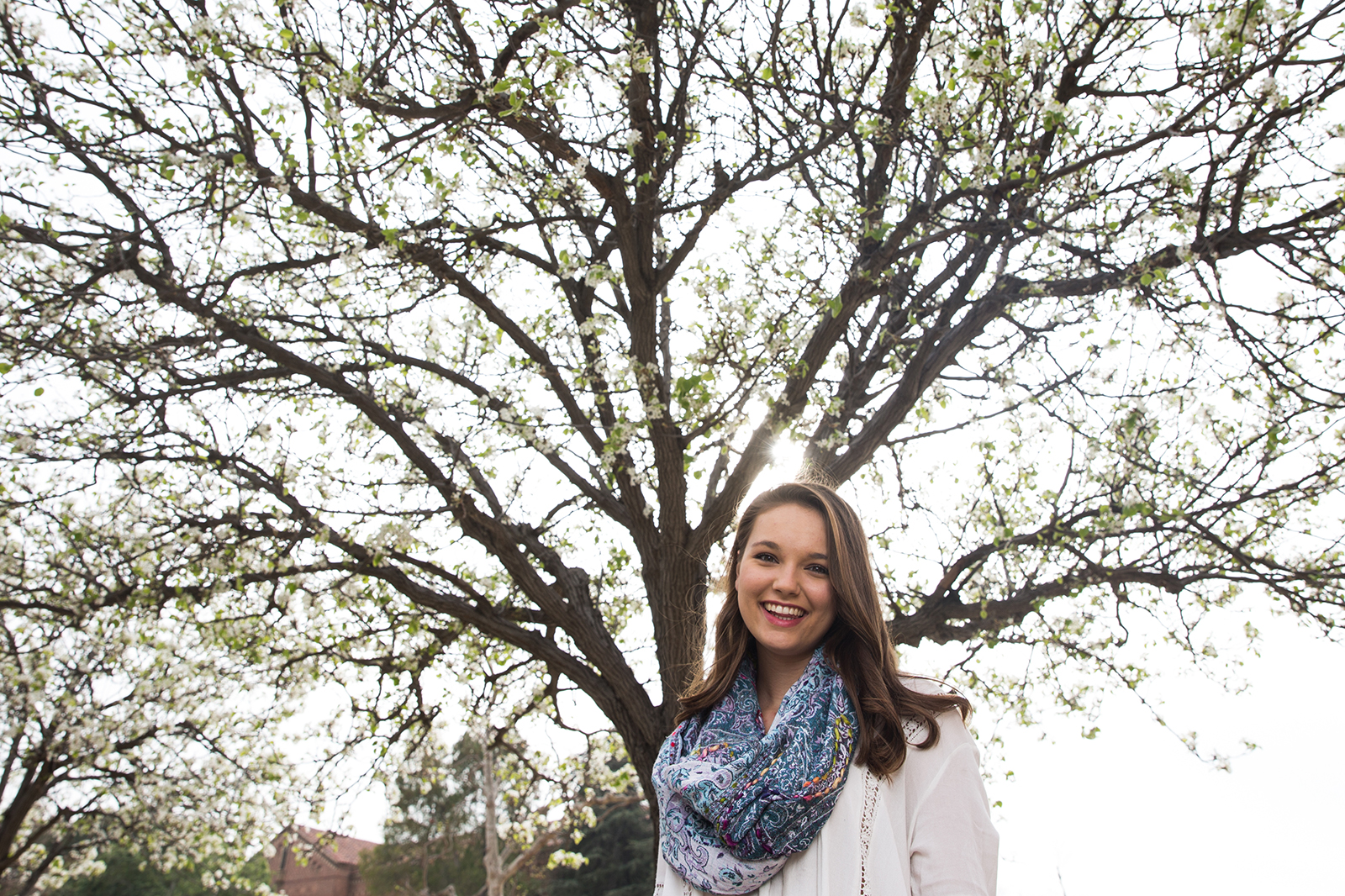 Hannah Payne created her life and style blog Practically Imperfect to share her writing and passions with her readers. The creative outlet mirrors the first-year communication studies student's personal philosophy of defining her own image despite the standards of beauty imposed by others. (Aubrey Yeo/Daily Bruin senior staff)
March 29, 2016 12:00 a.m.
Hannah Payne described herself as a 5-foot-9 "string bean" when her modeling career suffered a setback. The then-14-year-old aspiring model and actress was given advice to "stretch out" following the rejection.
No amount of sugarcoating could veil what those words really meant to her – the casting directors wanted her to lose weight. Payne and her mother responded to that advice by indulging in milkshakes and french fries. It was that moment that reaffirmed Payne's personal philosophy of not conforming to an image of beauty dictated by others, which has translated to her blog, Practically Imperfect.
The Daily Bruin's Aubrey Yeo spoke with the first-year communication studies student about her experience starting her blog and how it become an avenue for getting interviewed by the New York Times and Larry King.
Daily Bruin: Could you talk about what your blog means to you and what areas it covers?
Hannah Payne: I have been modeling since I was a little kid – for the past 10 years – and I've always had this love for writing and sharing my passions with others. I started my blog as a creative outlet. I just thought, "My mom's reading this, maybe my grandma." And it slowly began to grow and attract this audience of other teenagers and people who have an interest of what I was typing about, which was so cool. It's a life and style blog so I use my love for fashion that I've grown up with, and I also blog about college, travel – life in general. It's really just my creative space – my little corner of the internet that I can talk about what I'm passionate about.
DB: Let's talk about how you thought of the name "Practically Imperfect" and what it represents.
HP: I think "Practically Imperfect" is what I think life is all about, and that's embracing those perfectly imperfect moments. Beauty is not in this facade that I think a lot of fashion blogs put out there. I think it's in those moments that are candid and don't have that perfect filter.
DB: Were there other forms of media you'd use to showcase your work prior to setting up your blog, whether it be writing or other forms?
HP: Prior to starting my blog I was involved with a magazine called Smart Girls Group, which is now known as Spire & Co. I was the wellness writer for Smart Girls Group, and that just gave me the opportunity to write article-style pieces. … And of course, like any teen girl, I had Instagram and Pinterest and Twitter.
DB: When did you start acting and modeling?
HP: I grew up as one of those crazy theater kids – you know, in local theater every moment of my life. I think when I was seven or eight years old I said, "Okay, I've been really committed to this, do you think we could give it a try?" … I got my head shots taken and sent them to every LA agent we Googled, and I signed with my first agent, and from that moment on life was just crazy busy and just loving every moment of it.
DB: We've talked about how you have both acting experience and this presence on the internet with your blog. Have you ever considered merging the two and starting your own YouTube channel?
HP: I have actually recently thought about introducing vlogging and I think it's definitely something I'm open to; I just haven't pulled the trigger yet. It's definitely more of a production, and I'm not sure if I have the time now to coordinate the logistics of it, but if that's something my followers would want to see I would be totally open to that.
DB: You were recently featured in the New York Times on Generation Z. How was that experience and how did they approach you to be featured?
HP: We're at a really cool place in history because we can be anywhere. And through email, I can't even tell you how many opportunities I have had just by replying, "Yes" to an email promptly. I was contacted through Spire & Co. One of the New York Times interns contacted them because they were doing this story on Generation Z, which is anyone born 1996 up to now, so I'm right on the cusp. … Every step of the way i had to remind myself, "Wow, this is the New York Times." This is the most incredible opportunity and I just couldn't even believe it. Still, I can't believe it. It was in September. It's now months ago and I'm just still like, "Wow, this really happened; I saw my picture in the New York Times."
DB: You've also appeared on Larry King. How did that come about and what was the experience like?
HP: His producers saw the New York Times article and he was doing an episode on social media and how that plays a part in today's culture. … I got the email and I had to do a double take. I was like, "Wait, for Larry King, like Larry King, Larry King?" We went out to his studio in Glendale, shot it. It was very cool because growing up acting and being on set and things like that, we would shoot a commercial and it would take all day to do a 30-second clip, but in an interview setting that's on TV, it was very fast-paced. I showed up, got ready and the red light turned on and we started filming. The whole process was maybe 30 minutes for a 30 minute episode. He was a professional in every sense of the word.
DB: What's your ideal future and how do you think your acting and blogging will help build toward that?
HP: I'm pursuing a degree in communication studies and right now, I think the ultimate plan would be to go into broadcast journalism and be a host. "The Today Show" would be my absolute goal. That just really combines my love for the TV industry and media and my love for writing, which the blog has fed creatively in that way.