Q&A: YouTube prankster Danny Duncan discusses filming, future plans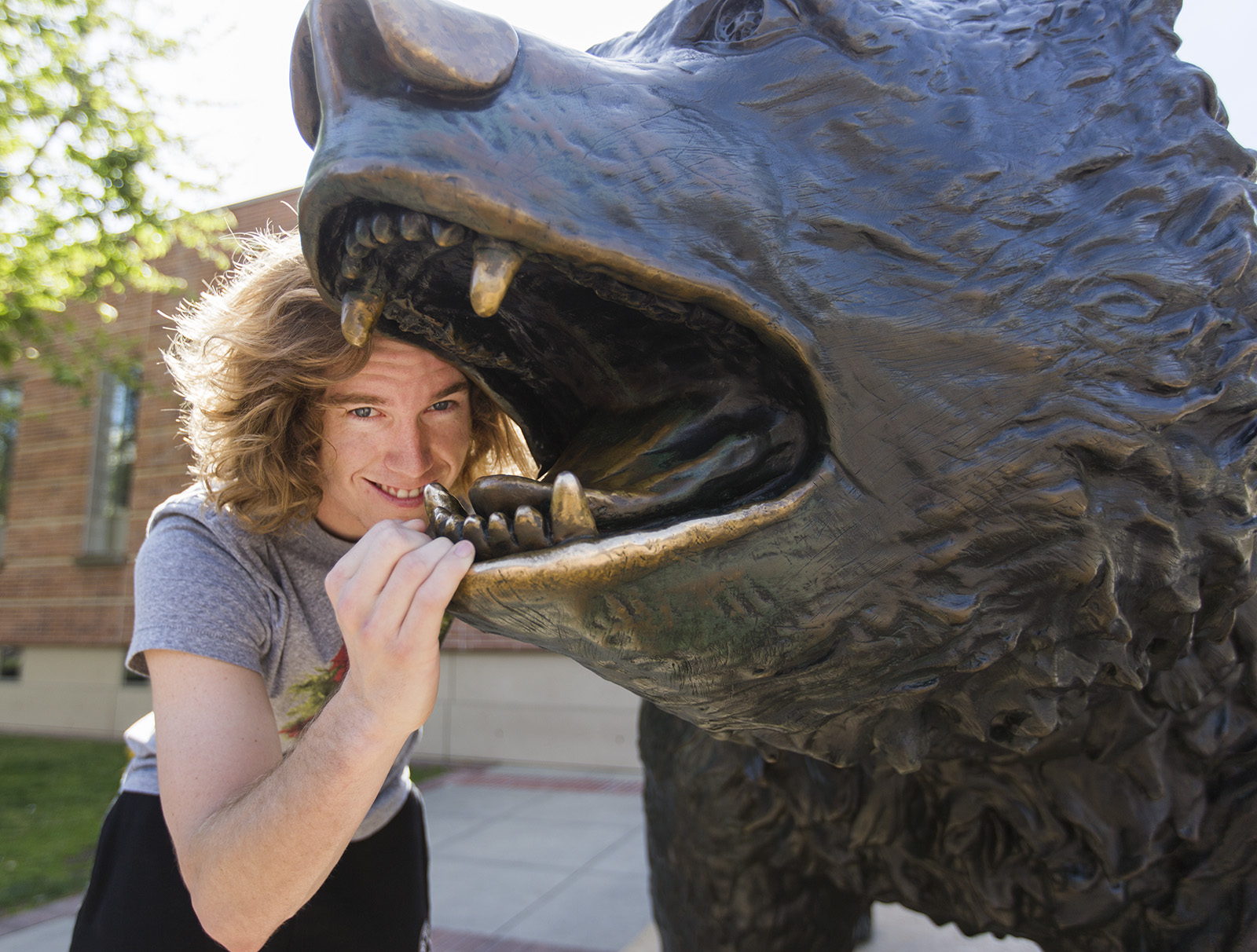 YouTube prankster Danny Duncan has gained over 12 million views for his videos which include Greek life parodies and asking students sexually suggestive questions. Duncan said he films a lot at UCLA because of the different reactions he gets and because of the diversity of students on campus. (Aubrey Yeo/Daily Bruin senior staff)
Danny Duncan kick-flips on his skateboard as he speeds down Bruin Walk, but Duncan is not headed to class.
When he approaches Bruins, some might identify him as the YouTube prankster with more than 160,000 subscribers and more than 12 million views. Those who might not recognize him as he strolls campus with the rest of the student body are in for a comedic surprise – and it's all captured on camera.
His videos range from parodies of Greek life to interviewing students about song lyrics to asking sexually suggestive questions. For Duncan, no topic is off limits and nothing crosses the line. His most popular upload is "Going Down Stairs on a Hoverboard!", which features Janss Steps.
The Daily Bruin's Lena Schipper spoke with Duncan about his rise to viral video fame, being honest with his followers and his hopes for success beyond the YouTube world.
Daily Bruin: How did you get started with YouTube?
Danny Duncan: I used to train and stretch pro athletes and celebrities, and I actually got discovered by Jason Lee. He thought I was funny so he was like, '"You should do acting, I'll help you with it." And he told me to do YouTube to build a fan base … I've always messed around and done crazy stuff, like pranks when I was a kid – just for fun. And now I can film it and make money of it – and get famous.
DB: How do you come up with the topics in your videos?
DD: I'll just be out during the day or filming, and random stuff will come to my mind or I'll see something that's funny. I put my feet in my friends' shoes that are really big and I thought it was funny just walking around, and I thought, "Let's do a Valentine's video." So things just randomly happen and I think of a way to put it into a video.
DB: A lot of your videos feature college campuses, especially UCLA. What draws you to this sort of environment?
DD: You can mess with people. There's a lot of people on a campus. At UCLA, I just think it's nice to film here. It looks great and it's better than USC in terms of filming. I don't really like filming at USC that much, there's not that many options in scenery … I like filming where that stage thing is (in Bruin Plaza). That's my favorite spot. The reactions here are also always different. It's cool because it's really diverse here. Whatever I'm trying to film, I'll get it here because there's just everybody.
DB: What has been your most memorable experience while filming on campus?
DD: Definitely filming my hoverboarding video. It's the first video that got a million views on my channel, so that was really cool for me.
DB: What separates you from other YouTube pranksters and their channels?
DD: I'm always myself in every video, and I think a lot of people on YouTube will try to do what they think will sell best. They'll act like a different person, or just be fake at times. There are a lot of videos that are completely fake that will go viral because people will go crazy, but they'll pay people to act a certain way to get a better reaction … so I try to always be myself at all times, and people like that.
DB: Do you have plans for the future of your channel?
DD: To post better content, stuff that's funny and just get really famous I guess … I want to be in movies and maybe TV, but primarily just movies. … I'm from Florida, I'm here (in Los Angeles) eight months out of the year. I go back in the end of April for a month, and then I'm moving here full time to pursue (YouTube) and acting, like everyone else in LA.