Alumna Brette Tell faces mental health through art and self-expression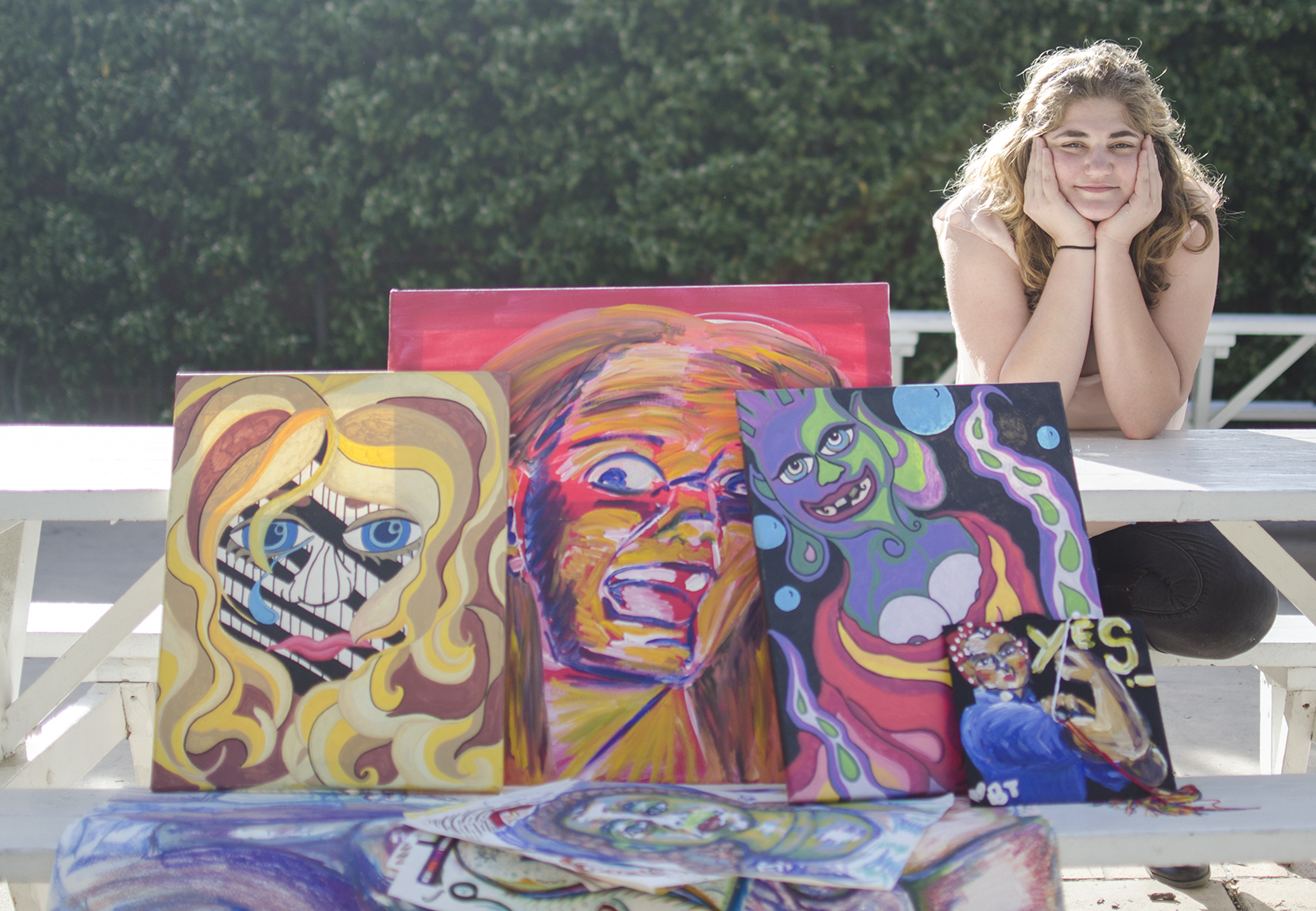 Alumna Brette Tell has advertised her artwork on the UCLA Jobs & Internships Facebook page so she can earn some extra money while transitioning between jobs. Tell, who began sketching and painting in elementary school, sees her art as a means for self-expression and a way to cope with her experiences with mental illness. (Anthony Tran/Daily Bruin)
Brette Tell flipped through the glossy pages of magazines, eagerly searching for her favorite members of boy bands 'N Sync and Backstreet Boys to add sketches of the perfect human face to her art repertoire.
Though Tell sketched incessantly to create the perfect punk rock boyfriend in elementary school, art became something more as she grew older. She discovered art to be a means of self-expression through her time at UCLA as she coped with mental illness and finding her place among her peers.
For the UCLA alumna, art is an outlet for self-expression, therapy for working through mental illness and a means to make some extra money. Tell began selling custom-made portraits to UCLA students in February to support herself.
Tell said she has always been interested in capturing human faces in her artwork. The more she practiced her skills, the more she refined them, said her brother, Samuel Tell. Samuel Tell, an engineer, said he often fails to connect with artwork but has always appreciated his sister's for her use of color.
Brette Tell continued to develop her craft, inspired by both real and imaginary people. But of her human subjects, Tell's greatest inspiration and inquiry was herself as she worked through mental illness.
"I kept thinking there was something weird about me or wrong about me, and I just wanted to analyze myself as a person," Tell said.
Throughout grade school, art served as a means of self-expression and self-reflection for Tell. She put markers, pastels and paints to paper to make sense of herself and misunderstandings with her peers.
As a UCLA student, Tell did not hesitate to speak her mind in class. Tell recalled one particular comment she made in a sex and law class, in which she criticized what she said was a defeatist curriculum that presented issues in the judicial system without solutions.
Aware that her comment could be perceived as controversial, Tell said she immediately worried what her classmates would think and how they might react.
"People didn't really understand who I was and what I meant – that I was a good person and had good intentions," Tell said.
Tell's miscommunication with her classmates made her feel as though she had no voice, she said. She continued to see art as a way of self-expression and communication for herself and others who felt voiceless.
"No one understands mental illness, and it's frustrating," Tell said. "I have a lot of issues with mental health, and I want to change it."
She admires artists like Vincent Van Gogh, much of whose work is speculated to have stemmed from his experience with mental illness.
"I feel like (Van Gogh's work) just shows (that) people being labeled as crazy can actually be relatable – that we are all relatable," Tell said.
Tell has considered pursuing art therapy as a potential career because it appeals to her desire to help those with mental illnesses. However, her fear of clients becoming emotionally dependent on her guidance has made her reconsider.
Sam Ye, a third-year computer science and electrical engineering student, saw Tell's advertisement on the UCLA Jobs & Internships Facebook group. He decided to decorate his home by buying artwork from a fellow Bruin.
Ye submitted two photographs to Tell, one of his mother and one of his father. He paid Tell $40 for the two portraits.
"I wanted something more than a regular picture," Ye said. "With iPhones and stuff, pictures are super ubiquitous and generic feeling, and I guess I just wanted something more meaningful than that."
Though she has debated entering a field outside the arts and returning to school to study law, Tell said if she were presented with the opportunity to make a living entirely off of her passion for art, she would take it.
"Ideally, I would love to be this famous artist, and all I do is art, and people pay me to do art, and I can support myself financially on art," Tell said. "That's the dream, but I just don't think that's the reality."
Carras is an A&E senior staff writer. She was previously the assistant editor for the Theater Film and Television beat of A&E.
Carras is an A&E senior staff writer. She was previously the assistant editor for the Theater Film and Television beat of A&E.