Second Take: The 2016 Oscars showcased unexpected, respectable wins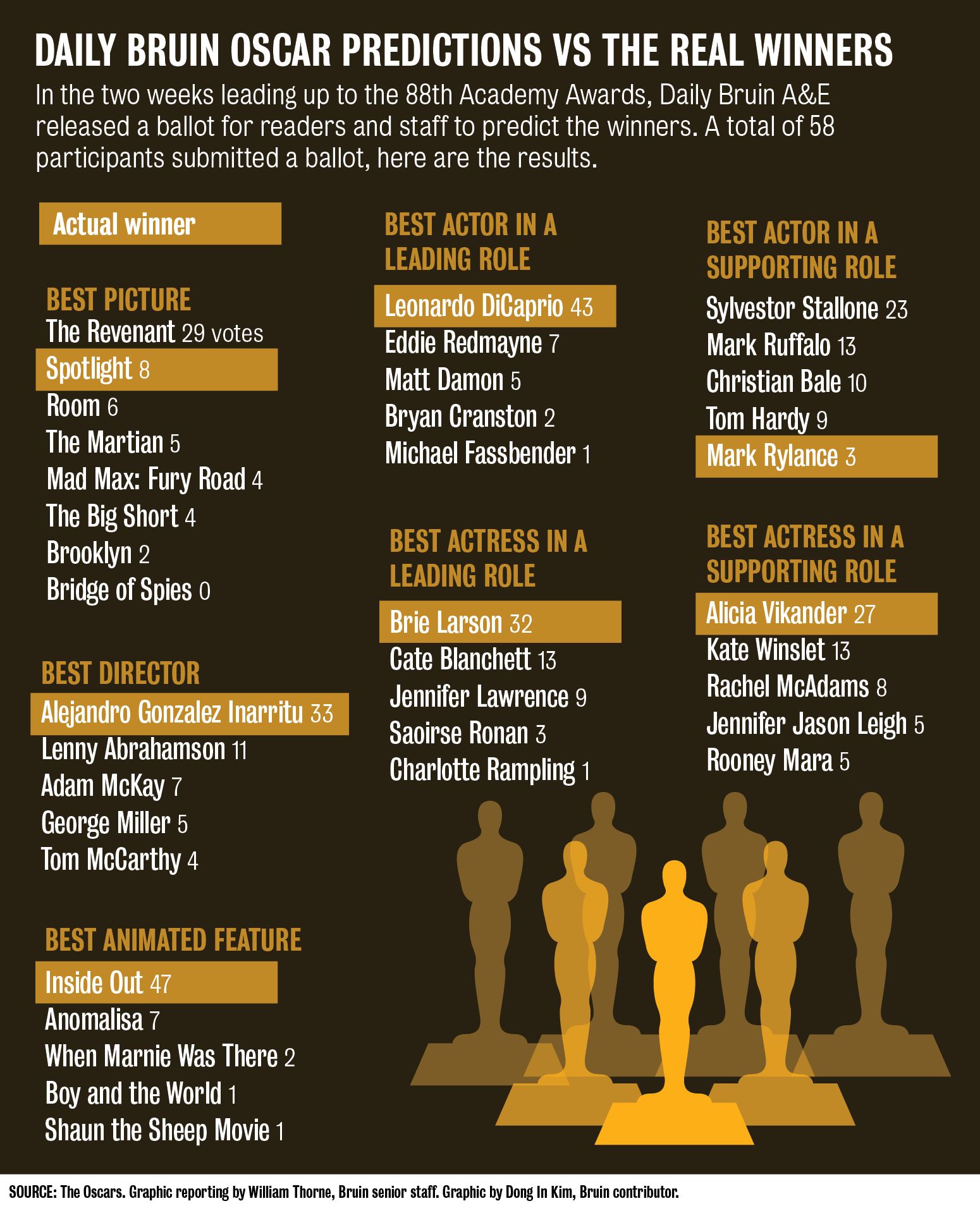 The Oscars typically leave me in a seething, pointless rage. I have never been able to accurately predict the winners of all 24 categories in a single year; I usually miss a few left-field choices for categories like Best Animated Short Film or Best Costume Design.
At this year's ceremony, I missed five categories, and yet I'm elated about it.
The show as a whole was great – Chris Rock's ability to present a grounded response to controversy and protest, alongside hilarious bits by Louis C.K. and Sacha Baron Cohen, made this the most fun Oscars in recent memory. But there were particular notes about each of this year's surprise winners that gave me hope for the future of an unbalanced industry and an often illogical awards process.
Let's start with the obvious: Hardly anyone saw the win of "Spotlight" for Best Picture coming, most people expected "The Revenant" to clinch many of the major awards instead.
Once the name was read, fans of cinema everywhere started cheering. The problem with "The Revenant" was its momentum was almost entirely supported by the media hype surrounding it. In a staggeringly chaotic Best Picture race, so many outlets predicted Alejandro Iñárritu's graphic work of frontier torture would win that it seemed like a given.
Don't get me wrong, "The Revenant" is great, as is "The Big Short" and "Mad Max: Fury Road," which will take its six awards into the annals of shiny Oscars history.
But "Spotlight" is perfect – a movie that anybody and everybody can understand and appreciate. It's as if Tom McCarthy turned directing, writing and acting into a science; "Spotlight" is as flawless as movies get nowadays. It's a movie that celebrates journalism and stories as much as it celebrates film in the 21st century. And most importantly, it was arguably the best feature film of 2015. Needless to say, I jumped out of my seat at the announcement.
The Best Supporting Actor category was a bittersweet affair. Obviously, Sylvester Stallone was wonderful in "Creed," but everyone knew that already. Both Stallone and "Creed" were getting showered with awards and acclaim these last few months and deservedly so; they revitalized an iconic character and franchise with masterful eloquence.
However, Mark Rylance gave the single best male acting performance last year as the captured, weary Soviet spy in "Bridge of Spies." Rylance has gone these past few decades as one of the most underappreciated actors in the world, mostly finding his niche with British theater crowds. Now, people will see "Bridge of Spies," a solidly entertaining Spielberg piece, and come to recognize Rylance for his complex, emotionally stirring talents.
Most of the time, Best Live Action Short Film goes under the radar as a category with films that don't get as much hype as the short documentaries and animated works they stand beside. I predicted "Shok" to win this year for the same Academy stereotypes that always seem to come true: a sappy, straightforward, predictable plotline will always beat the experimental, profound, artistic underdog. "Shok," a movie about two boys who struggle through life during the Kosovo War, fits that description like a glove.
Sunday's winner, "Stutterer," is nothing like "Shok." It follows a man with a severe stutter trying to summon up the confidence to meet a woman he's talking to online in person. "Stutterer" would have done wonderfully on the festival circuit due to its peculiar narration and low production value. It's not my favorite of the nominees, but it's the one that shows the Academy is adapting to the modern indie film landscape, even if it's taking baby steps.
Finally, there's Best Original Song. Sam Smith's "Writing's On The Wall" is not good by any means; it's probably the worst of the nominees. But something unsettled me greatly about this category – primarily when the Academy announced two of the nominees, Anohni and David Lang , would not be performing at the show. This prioritization of artists that appeal to the mass public (Smith, The Weeknd and Lady Gaga) is as insulting, if not more, than any of the controversial snubs that headlined this year's ceremony. I can't imagine how it must feel to be those musicians.
Nothing says, "We think you are going to win the Oscar, so we're putting a shining spotlight on you," like an introduction by Joe Biden. The show's producers clearly thought Gaga was going to win and put every bit of attention into making that moment a reality. Her performance was a beautiful tribute to victims on college campuses and around the world that stood powerfully on its own; we didn't need to hear a personal speech about the song from Lady Gaga after that. For me, the unexpected Sam Smith switcheroo was just laughable cherry on the cake.
The Academy Awards have always been nonsensical, and they definitely will be next year, too. But the fact that the voters can make so many (mostly) strong, respectable choices in 2016 is a cool and happy thought about the artists we take for granted every day.