On returning home – Bruins deal with changing bedrooms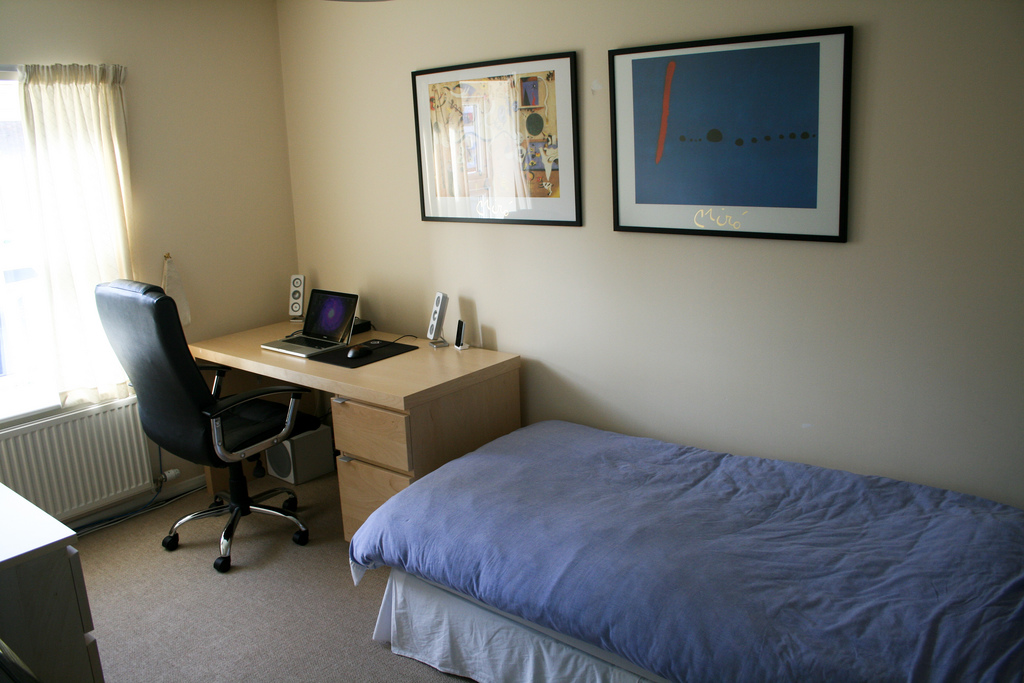 What you wish your bedroom would look like when you return home for break. (Creative Commons photo by William Hook via Flickr)
The old joke is that as soon as you leave for college, your parents will turn your room into a home office, home gym or even a home office and gym. And as many new students discovered upon returning home for winter break, this really happens.
When I went home for Thanksgiving break during my first year, I found that the family computer and printer had inexplicably migrated to my desk space, my whole family's papers and files had found their way into my bookshelf and my closet was chock-full with my dad's suits and shoes. Being a first-year student still under the impression that my hometown stayed on pause while I was away, I reacted by demanding that my fortress be returned to me.
Many Bruins can sympathize. I stopped students on Bruin Walk and asked them if their parents or siblings had taken over their rooms after they left for college. The reactions of those who could relate were always the same: a grin and a laugh with, "Yes, that happened to me," or, "This winter break I returned to just that." The students who still had their rooms intact often said, "I'm lucky."
I, too, felt like I was one of the lucky ones, since my bed remained unmoved and I never needed to sleep on a couch, as many others did. Unlike many jokes about college, the one about losing your room is a reality. I was surprised at how many students told me they could relate. These are the stories of their indignation and acceptance.
The Princess Makeover
Christina Farhat had just gone home to Lebanon for winter break, only to enter her old room and find it utterly transformed. Once a shared space containing two beds, the room had been completely taken over by Farhat's 11-year-old sister. Now the sole inhabitant, her sister had made the room full-on princess themed.
"I just showed up and saw it," the second-year economics and political science student told me. "I was appalled."
While her sister had gotten a new bed of white leather, Farhat's bed was nowhere to be seen. Additionally, the room had been newly painted and decorated, including a pink armoire like the ones in Disney princess movies. "I was really frustrated about it," Farhat said.
But she didn't take her situation sitting down. Instead of sleeping on the couch all break, she played musical chairs with her family, sleeping in her brother's or sister's bed while they were at sleepovers or kicking her dad out of his bed so that she could sleep with her mom.
Manifest Destiny
Boldly advancing from the small bedrooms they were given thanks to their late birth, many younger sisters and brothers commandeered the larger rooms previously occupied by their older, UCLA-attending siblings.
After Thomas Landry left for college, his younger sister told him right away that she would be moving into his room, the largest of their siblings'. "It was just going to sit there, so I was like, 'Sure,'" Landry, a third-year neuroscience transfer student, told me.
As a result, when Landry went home over break he found himself sleeping on the couch.
"Yeah, I have nothing left (in my old room)," he said. "She took down all my posters."
Landry falls into the camp of students who resign themselves to the changes that come with leaving for college. "It's not like I'm living there," he concluded. "They're putting good use to my space."
The Replacement
Younger siblings were not the only ones to weasel their way into a new room.
In Janay Williams' case, her sister's best friend moved into her old room. Now a fifth-year biology student, Williams was a first-year student when her sister's friend moved in.
"My parents let her live there for free," Williams told me about her sister's friend. "They just completely replaced me."
Some parents get a new dog when their kid goes to college, but Williams' parents – they just got another kid.
Williams' family home is located near UC Riverside, which is where Williams' replacement was going to school.
The girl graduated when Williams was in her third year here; after that Williams' sister moved into the room. Subsequently, their parents turned Williams' sister's room into a home office, again leaving Williams with no room of her own.
Throughout her time at UCLA, Williams has had to sleep on the couch when home during breaks.
"It sucks," she said. "It makes me appreciate my apartment a lot more."
That seems to be the tradeoff that comes with leaving home for college. We get a new place of our own, only to lose our old bedrooms.
Gone, Baby, Gone
If you thought losing a bedroom is traumatic – well, imagine saying goodbye to the whole house.
Igor Van Der Put's parents moved from his childhood home to a two-bedroom apartment the week before he left for college. With one sibling already graduated and another in college, Van Der Put was the last child to move out of the house.
But Van Der Put rolled with the punches. "It's alright," the first-year physics student said. "It's better for (the family) financially."
Over winter break, Van Der Put didn't spend much time at his parents' new apartment. He said he spent most of his time with friends.
The Storage Unit
Jenna Chatoff loved her bedroom. When the third-year psychobiology student was in high school, her room was painted a bright teal, her favorite color. Chatoff and her dad had painted the room together as a whole-day project.
On the car ride from the airport when Chatoff came home for Thanksgiving her first year, her parents told her that they had switched her room up a bit. She soon found that her bed had been replaced with a futon and her walls had been painted white.
"At first I was kind of bummed because I loved the way my walls were," she said.
Her parents had also filled the room with their things. All the family's patio furniture got moved into the room and has stayed there ever since.
"My room basically became our second garage-slash-storage facility," Chatoff said. "I don't really mind, it's just funny really – especially the patio furniture."
Her parents even make fun of her by telling her they will store more random things in her room, like the family's new car. Chatoff says it doesn't bother her. "If you want to get cheesy, you could say I (come) home to the people, not to the room."
Perhaps the best way to deal with the changes that come with moving on to college is to joke about them like Chatoff does. We college kids certainly do lose our old rooms: It is a reality, but that doesn't mean this change can't be funny.