Q&A: UCLA professor talks diversity and representation in cinema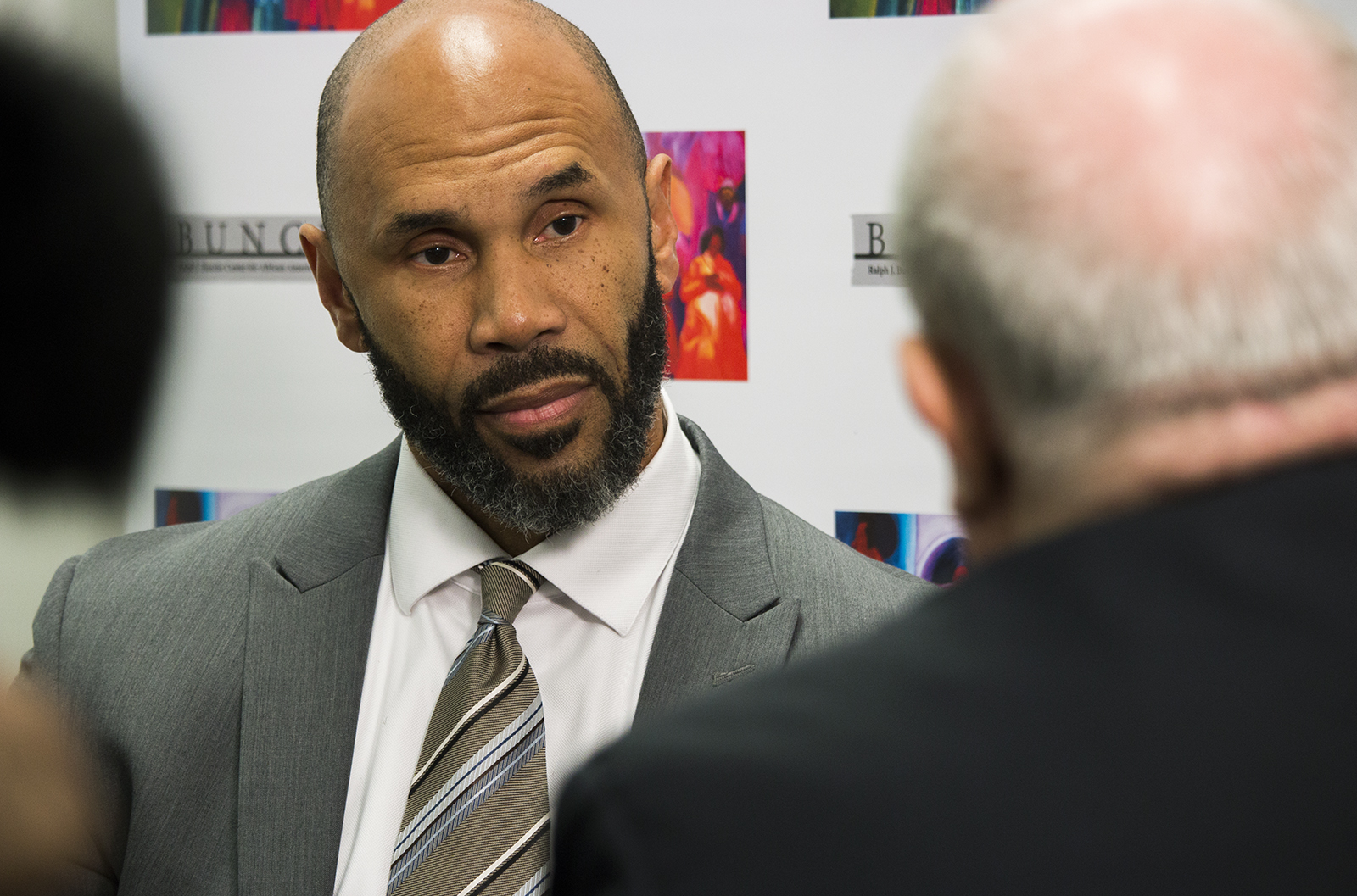 UCLA professor Darnell Hunt compiles the "Hollywood Diversity Report" every year to track the change over time of minority representation in Hollywood productions. (Efren Piñon/Daily Bruin)
The nominees in the main acting categories of the 2016 Academy Awards are entirely white.
For the second year in a row, the lack of diversity at the Oscars led to big names boycotting the ceremony and the hashtag #OscarsSoWhite trending online.
UCLA professor and department chair of sociology Darnell Hunt compiled his yearly "Hollywood Diversity Report" to analyze the lack of minority representation in every Hollywood medium.
Hunt tracked the change over time in minority representation by comparing his past three reports. He said he studied 200 top-ranked box office films and 1,146 TV shows to analyze the depiction of women and people of color within these mediums.
He said the report seeks to prove that a diverse cast sells more and is better received by viewers than a strictly white cast. Furthermore, the report underscores the underrepresentation of women and people of color in Hollywood.
In response to protests involving another year of all-white acting nominations, the Academy of Motion Picture Arts and Sciences will now require members to renew their voting status every 10 years and will add three new seats to its governing board. These changes, which will not affect this year's ceremony, are geared toward increasing representation of women and people of color.
The Daily Bruin's Paula de Oliveira spoke with Hunt about his take on how to increase the representation of minorities in the film industry.
Daily Bruin: Do you believe the Academy of Motion Picture Arts and Sciences has made any notable changes? If so, do you believe these changes will be effective?
Darnell Hunt: It's made no changes at all; well, not notable changes. They've increased the diversity of their membership by about 0.5 percent a year over the last few years. They recently announced how they will overhaul the membership by possibly putting limits on how many years someone can be a member or by removing inactive members from voting eligibility. I think that's an important move that has the potential to make a difference.
Right now, the academy is a reflection of the industry and the industry doesn't look anything like America. When it comes to decision-making positions, there are very few people of color or women in those positions and that's one of the reasons we see the problems on the diversity front.
DB: Do you believe the changes the academy has made are wide-reaching enough?
DH: I think the academy has the potential to make a difference, but I'm not sure how long it's going to take. The academy has been increasing the number of new members they're admitting each year, admitting 300 to 400 new members each year. Well, the academy is made up of 6,000-plus members, so at that rate, assuming that the new members are diverse – meaning that there are going to be white members too – it's going to take decades to shift the demographics of the academy.
DB: Do you believe the changes behind the camera are more effective than the changes in front of the camera?
DH: Well, they're crucial because it's almost like the changes in front of the camera are like window dressing. Someone may try to tell a story that becomes stereotypical or it becomes a secondary role behind the main character, who happens to be white and male. In a society where almost 40 percent of the people are people of color, and where the audience is even more decidedly diverse, that's a problem because it forms a disconnect.
To make what the audience really wants means you have to share your power with people who maybe don't look like you. You need to invite different perspectives into the writers' room. You need to have different people in the executive suites making decisions based on their networks and familiarity, but that's not happening.
DB: This year's Oscars host, Chris Rock, is reportedly approaching the issue with satire, while actors like Will Smith have refused to attend the awards altogether. Which of these approaches do you think is better?
DH: I think it's important for high-profile personnel to take a stand on this issue. All too often in Hollywood, actors are reluctant to go public with how they're feeling about these things, because they're concerned with being blacklisted. I think because they took that stand, this year's Oscars snubbing had more legs than last year's.
There are no simple solutions, since these are long-term issues. There are things that need to happen on every front. The thing that I keep coming back to is that what's in front of the camera is just the tip of the iceberg, what's really driving everything is what's beneath the water. That's where most of the iceberg resides, and that's what happens behind the camera.
Compiled by Paula de Oliveira, A&E contributor.