Alumna Princess Fortier releases 'Dirty Ballerina' music video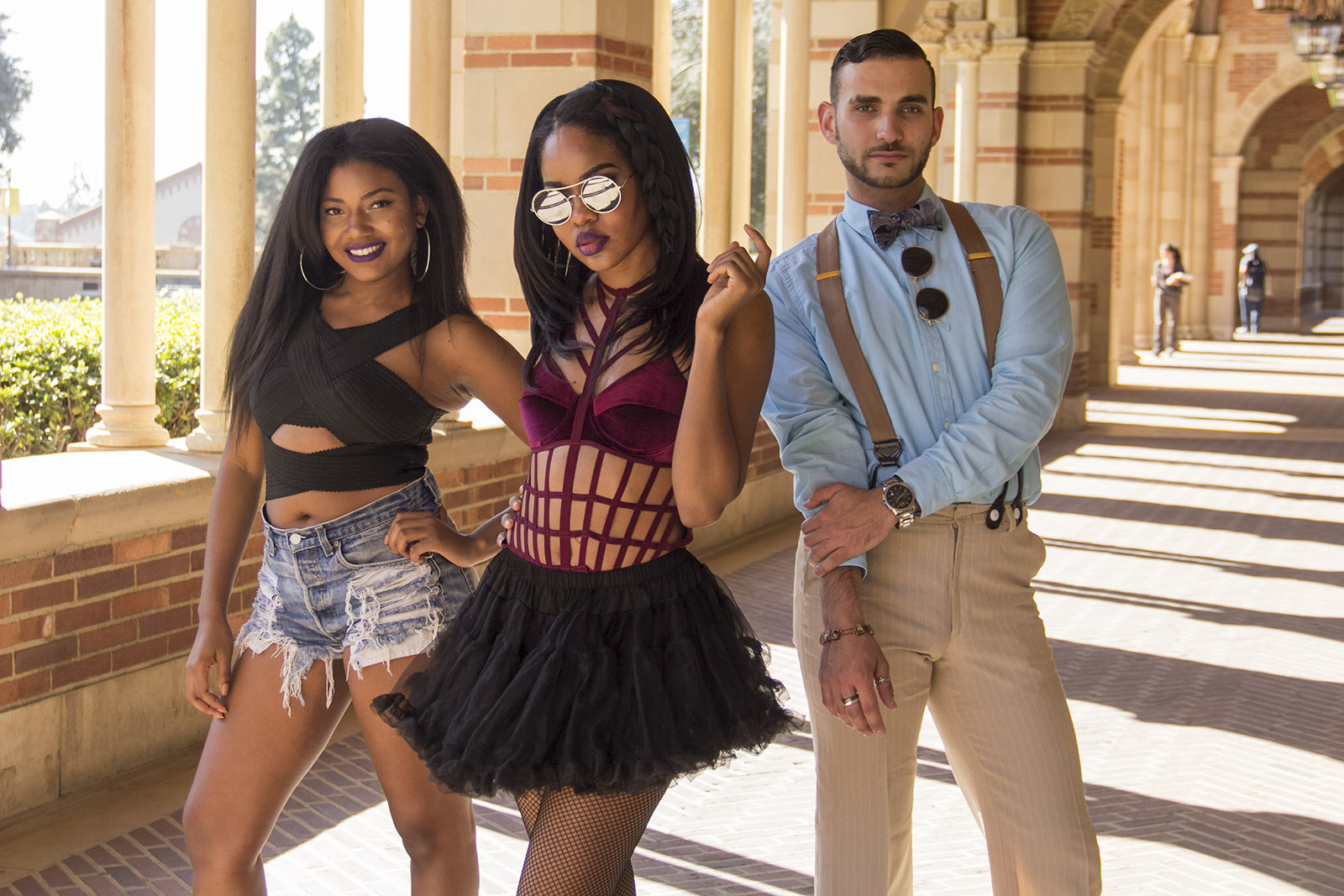 Princess Fortier (center) and her sister Destiny created a music video for Princess' song "Dirty Ballerina." The duo were joined by backup dancer and fourth-year mathematics and economics student Patrick Malkoun (right). (Zinnia Moreno/Daily Bruin)
Princess Fortier sat in her home studio soaking up the fast-paced rhythms and percussion instrumentals of a track sent to her by a producer via Facebook. As she listened, an image formed in her mind that fit in perfectly with the beat.
The UCLA alumna pictured a fun-loving Harajuku girl who was bold and courageous and who went after the guy of her dreams with reckless abandon.
"I saw myself in a club, seeing a cute guy and feeling all the excitement you get when you see someone you are really attracted to," Fortier said.
Fortier released the music video for her song, "Dirty Ballerina," Jan. 25, choreographed by her sister, Destiny Fortier, also a UCLA alumna. While Princess Fortier and Destiny Fortier have been singing, dancing and performing since they were young, the "Dirty Ballerina" music video was one of the first projects they collaborated on together.
Within the first week of its release, "Dirty Ballerina" was picked up by several radio stations around the U.S., including those in Indiana, Las Vegas, Alabama and some parts of California, as well as by Pandora. The song will be one of nine songs on her EP "ECLEKTIC," releasing in May.
Fortier told her younger sister Destiny Fortier about an aspiration to start making music videos for her own lyrics. Destiny Fortier helped her sister by finding the videographer, who is also her friend, to help produce the video.
Destiny Fortier serves as her sister's manager and worked as the executive producer and choreographer on the "Dirty Ballerina" video.
Destiny Fortier had only a few days to come up with a choreographed dance to the song, as she spent the rest of the month focusing on finding background dancers, extras and arranging her sister's outfits. In the video, Princess Fortier wears a tutu, high heels, vibrantly colored tops and glitter on her hair, face and body to channel the Harajuku girl and Japanese pop influences prevalent in the song.
In the video, Fortier and her dancers sync up with the beats of the song through break dancing and high-knee, high-foot movements. Fortier said the choreography, combined with the moments of giggling and runway walking, compliment the overall message of the song: to let loose and have fun.
Patrick Malkoun, a fourth-year mathematics and economics student and a dancer in UCLA's Foundations Choreography, said that having to learn the choreography in such short notice was no issue for him.
"It all just came so fluid and natural," Malkoun said. "There was so much love and camaraderie between us, and we knew we didn't have time to freak out or dillydally, we just needed to start dancing."
The Fortier sisters come from a music and entertainment family. Their mother, Lillaana Fortier, is also a singer, and regularly sends Princess Fortier ideas and inspiration for all of her projects.
"Recently, she called me and said, 'Hey Princess, did you know there is a Dirty Ballerina clothing line? You should send your song to them,'" Princess Fortier said. "She has been really instrumental for my furthering my career."
Fortier said her trust, camaraderie and communication skills with her sister make it enjoyable and comfortable to work with her professionally.
"When she is unsure about something, she figures out in lightning speed how to do it, and does it without me having to pound her down about it," Fortier said.
Fortier said she is grateful that her life and career are moving positively towards her dreams and said some days, her life is even better than it is in her dreams.
"It was already rewarding to complete the creative process from writing to music video, but to get agreement your project is hit worthy?" Fortier said, "That is a whole world of excitement, (that) I could never anticipate feeling."