EDM group creates hybrid form of electronic music from classical roots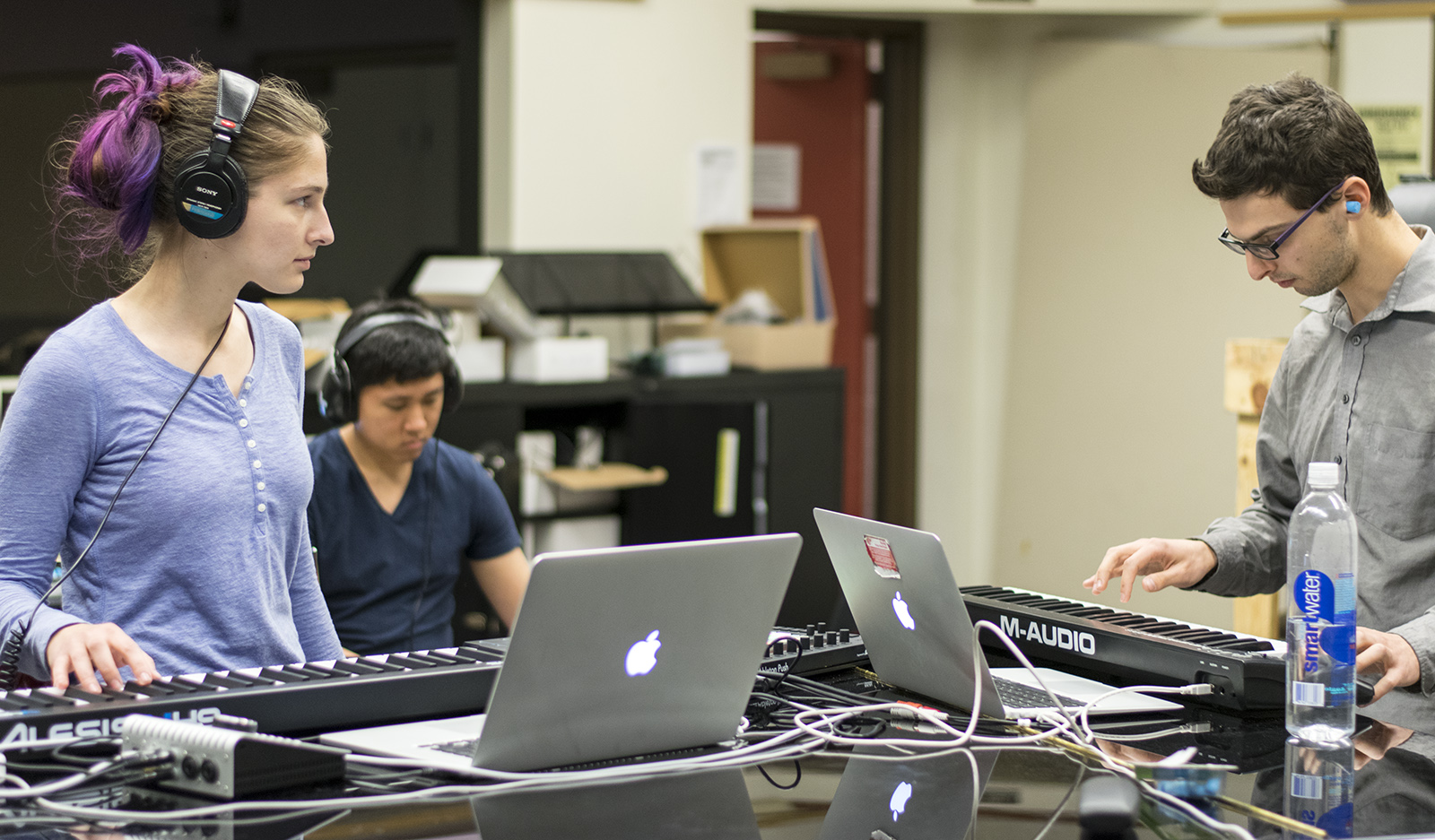 Andrea Vancura (left), Stephen Spies (right) and Kyle Dombroski are the three members of EDM group FYS, which infuses electronic music with a classical band sound created from trombones, trumpets and drum sets. (Michael Zshornack/Daily Bruin)
Stephen Spies was working on a student film, "Young Americans," when the director asked him to score an electronic beat for it. Spies only had experience with classical pieces, however, so he tried creating electronic sounds by recording himself clapping or sliding his fingers down a bass guitar to make it sound like a drop.
"I only used 'found sounds' that were all naturally created," Spies said. "I had no clue how to generate electronic ones back then."
Things are different now. Spies, a fourth-year music composition student, and Andrea Vancura, a UCLA alumna, formed electronic dance music group FYS this past July after meeting in a UCLA music and dance collaboration class last winter. FYS will be performing Thursday at the Fowler Museum. Three weeks ago, they added a third member to their band, Kyle Dombroski, a graduate student in percussion performance.
FYS performs live shows with no premade loops or samples – every sound is generated live through mini-keyboards connected to the members' laptops. They save the beats and move them around instantly to create loops and rhythms on the spot. Vancura said Dombroski's live drums contribute to this sense of liveness on stage.
Spies and Vancura, both film and video game composers, received overwhelming requests for electronic music. This was a challenge for the duo, who were used to more classical genres.
Dombroski is new to the EDM genre as well. He said he did not listen to this kind of music until he needed to get more of an idea of the rhythms he could create when he joined FYS. He said the most difficult part was learning how to properly build up a drop and correctly place it in a tune.
"I'm trying to sound more like a drum machine and less like a live drummer," Dombroski said. Spies said having a live percussion player makes the music more real and the band more diverse and dynamic than a typical EDM group.
Vancura said FYS wants to tear down the traditional genre boundary of EDM by incorporating many styles, like dubstep, techno or future house, into their music. Vancura and Spies think about EDM in an acoustic way, composing the notes like they would for a classical piece, focusing on the harmony and melody.
"It's almost as if the electronic instruments were played like acoustic ones," Spies said.
FYS's sound is original, Vancura said. They layer their music with Vancura's brass instruments – the trombone, horn and tuba – to create a tune that sounds like a full band of 50 players. Vancura said she then layers the tunes and combines them with their EDM software instruments.
Spies and Vancura initially struggled with the layering process. They tried to create a visceral experience when making one of their first tracks, "Met A Morphic," but could not accomplish their goal at first. They used conventional EDM software to make it work.
Taña Barajas, a UCLA alumna and Vancura's roommate, has seen FYS evolve in their approach to EDM in the past months. She witnessed most of FYS's process, seeing the group record in their Culver City apartment and progressively find their sound. She said the group has been maximizing the use of the instruments and tools that they have at their disposal.
"FYS creates an aesthetic that's loud and fun, still keeping a musician's sensitivity to it," Barajas said.
The best part about playing live is that the group can adapt to the audience's mood by switching from heavy dubstep to minimal techno, Spies said.
Spies said making electronic music is entirely based on collaboration because they are constantly listening to and watching each other. He added that they are able to create something harmonious just by listening to and watching each other.
"It's really important to try everything and learn everything," Spies said. "I love to delve into something right away. I love the challenge of it."