Film festival promotes Latin American and Iberian culture, languages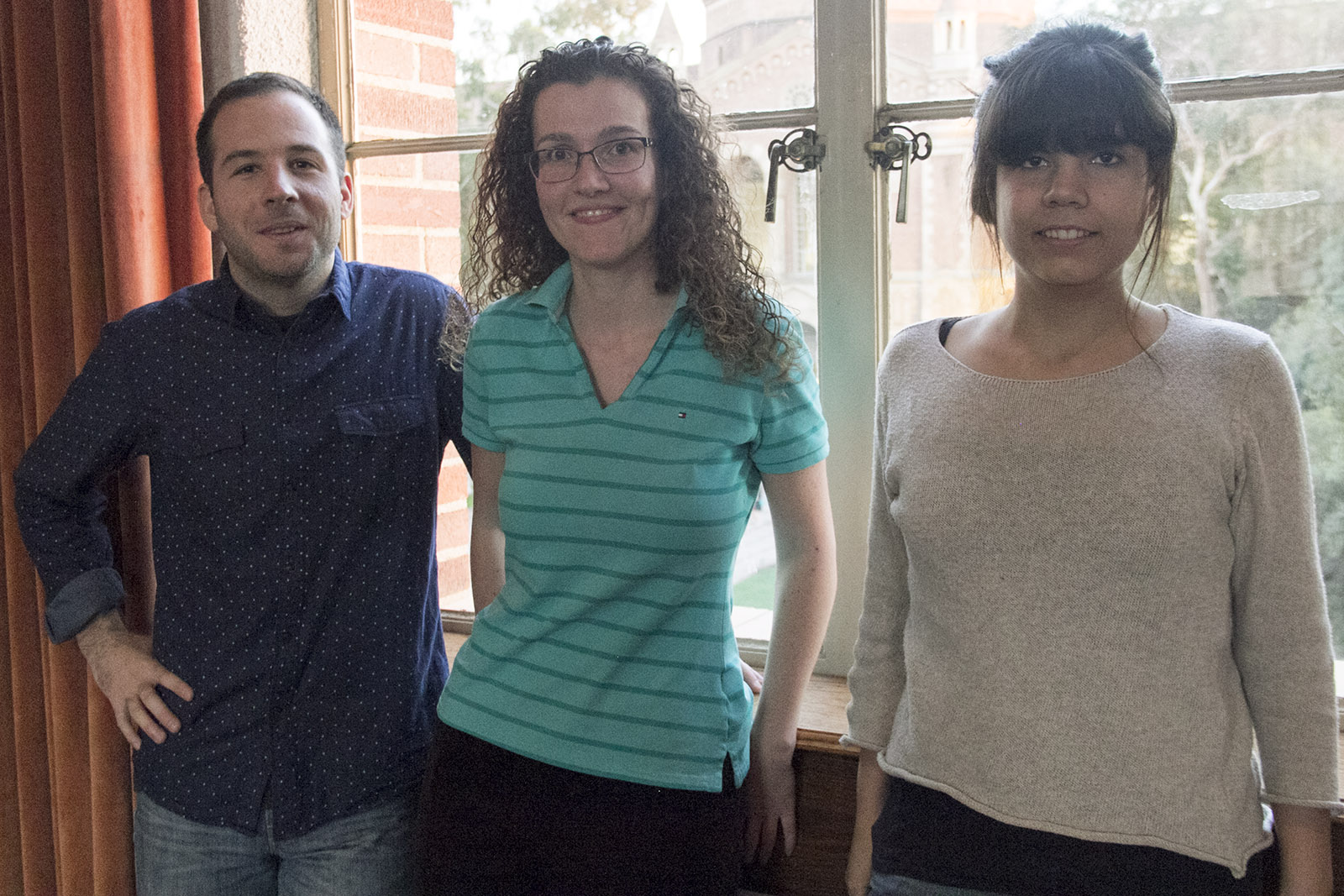 Adrián Collado (left), a Spanish literature graduate student, has organized four Latin American and Iberian Film Festivals to date. The festival screens award-winning films from Spain, South American and Central American countries to audiences interested in learning more about the Spanish language or the many cultures portrayed in the films. (Zinnia Moreno/Daily Bruin)
By
Daily Bruin Staff
Feb. 15, 2016 11:37 p.m.
The sounds and rhythms of the Spanish guitar swirled through the mind of an 80-year-old man, making him feel 17 again. The old man was watching "Bajarí: Gypsy Barcelona," a movie about a famous Barcelonian flamenco dancer, which triggered a memory of learning flamenco during his teenage years.
Personal stories like the old man's remind Adrián Collado of why he has helped organize all four of the UCLA Latin American and Iberian film festivals to date.
The 4th UCLA Latin American and Iberian Film Festival began Monday, Feb. 1 in Royce Hall and ends Monday, Feb. 22. The festival screens award-winning films from Mexico, Spain and South American countries to audiences of 50 or more people, Collado said. The films are mostly independent dramas and political documentaries that incorporate an element of comedy.
Collado said the festival is important for allowing students to practice their Spanish listening skills and for an audience outside of the school to gain a better understanding of Latin American and Iberian culture.
"Often we are immersed only inside the school," said Collado, a Spanish literature graduate student. "The film festivals that we put up reach out to the community and move beyond the borders of the academic world."
This year, some of the challenges Collado faced in organizing the event included reserving the venue, selecting the films and finding advertising and funding. Collado said he and the other organizers made many trips to Costco to buy water for the festival, went through a long process of choosing the films and contacted film directors to have permission to show their work.
After three months of strenuous preparation, Collado said the biggest reward is seeing a room full of moviegoers and receiving their heartfelt feedback. He said the audience often finds a connection between the film and their own personal experiences. Like the old man who learned flamenco, many give their own anecdotes in response to the films.
"One of the main reasons we organize this event is to really connect with the audience, and make people get to know a little more about our culture," Collado said.
Additionally, Collado feels more connected to his own culture as a result of watching the films.
"When I watch "Bajarí: Gypsy Barcelona" here in the United States, I feel more connected to flamenco and to my country than if I were to watch the same movie when I'm in Spain," Collado said. "It's a way to keep the ties to my faraway home."
Becca Albright, a third-year Spanish student who attended a screening of "I Am from Chile," said the festival showed her another side of cinema, different from Hollywood movies.
"The film's imperfections are what makes the movie so frank," Albright said. "I really want to travel to Chile and other Latin American countries now."
For Gemma Repiso, another of the festival's organizers and a lecturer in UCLA's Spanish & Portuguese department, the most rewarding part is hearing her mother tongue, Catalan, being played in Royce Hall.
"Every time I hear Catalan here at UCLA, I get very emotional and I think of home," Repiso said. "I am reminded of everything about the beautiful Catalan language and of my country."
Away from their Spanish homeland, Collado and Repiso seek to promote their culture and language through the film festival and said they have sustained a profound connection to their roots while doing so.
"The films make me remember my family and my own culture, and it's great to be able to share that experience with others here in Los Angeles," Collado said. "It's a way of showing a part of my city to the public, showing a part of my family, showing parts of my culture and its traditions and showing a part of me."