'Free & For Sale' Facebook page brings happy tales of pet adoption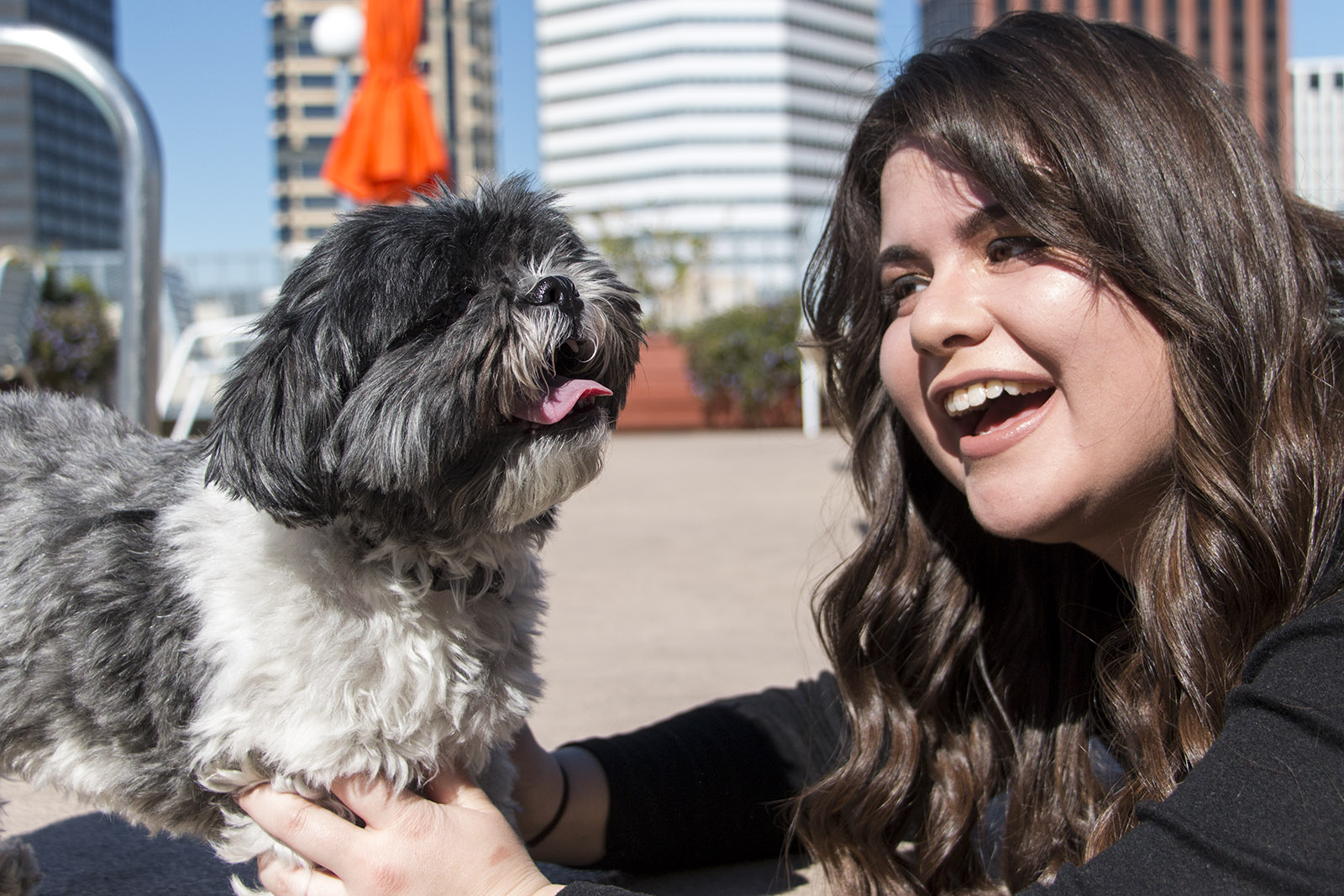 Fourth-year earth and environmental science student Dominique Mashburn adopted Princess, a gray shih tzu, after seeing a post on the "Free & For Sale" Facebook page. (Laura Uzes/Daily Bruin)
Dominique Mashburn encountered a photo of a gray shih tzu in need of an owner. Mashburn, who was originally browsing for furniture, saw the post as a sign.
"I saw her and it was just an instant connection because I'm a firm believer that the dog chooses you, you don't choose the dog," said Mashburn, a fourth-year earth and environmental science student. "So I ended up getting her two days later and I've had her ever since."
Mashburn found no downsides to adopting Princess the gray shih tzu, she said. Since September, about a dozen students have posted to adopt or sell a pet on UCLA's "Free & For Sale" Facebook page. With Valentine's Day around the corner, many have found love with their furry companions.
Mashburn was on edge about her senior year as a transfer student who was unaware of campus life. She also struggles with an autoimmune disease, leading to many hospital visits and anxiety problems. Mashburn believed her college experience would be problematic.
However, Princess filled the gap that she was afraid of developing from living on her own. The two have since become inseparable, she said, from accompanying Mashburn to work, to howling for her attention in the middle of the night.
Princess used to belong to alumna Nina Hadzi-Antich, who graduated in 2015. However, because her apartment did not allow pets, Hadzi-Antich needed to find a new owner for her grandmother's 6-year-old shih tzu.
"I knew what she was used to and she grew up with my 80-year-old Soviet grandmother, so she needed a relatively quiet environment and constant companionship," Hadzi-Antich said.
Hadzi-Antich said it was fortunate her post on "Free & For Sale" led Princess to Mashburn, a supporter of the adoption process.
"Free & For Sale" also helped Deanna Chung, a fourth-year biology student and aspiring veterinarian, find a better home for a recently abandoned cat.
Chung worked at Beverly Hills Small Animal Hospital, where she befriended Lily, a cat who was donated to the hospital after the death of her owner. Lily had developed aggressive tendencies after she was abused by the owner's son. Despite the constant hissing and scratching Chung had to cope with, she soon bonded with Lily by taking her out of her cage, feeding her and playing with her.
Chung jumped at the opportunity to foster Lily, who soon transitioned from hiding under the bed to sleeping by Chung's side. However, her stay was cut short because Chung's apartment was not pet-friendly, forcing Chung to sneak Lily in and out of the building.
"Since (Lily) was just a foster cat, I knew she would eventually go away, but I feel like both my whole apartment and me developed a bond, really loving and tender affection towards her," Chung said.
Chung posted on "Free & For Sale" in search of a new owner for Lily. After meeting with fourth-year economics and anthropology student Disha Bhagwat, Chung gave Lily away at no cost.
Bhagwat said she saw Chung's post as the perfect opportunity to adopt another pet. After her family's previous cat died, Bhagwat's parents were not seeking a new pet, but she believed they would benefit from taking Lily in because a new cat could aid in their grieving process.
Using Facebook was more convenient than visiting a shelter due to the lack of paperwork, expenses and time consumption, she said. Bhagwat saw the adoption as a personal friend-to-friend exchange. Lily now follows Bhagwat's mother all around the house and plays with her hair ties.
Similarly, fourth-year applied mathematics student Wali Kamal came across a photo of a gray tabby and Siamese cat mix with piercing blue eyes on the Facebook page. Overwhelmed by its cuteness, Kamal adopted the cat despite her bad temperament.
The stray cat, now named Katniss, soon adapted to apartment life as she played fetch across the living room with Kamal's roommates or joined them on the couch to watch evening television. She is the main subject of many of Kamal's Snapchat posts, has her own Instagram and Facebook profiles and was featured in the Bruin Consent Coalition's cat calendar photo shoot. Katniss also serves as Kamal's personal alarm clock, waking him up multiple times so he doesn't miss class.
"A lot of students, I guess, are inclined to adopt pets from the page, or just in general, because there's an almost high barrier of entry … you're only dealing with other students like you," Kamal said. "It's just a lot more effortless."
The Facebook page was a convenient portal for those looking to give away their pets, and it also allowed students to find love and companionship by adopting animals.
"Something I always look forward to everyday when I'm back at home and I'm with my dogs is to wake up and for them to come near me and actually want to be with me," Mashburn said. "They give love unconditionally."